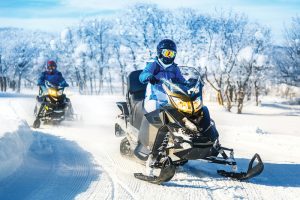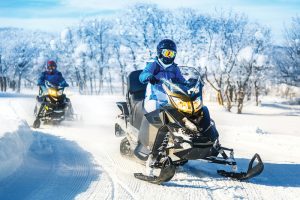 If you live in a rural area with heavy snowfall, you might be accustomed to riding around on a snowmobile. They're a convenient way to get around if your car can't handle the weather and they can also be a ton of fun.
"A snowmobile needs to be treated like any other vehicle, so make sure you have insurance before riding — it's mandatory by law in Canada," explains Glenn Cooper from Aviva Canada.
Here are seven tips for safer snowmobile driving:
1. Know the law. Make sure you're aware of the laws regarding snowmobile use. Have your registration and insurance papers in order.
2. Inspect before riding. Always thoroughly check your snowmobile before operating. Check the engine and oil and make sure you have enough gas to reach your destination. Include an emergency kit in case you become stranded or need to make a quick repair.
3. Don't drink and drive. Drinking and driving a snowmobile has the same repercussions as drinking and driving a car. Never drink and operate any type of vehicle.
4. Be aware of your surroundings. Driving a snowmobile safely requires concentration. Always focus on the path ahead and what is around you.
5. Take lessons. Driving a snowmobile is not as easy as it looks. If you've never driven one before or haven't been on one for an extended period of time, consider taking a lesson or two to brush up on your skills and knowledge.
6. Dress for the weather conditions. Make sure you have proper clothing on and remember that you'll be exposed to the cold weather at all times.
7. Tell people where you're going. Always tell another person where you plan on riding before departing. If you don't come back as scheduled, they'll know where to start looking.
Find more information from your insurance or online at avivacanada.com.
www.newscanada.com
Save