Colour: Your Best Tool to Organize and Declutter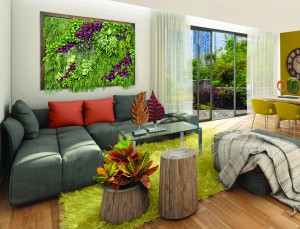 In the world of décor there is an emerging trend towards using bold colours against a white or soft grey backdrop. From your closet, to the home office and the kid's room, colour can go a long way to visually sort and organize a space. Colour creates a universal language allowing you to communicate without saying a word. Try out a few of these colour-blocking tricks:
Paint antique or thrift store chairs in different hues so that everyone has a unique seat at the dinner table.
Create an ombre effect on a dresser or the back panel of a white book shelf by selecting gradient shades and painting light to dark to help sort out which areas hold craft supplies, household tools or pantry essentials.
Organize books on a shelf by colour for a clean and streamlined look.
Colour code baskets by painting them to fit inside kid's cubbies to ensure they get the right mittens get in the right basket.
Next you will need to pick a palette. Small space dwellers living in a city centre are exposed to an excess of grey, blue and white so why not mix in a few warm tones such as the ones found in Para Paint's 2016 Urban Jungle palette. It was curated with an eco-design sensibility and will evolve with your lifestyle, transforming your space into an island of its own.
Achieve this look with a white or soft grey such as JoJo Whitewash (PF17). Then add in a gorgeous garden shade of Greek Oregano (PF58) and for bolder island accents consider Great Expectations (P5022-41). Coordinate your eco inspired style with natural and light weathered woods, refreshing painted accents, and mixed metal finishes with a brushed or matte touch to keep things extra earthy.
More information is available at Para.com
www.newscanada.com