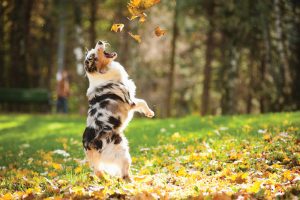 Discover Fun Ways to Keep Your Pet Active this Fall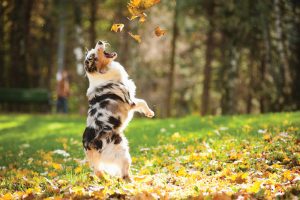 Getting outside with your pet in the hot summer for lots of activity isn't always easy, but fall is the perfect time to enjoy the great outdoors together. Here are some great ideas for you and your furry friends to enjoy this colourful and crisp season:
Visit a pumpkin patch. Grab the leash and bring your pup to visit a pumpkin patch or apple orchard. Before you head out, make sure to check that the place is pet-friendly. Remember there are often other animals on site, so keep in mind the larger animals may make your pet nervous.
Multitask outside: Dogs spend lots of time outdoors, but fall is a great time to bring your cat outside to enjoy the last days of warmer weather. While you're in the yard prepping the garden for frost, take your cat and their favourite toy outside with you to explore under your supervision.
Check out a fall parade. Parades are a great way to get your dog moving and meeting people and dogs in your community. However, keep in mind there will be large crowds and loud noises, so make sure to bring a blanket to mark your territory and ensure your dog has enough space.
Take a hike. There's no better way to enjoy the fall foliage than a walk or hike through a forest. Make sure to check local travel websites to find some great trails in your area that matches both your and your pet's ability levels.
Eat a meal out together. After all this activity, it's easy to forget to keep your pet hydrated. Enjoy a snack and some refreshments in your garden or balcony. Wet pet food is a tasty way to keep your little critter hydrated. Find more information on the benefits of feeding your pet a mixed diet online at petmixedfeeding.ca.
www.newscanada.com