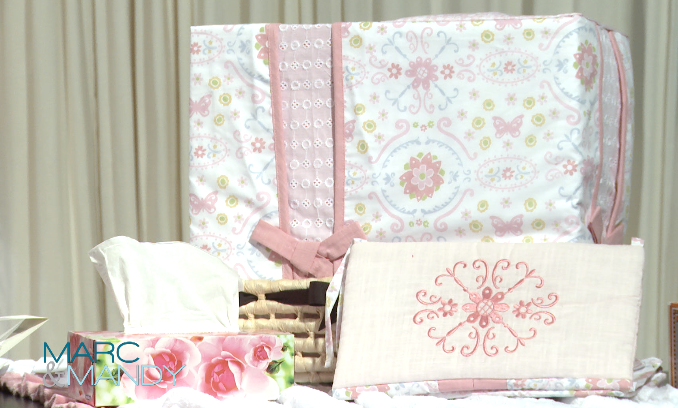 Marc's Nursery Decorating Tips
On the Getting Ready for Baby episode of the Marc & Mandy Show, Marc answered a nursery decor questions that had been sent in by a viewer.   Lisa is a mother of 3 boys, expecting her first little girl any day now. Lisa's husband has graciously agreed to give up his man cave to create a nursery. Lisa wrote in asking for help creating a nursery space for her little girl in a house full of boys.
Marc's Tips for Lisa:
Colour: For Lisa's room, Marc suggested a pale blue (Talcum by General Paint) with a soft white (Arctic Circle by General Paint) for trim and furniture.
Blue isn't generally a colour you might think to pick for a little girl's room but this soft blue will blend nicely with pink accessories for Lisa's baby girl. Later, as the little girl grows, the colour will translate easily into an older girl's room when mixed with brighter colours like Lime Green or Hot Pink, depending on what her personal preference is at that time. Plus, if Lisa decides to change rooms around in the future, this colour will work for her boys as well, making the room a more flexible space.
Because the nursery is located in the basement, keeping the colour scheme light will brighten the room, making it feel like it's not in the basement at all.
Marc suggested that Lisa should paint her existing dark wood furniture in the same soft white colour to help lighten up the room and give it a softer, more feminine feel.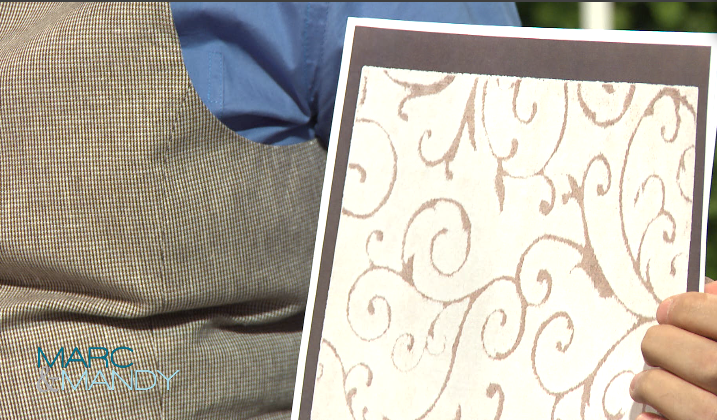 Area Rug: Lisa's concrete basement floors are going to be carpeted but Mike suggested that an area rug like this one from H5 Decor would still be a wise choice.
Concrete floors, even when carpeted, are still very hard. Adding an area rug will provide a soft landing area when baby is learning to crawl and walk.
An area rug will also protect the carpet below from spills and spit ups so that you don't have replace the carpet so soon.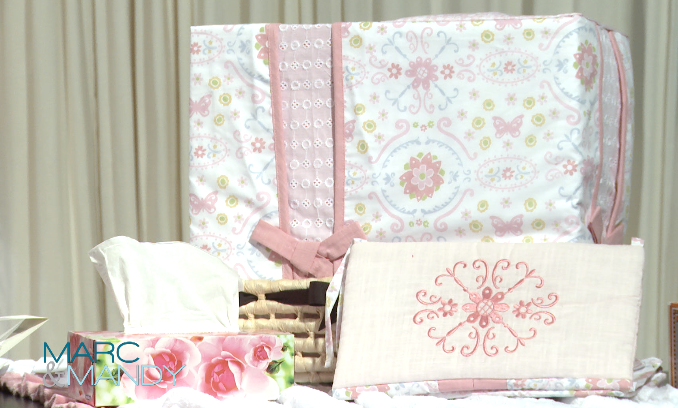 Bedding Set: Choose a bedding set that incorporates blue with other more feminine colours.
The bedding set Marc chose from H5 Decor is a beautiful white and pink colour but it also includes touches of blue that create a unified look between the bedding and the wall colours.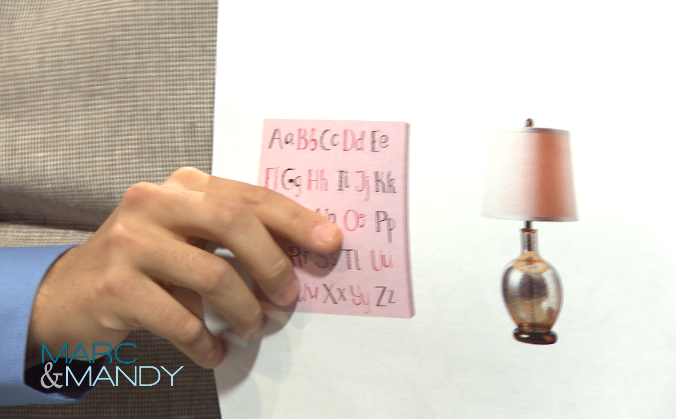 Accessories: Accessories are the perfect place to create a stunning punch of colour.
Marc suggests choosing accessories that mom will love. You are decorating the room for a baby girl but mom will spend many hours in this room over the coming months. Choosing artwork and accessories that you love will create a space that mom will enjoy as well. This alphabet art piece from H5 Decor is pretty in pink but has a sophisticated style to it that even mom can enjoy!
Lighting is important. Bright overhead lighting is important for tasks like changing diapers and play time but you also want to be able to create softer lighting for late evening rocking sessions. A table lamp is the perfect answer.
Choose quality pieces that can grow with your child like this lamp from H5 Decor. The lamp features classic lines and neutral colours with a pale pink shade that is perfect for a baby girl's room. Simply replace the shade down the line and the lamp can work with any colour scheme either in this same room or in another room in the house.
Disposable accessories are another great way to add colour to a room. One great example: tissue boxes! A pretty designer tissue box from Scotties is an inexpensive way to add to your decor scheme while creating a unified look to the room.