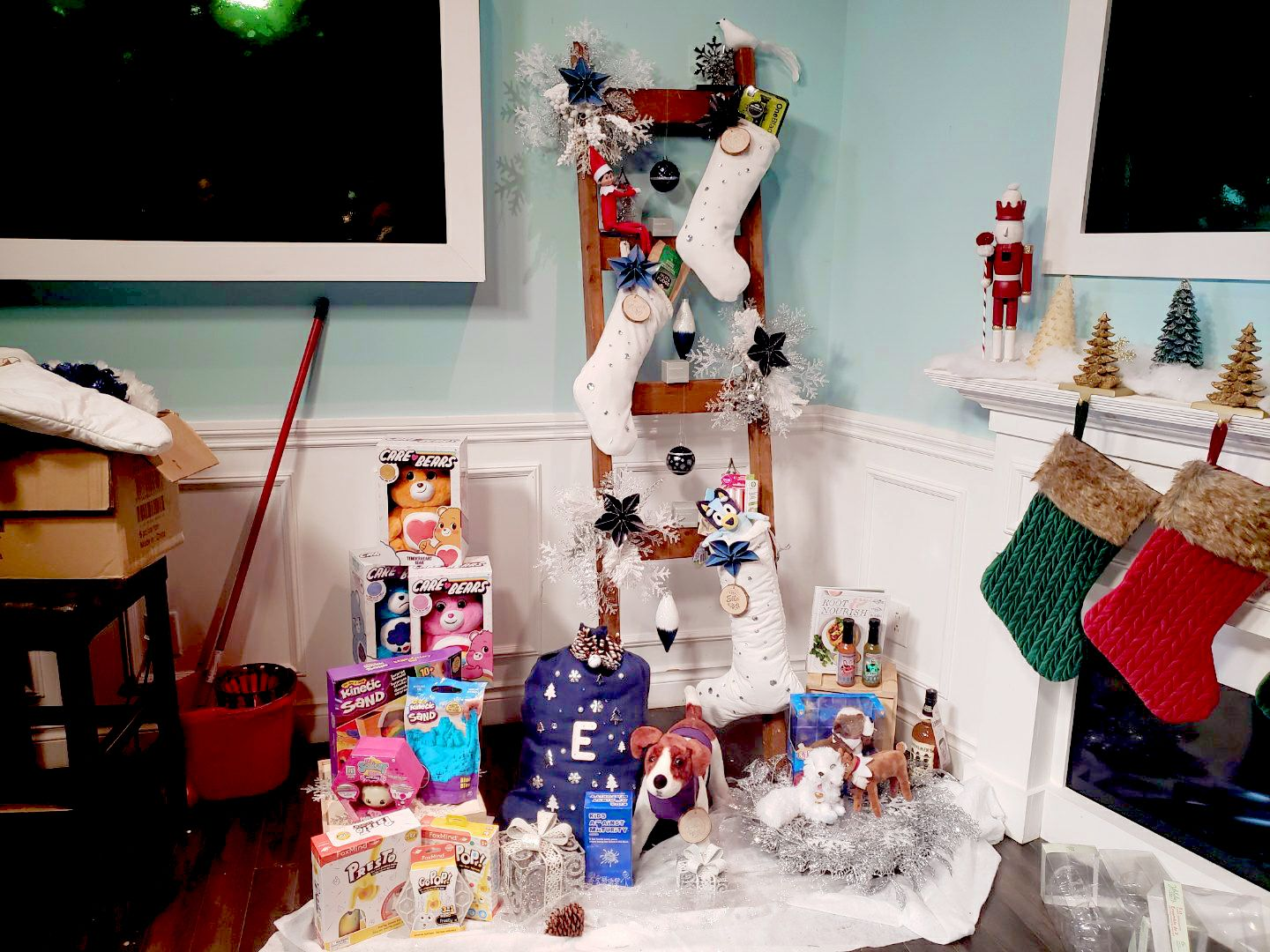 2021 Gift Guide: Stocking Favorites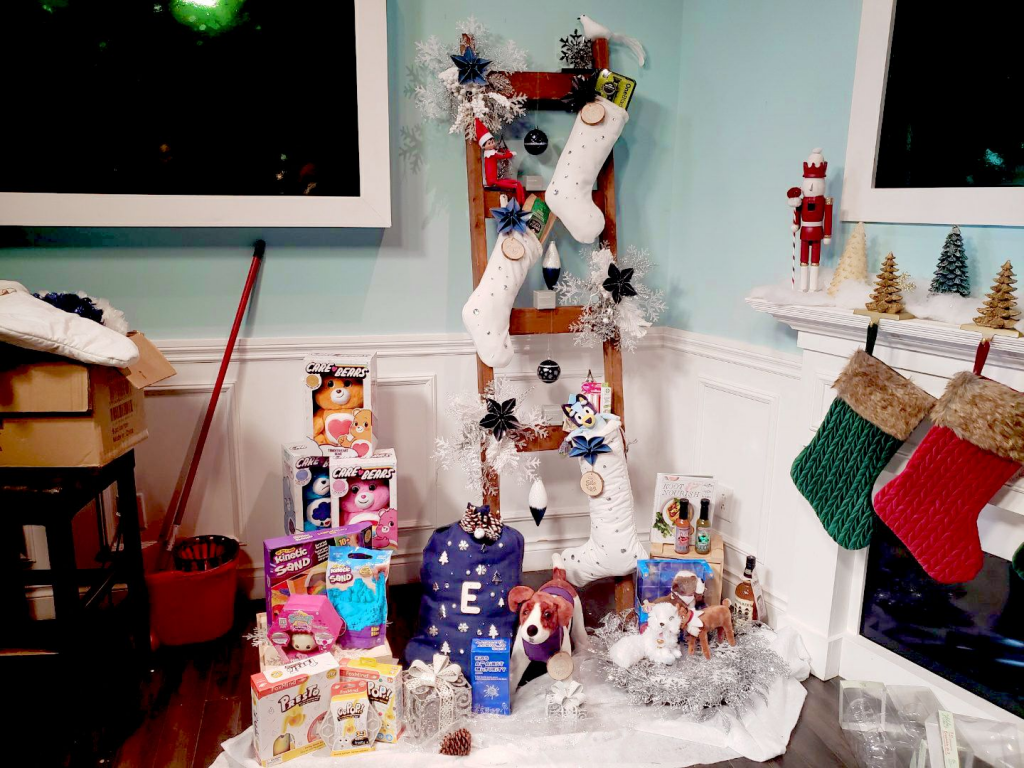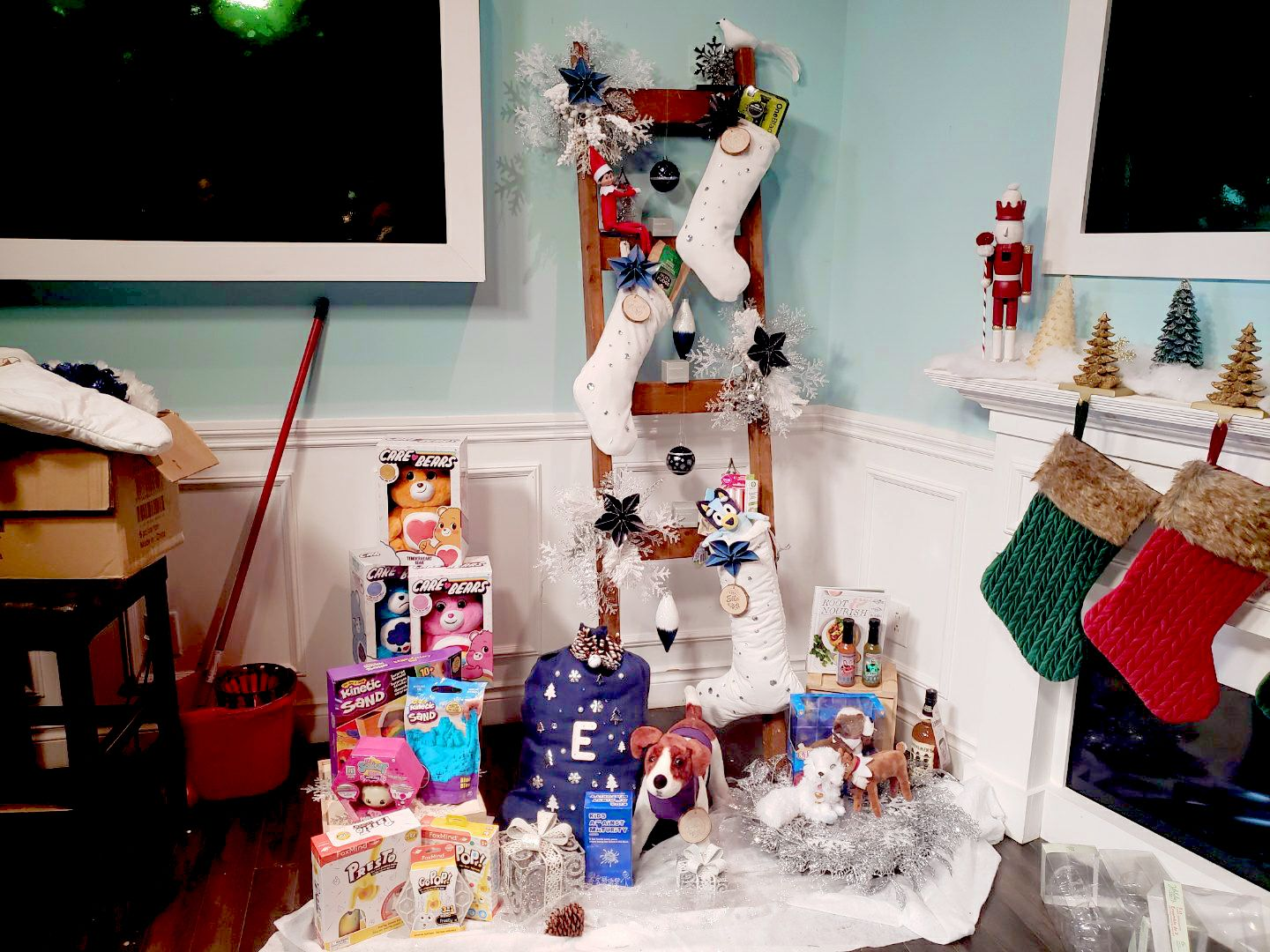 Try This –
Don't have a fireplace mantel to hang your stockings from? A blanket ladder makes a gorgeous stocking display! Just hang your stockings from the rungs and decorate the ladder with Christmas ornaments and
accessories for a pretty display!
PHILIPS ONEBLADE A revolutionary new hybrid styler that can trim, shave and create clean lines and edges on any length of hair. Forget about using multiple steps and tools. OneBlade does it all. It delivers an easy and comfortable shave thanks to a glide coating and rounded tips. With a cutter that moves at 200x per second, it's efficient even on longer hairs. The Philips wet and dry OneBlade is easy to clean and can be used with or without foam. – http://www.philips.com
TABBOO HYGIENE STICK An innovative way to protect your butt and other taboo areas from sweating, chafing, left-behind poo and general odor. It's made with natural ingredients like coconut oil, shea butter, and almond oil so it smells great without any harsh chemicals. Plus it provides a protective barrier for up to 24 hours, leaving you ready for any unexpected intimate encounter. http://www.shoptabboo.com

LUMIN CLASSIC MAINTENANCE SET The best that men's skincare has to offer for healthy, refreshed skin. This low-maintenance 3-step anti-aging routine helps prevent breakouts, even out skin tone, and fade acne scars. Expertly curated to provide an essential balance of hydration, cleansing, and exfoliation, this set is all you need to reveal your most vibrant skin yet. This set is perfect for all skin types who are looking for more balanced oil production and even skin tone. – http://www.luminskin.com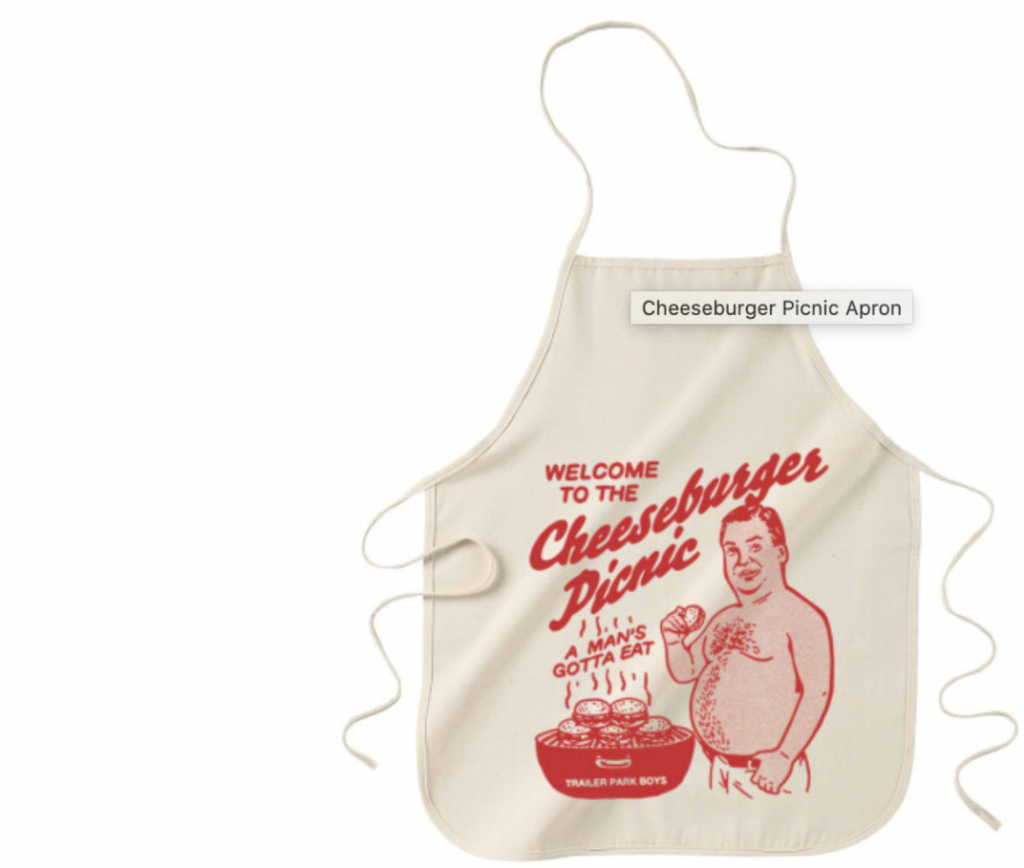 CHEESEBURGER PICNIC APRON This retro style apron is great for barbecuing your favorite foods – like cheeseburgers. 100% cotton, machine-washable. http://www.swearnet.com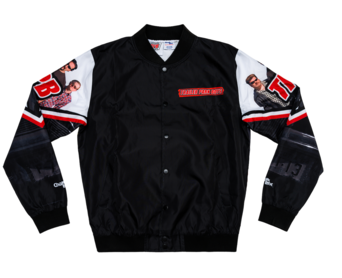 TRAILER PARK BOYS RETRO FANIMATION JACKET (Chalk Line) This high end, licensed, collectible jacket is the perfect gift for the Trailer Park Boys Fan! 100% polyester, machine washable! – http://www.swearnet.com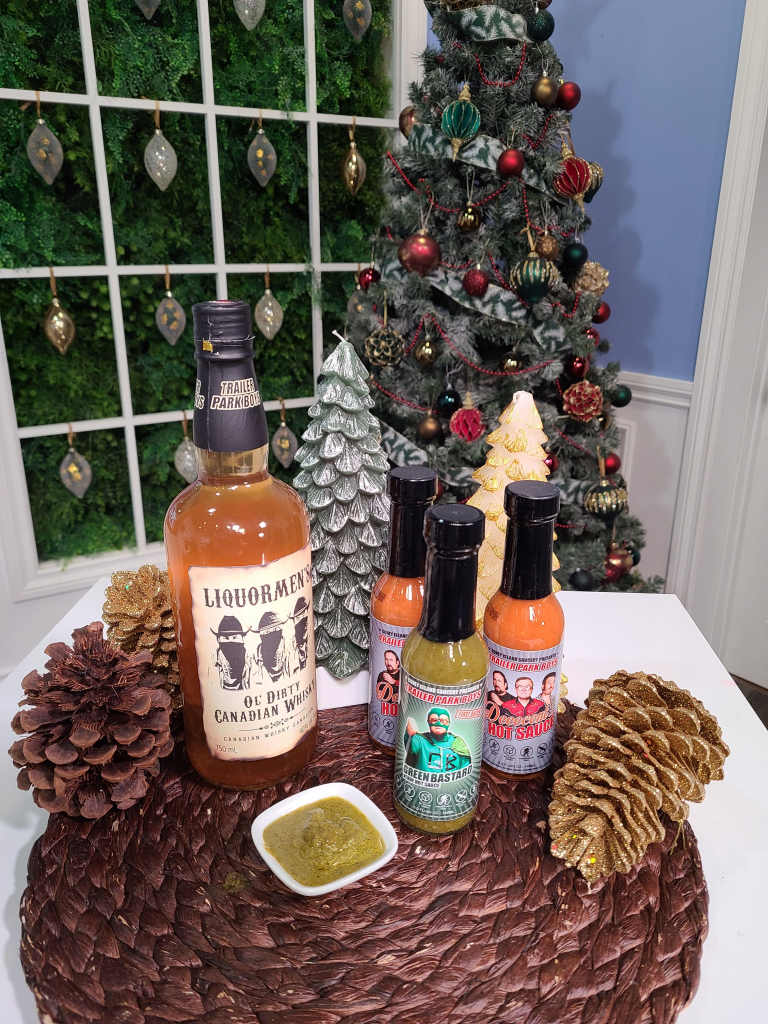 LIQUORMENS DIRTY OL CANADIAN WHISKY A Whisky straight from Sunnyvale Trailer Park. This whisky offers subtle flavors of citrus and pine that leads to a light, polished finish. Perfect with ginger ale or cola for your liquor drink needs.
DEEECENT HOT SAUCE (Coney Island Saucery) A Louisiana style, garlic forward hot sauce with a silky texture and the right amount of heat. Made with fresh all-natural ingredients. Also available: Green Bastard Hot Sauce – A verde style sauce featuring fresh notes of cilantro and citrus teamed with garlic.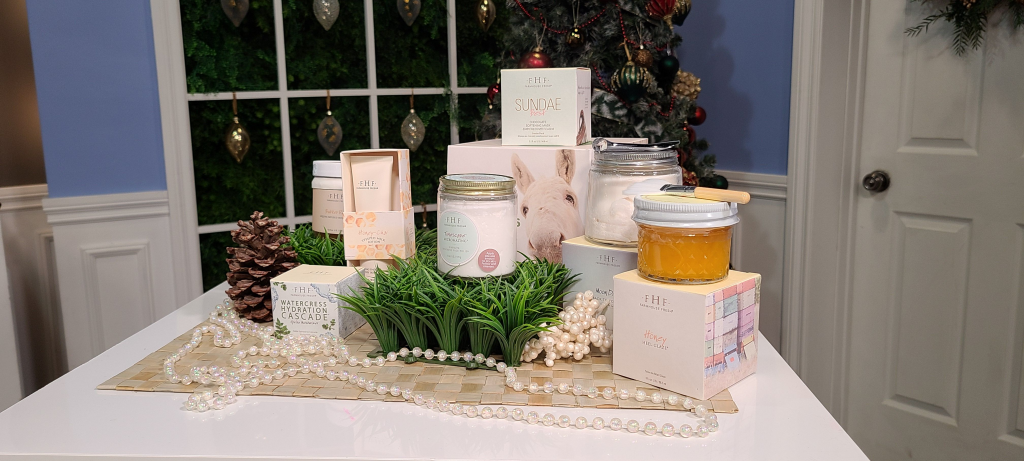 HONEY CHAI HAND CREAM To make this uncommonly crafted lotion, USDA organic cardamom is slow-steeped into creamy coconut milk and then blended into the lotions, making these the most precious and pristine bottles of infused, feathery softness you've ever enjoyed.

MOON DIP BODY MOUSSE This weightless whip's powder-soft texture is simply magical and includes a power-house blend of age-fighting ingredients like peptides and retinol normally reserved for high-end facial treatments. This is perfect for neck lines and sun-kissed chests, arms, and legs.

HONEY HEEL GLAZE This Texas wildflower honey-based serum seals in moisture and brings rich color back to tired feet. Simply brush on and rub into feet for chalkless bliss – no more white," ashy look!

TIMESCAPE MICROMAZING POLISH Thousands of tiny micromazing™ natural plant-based fiber particles that wipe away the years with micro-fine wonder in just 2 minutes. Clinical tests revealed in just 12 days of daily use, these exfoliating mega-wonders led to a 46% visual improvement in skin renewal.

SUNDAE BEST CHOCOLATE MASK A natural, blended active face mask with soothing wholesome ingredients like cocoa, coconut milk and honey in addition to powerhouse enzymes that boost your natural defenses against the look of wrinkles and sagging.

BUTTER RUM BODY POLISH Golden brown sugar and premium aged rum combine with rice bran oil in this buttery-sweet, butterscotch scented fine body scrub that instantly puts you in a good-time mood!
http://www.farmhousefreshgoods.com
ROOT & NOURISH Wellness experts Abbey Rodriguez and Jennifer Kurdyla teach women how to incorporate plant medicine into everyday life through food and self-care. These affordable, seasonal, and sustainable recipes, drawn from Western herbalism and Ayurveda, are designed to help you curate a personalized herbal apothecary that will serve you for a lifetime. http://www.simonandschuster.ca
MULBERRY SILK PILLOWCASES These 100% certified mulberry silk pillowcases in blush or white pair beautifully with a GhostBed's Canadian-made mattresses or Ghostsheets for cool, comfortable sleep.
FRESH FOOD Kabo is a subscription-based fresh dog food company that allows clients to make mealtime easy and enjoyable while doing what's best for their pet. Kabo offers 4 different fresh recipes that include a Tender Chicken, Hearty Turkey, Savoury Beef, and a Luscious Lamb recipe. All Kabo foods are made from fresh Canadian, human-grade ingredients with no by-product meals, and no artificial flavors or colors. – http://www.kabo.co
BELLY BIB Introducing the one and only Belly Bib from T.O. Dogswear. These innovative underbelly coats will keep your dog clean and dry this Winter from splash ups, snowballs, salt, mud and more! Their velcro straps make it easy to throw on right before your walk and will keep your dog dry, warm, and clean on all those slushy walks. They're 100% waterproof, have a quick dry material, and are machine washable. As if that's not enough, these amazing upside down coats are 100% eco-friendly, made from up to 23 recycled
plastic bottles, and made in Canada! http://www.todogswear.ca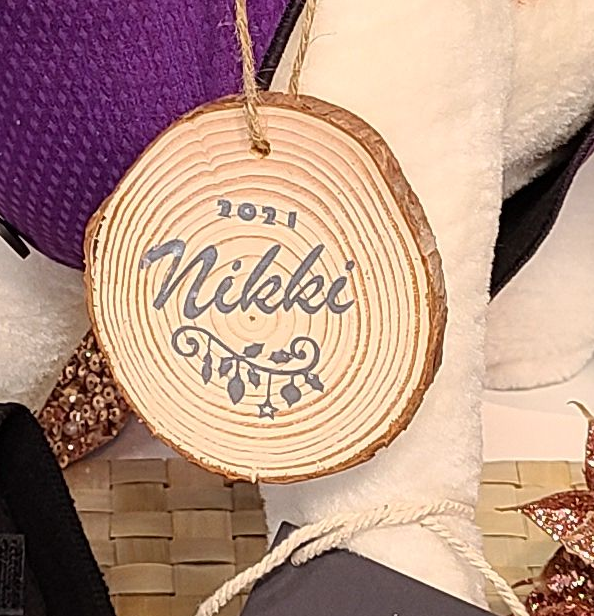 Try This –
Create your own custom keepsake labels! These adorable little ornaments are a great way to personalize a stocking as shown here or they can be used as gift tags to put a finishing touch on your gifts. Once the gift is opened, your loved one has a lovely keepsake ornament they can add to their tree!
To make these custom tags, we simply purchased 3" natural wood rounds from the local craft store. They were already pre-drilled and came with string for hanging!
We then created a label for each person using Cricut's Design Space and cut each label on permanent Smart Vinyl. We then transferred the labels to the wood rounds to create a custom tag for each stocking. For a durable, long lasting finish, use a sponge to apply a layer of Mod Podge over each label. Attach a length of string or ribbon for hanging and you're done!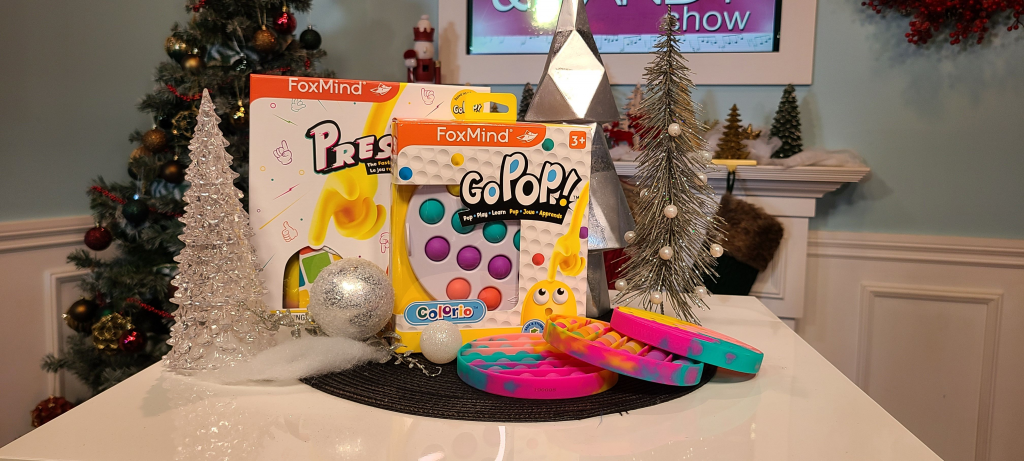 GO POP! PRESTO Race to pop the bubbles! Complete the challenges on the Presto Cards and be the first to tap Bubblo to win the round! Players with quick reflexes, excellent eye-hand coordination and a good sense of observation will prevail in this fun party game for the whole family.
GO POP! Enjoy the tactile sense of infinite bubbles popping while engaging your mind in a light and fun logic game for two players ages 5 and up. Or, simply enjoy it as a fun and soothing fidget.
EOS HOLIDAY LIP BALM SET Enjoy eos' beloved lip balms in new holiday flavors that deliver long-lasting hydration and seal in moisture. – http://www.evolutionofsmooth.com
OLA BAMBOO TOOTHBRUSH The first and only eco-friendly bamboo toothbrush made in Canada. Perfect for the whole family! – http://www.olabamboo.com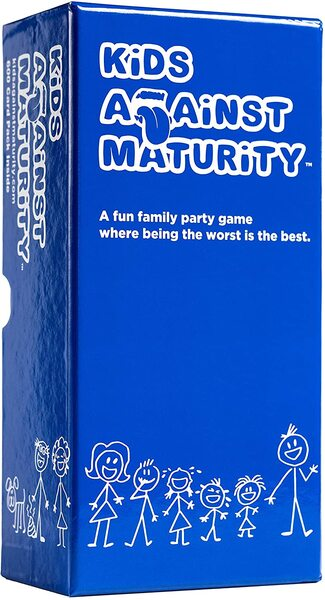 KIDS AGAINST MATURITY Bring joy to your world with Kids Against Maturity! Keep your kids busy and laughing during the holidays and all year round with this hilarious, award-winning fill-in-the-blank game. With age-appropriate toilet humor for kids and witty layered innuendos for parents, Kids Against Maturity delivers festive fun for the whole family – ideal for parties, travel and sleepovers. http://www.kidsagainstmaturity.com
CARE BEARS 14″ PLUSH A group of huggable BFFs living that sweet caring life and what better way for you to join in on the fun than with these Care Bears Plush friends. Each Care Bears Plush is 14″ inches in size, perfect for unlimited bear hugs, and ready for you to take on your adventures of sharing and caring! Available at Walmart. http://www.walmart.ca
KINETIC SAND SANDISFACTORY SET Mix, shape, slice, and squish Kinetic Sand like you've never done before with the Kinetic Sand Sandisfactory Set! The set includes everything you need to create your own mesmerizing sand surprise reveals and make oddly satisfying videos – just like the ones you've seen online – right at home! With over 10 different tools and molds, and two pounds of Kinetic Sand, there's so many ways to create! Before you play, fluff the sand to get it flowing! Kinetic Sand is the original mesmerizing magic sand that flows through your hands and never dries out so you can play again and again. With red, blue, yellow, and rare black Kinetic Sand, you can mix them together to create new colors or add marble designs to your creations. http://www.spinmaster.com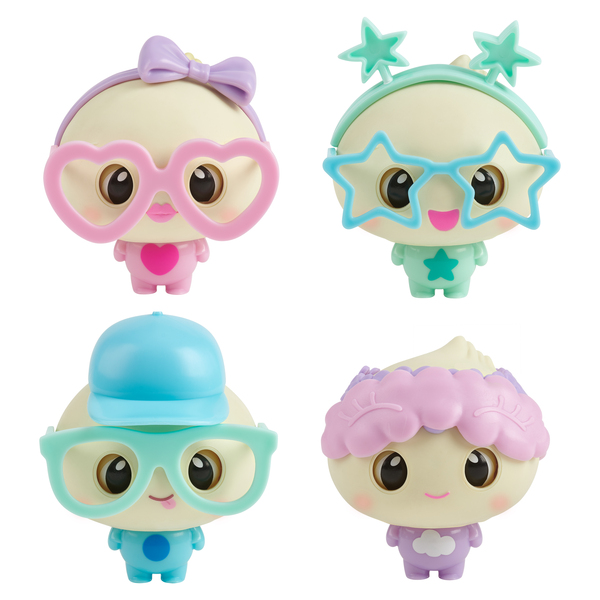 MY SQUISHY LITTLE DUMPLINGS Adorable interactive characters with BIG personalities and the cutest accessories to match! Squeeze their cheeks to pop out their unique personalities! Squeeze, shake, toss, hold them upside down… they react differently depending how you play with them! The more you interact, the better you'll get to know your new best friends and their adorable personalities. Collect the entire My Squishy Little Dumplings squad and master their language with the "Squishionary" dictionary! http://www.wowwee.com
BLUEY PLUSH AND ALBUM Bluey is a multi-award-winning Australian children's series that is charming audiences around the globe. Bluey follows the adventures of a lovable and inexhaustible six-year-old Blue Heeler who lives with her Dad (Bandit), her Mum (Chilli) and four-year-old little sister, Bingo. Inspired by the delightful characters from the multi-award-winning series, Bluey and Bingo are a cuddly soft plush duo ready for imaginative play. Bluey: The Album features 17 all original compositions from series one of the animated show. Composer Joff Bush incorporates classical themes throughout the soundtrack which moves between ska and folk. http://www.bluey.tv
ELF PETS Santa's Cuddly Helpers, the Elf Pets are magical animals that play important roles during the Christmas season! Sent straight from the North Pole, these cuddly pets serve as year-round pals to kids who can hug, love and play with them. Each holiday season, the Elf Pets aid Santa with his Christmastime duties, and with their Elf Pet in hand, kids can help Santa during Christmas too! All Elf Pets come with their own hardbound storybook explaining exactly what they do to help Santa. http://www.elfontheshelf.com