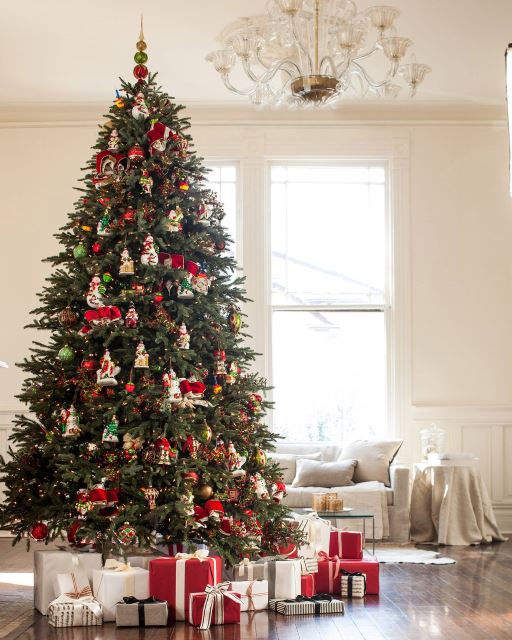 4 Tips for Creating the Perfect Christmas Space
When December comes around every year, many people love to decorate their homes for Christmas. Whether you prefer to fill your home with charming and rustic holiday items, whimsical decorations or elegant Christmas décor, it can feel overwhelming when you're trying to tie everything together to create the perfect holiday haven. Instead of stressing about how to create a picturesque holiday space, use these four tips to make choosing décor items easy and create a charming Christmas room that will impress your family and friends.
Choose the Perfect Christmas Tree
There are many different types of Christmas trees to choose from, and selecting the right one for your space is essential for creating the perfect holiday room. If you choose to use a live tree, your home will smell delightfully fresh with less of a mess to clean up, but it can be a hassle keeping a tree alive through the entire season. Many artificial trees, such as Balsam Hill Christmas trees, look realistic and require less care, making them ideal focal points for any holiday room.
Reading a Balsam Hill review can give you a better idea of which type of tree would look best in your home. If you have a small space but high ceilings, a tall, slender tree may be the best choice. A full, round tree might be the better choice for large rooms, but you might prefer to get a small, 4-foot tree if you live in a tiny apartment to preserve space. Looking at the many different Balsam Hills trees available can help you determine which type of tree you should go with.
Pick a Central Theme
Your space will look crowded and overwhelming if you choose random Christmas decorations. Focus instead on one theme and use it to tie all of the pieces together. Your decorations do not have to match, but if they share a theme, the room will tie together nicely. If you mix and match items from different themes, the overall effect while be chaotic so instead choose one to focus on and buy decorations that fit into the proper category. By using this strategy, you can make your holiday space look elegant, whimsical or traditional.
Stick to One Color Palette
While red and green are traditional Christmas colors, there is no reason you can't branch out with another color palette if you want to. To make your décor flow together nicely, however, you do need to stick to a single palette instead of combining several. If you want to create a fun whimsical space using pink and gold decoration, using random red and green items can make the room look overwhelming. If you want to create an opulent, sophisticated room with red, green and gold decorations, silver items will look glaringly out of place. It does not matter which color palette you choose to use, but sticking to a single color theme can tie your room together.
Make the Most of the Space You Have
One of the best ways to create an inviting, cozy holiday space is to make the most of the space you have. If you have a large room, using a lot of small items can make the space feel empty. In contrast, using big items in a tiny room can quickly make it feel cluttered. Using items that are proportional to the size of your room is essential when trying to create an inviting space.
Decorating for Christmas doesn't have to be an overwhelming task. By utilizing the four strategies above you can create a holiday space that is tasteful, cozy and inviting with minimal hassle. The space you create can help you relax and enjoy the season.