4 Tips for Speedy Teen Room Makeovers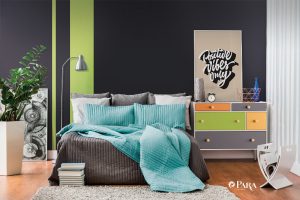 It must feel like your teen's style changes every few weeks. Just like their interest in bands, clothes, sports or makeup, their taste in room décor can change from one day to the next. So when you're faced with requests to redecorate and reorganize their space it's best to find a style they truly love so you're not breaking the bank and making constant changes. A full bedroom redesign can be costly, but a few simple tweaks can make a big difference. With these four easy tips your teen can get that new room they've been asking for and you can save a bit of time and money.
Rearrange: Before you can start rearranging your teen's room you must declutter. Let a room makeover be the perfect opportunity to recycle or donate unused items. Then assess the room's layout. If your teen moved from a twin to a double bed this may affect the room's floor space. Try moving larger items like dressers, desks and beds to a new location and see how they influence the room's flow.
Colour: There's nothing easier or more affordable for creating a big impact than paint. Adding colour or swapping in more mature hues can transform the space and help your child's room grow with them. If you're hesitant to go for the bright or bold colour your teen has chosen, consider using it a bit more sparingly such as on an accent wall or as part of a stripe. A few popular colours include Roar PF36 or Ceviche PF 51 P5678 by Para Paint — try them in their Premium eggshell finish for easy washing and a low sheen finish. Soft greys or neutrals are the perfect balance for these strong hues.
Furniture: This may be a necessary upgrade if your teen is outgrowing their bed or desk, but items like a classic wood dresser or nightstand can be reclaimed and refinished. It's as easy as sanding and repainting in a fresh colour that matches the new décor. Remember to use a primer and end with a melamine or semi-gloss finish to ensure the paint adheres properly and stands up to use. Paint a chair or a large table to create a cool workspace or experiment with a stripe to create a statement that both you and your teen can live with.
Accessories: From drapery and blinds to throw pillows, rugs and lighting, teens can easily and affordably accessorize their space at one of the many large furniture retailers. Accessories help pull a room together, accentuating the theme and making it look polished. Remember to set a budget for your young adult and emphasize that purchases should be cohesive.
At the end of the day, your teen's room should reflect their personal style, so let them express their creativity with the room's layout, paint colour, and accessories.
www.newscanada.ca