8 Frugal Ways to Store Your Make-Up and Hair Things
We all need ways to store our make-up and hair tools. There are many storage options available but they can be quite costly. We've compiled some of our favorite frugal storage ideas for you.
#1- Use a Spice Rack for Perfume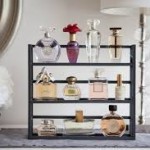 – This is a great way to store your perfume. If you don't have an old spice rack kicking around, try searching the local thrift store or dollar store.
#2- Use a Cake Stand for Perfumes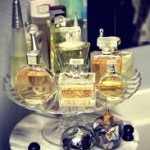 – Buy yourself a cake stand, usually at a cost of $10 or less. Store your perfumes and make-up that you usually use on a daily basis and create a pretty display at the same time.
#3- On the Go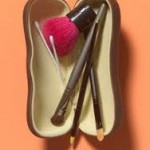 – When you need make-up for on the go, for travel or just touch ups here and there, use a big sunglasses case and you can go anywhere with it.
#4- Use a Vase Filled with Coffee Beans or Pebbles
– Your flowers are dying anyway right? So clean out the vase and fill with either coffee beans or some pebbles or stones and you can store your make-up brushes in a fashionable way.
#5- Use a Utensil Organizer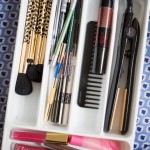 – This is great for those who want to tuck away their make-up but yet keep it handy without everything going out of the way.
#6- Store Your Tools in a Decorated Magazine Holder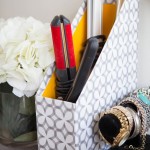 – Decorate an old magazine holder and use it to house your big tools like your straighter, curling iron, etc.
#7- Command Hooks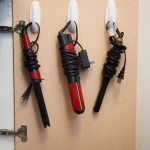 – If you don't feel good about putting your tools in a magazine holder, try command hooks. Just put the hooks on the inside of your bathroom vanity doors and hang the tools.
#8- A Shoe Organizer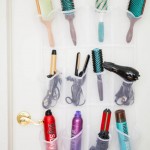 – For a super frugal way to organize your things; try using a shoe organizer that hangs from your door. It's got plenty of pockets for storing all kinds of tools.