Breakfast Inspiration for Busy Mornings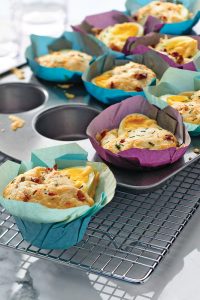 From juggling work agendas to getting the kids ready, it can be tempting to skip breakfast on hectic mornings. But think twice before ditching this important meal — breakfast gives our bodies and minds energy to start the day. By skipping breakfast, we risk losing out on important nutritional benefits.
Fortunately, even if you're dashing out the door there are some simple ways to create better breakfasts that work with the time you have on hand. The better food experts at Sobeys have you covered with some breakfast tips and inspiration.
A balancing act. There's no "right" breakfast plan, but following Canada's Food Guide can help you create a wholesome breakfast. A balanced breakfast consists of foods from at least three food groups. This will provide you with a good distribution of carbohydrates, fats, proteins, and essential vitamins and minerals.
Try sandwiching an egg in an English muffin and pair it with half a cup of orange juice or a piece of fruit, or mix three quarters of a cup of yogourt with half a cup of sliced fruit and a quarter cup of bran cereal. Whenever possible, incorporate protein into your meal because it helps curb hunger. Good sources include eggs, nut butters, Greek yogourt, cottage cheese, and lean meats such as ham or back bacon.
Grab and go. Need an energy blast? Try a fruit-packed smoothie, which makes a great morning pre-workout snack as it provides carbohydrates for energy. Have it with one or two slices of toast and two tablespoons of peanut butter for a balanced meal.
For something different, take five minutes to prep creamy chia pudding the night before. In a portable mason jar, combine two tablespoons of chia seeds with one cup of milk (nut, soy, rice, and dairy varieties all work) and sweetener to taste. Refrigerate overnight, then top with your choice of half a cup of fresh (or a quarter cup of dried) fruit and two tablespoons of nuts. If you're eating away from home, pack the toppings separately and then combine once ready.
Dine and dash. Got 15 minutes? Skip the drive-thru and make a breakfast sandwich stacked with ham, tomatoes, cheese, and a fried egg on a toasted English muffin. For an easy sandwich, layer whole grain bread with pear, cucumber, and fennel slices, then top with Havarti.
Find more breakfast recipes, tips, and inspiration online at betterfoodforall.sobeys.com/breakfast.
www.newscanada.com