Christmas Party Make-Up Tips
We just discussed the perfect Christmas party outfit. Now we need to have a chat about your party make-up. You really don't want your make-up to be gawdy or over-sparkled. We all know someone who over does the sparkly face thing every year. (Sheila from accounting…). We need to look at how you can make your beautiful self more beautiful without all the unnecessary extras. Here are a few tips and tutorials on just this very thing!
Festive Tip 1: Shimmer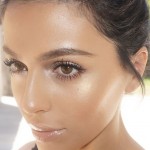 There's a million reasons why we love tinsel on Christmas trees and strings of lights around our homes: They make everything look festive and glowing. The same is true for highlighting makeup. To get your very own shimmer, sweep a glittering powder over your cheekbones, below your brow bone and onto the inner corner of your eyes. If your skin is light, reach for a pink-based highlighter, while medium- to dark-skinned women should try golden tones.
Festive Tip 2: Brows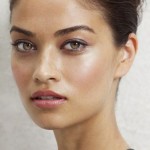 Eyebrows are very much made to frame your face. With that in mind, simple grooming will help a lot. This includes combing the hairs and filling the bare spots. When you are done that, it will give you a much needed pick-me-up. Try any of the handy brow-grooming kits, your face will thank you for it.
Festive Tip 3: French Manicure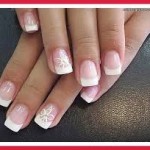 Is there a better way to nod into the holidays than a French manicure redone with luminescent of the wow-factored pink and white colors? You'll get the same effect but with an added twinkle accompanying your every gesture.
Festive Tip 4: Pretty Ponytail
A ponytail might be your everyday hairdo, but you would be amazed how well it can up your holiday look. Want to up your ponytail? Try teasing it at the crown for extra volume before you put the hair tie in. It will give it that little something extra.
Festive Tip 5: Eyeliner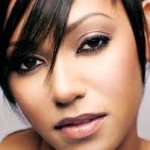 Black liner, when swept across the top eye lid, makes for a simply bold yet elegant statement that needs very little else: Think of Angelina Jolie, who's hardly ever caught in a photo without her standard eye look. The little trick to this is to trade your eyeliner pencil for liquid eyeliner, even a gel liner works great too. Close the eye and start at the inner corner and give it a bit of a wing when you get to the end. Simple!
Festive Tip 6: Lipstick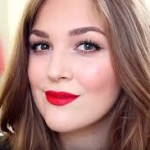 Chocolate isn't only a sweet treat this season but also a great choice to replace the standard red lipstick. Skip the matte browns and reach for those with mauve or reddish colors in them.
Festive Tip 7: Change Your Part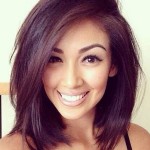 Where do you normally part your hair? You could try parting it on the right or the opposite of what you normally do. It sounds hard to believe, but just simply changing your part not only gives you a totally different look, but it also graces your hair with extra body that you probably didn't know it had!