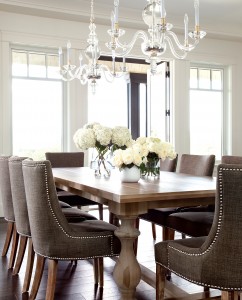 Your dining room has the potential to be one of the most multipurpose spaces in your home. Depending on how you use your dining room should vastly effect your decor choices, so establishing what those uses are going to be should be your first step in the decorating process. Once you have established whether the main use for your dining room table will be crafts and homework with your kids or formal dinner parties with your friends, be sure to consider the following elements when making your decor and design choices.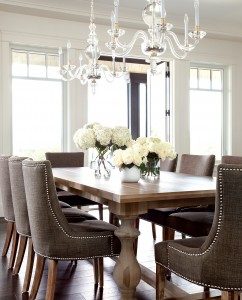 Lighting
No matter what you're using your dining room for, you want to make sure it is thoroughly lit. You have a few different options for lighting your dining room. A singular overhead lighting piece can be used to not only illuminate but make a decorative statement:
Pendant lighting
Chandelier
A pendant light is defined as being a singular light suspended by a chain, rod or wire. A chandelier, on the other hand, has a visually complicated structure with multiple branches and multiple lights. A smaller dining room may be more suited to a pendant light, while a spacious room with minimal decor might be complimented by an elegant chandelier. Depending on the size of your dining room, you may find that a singular lighting fixture isn't enough. In this case, you may want to consider sconces, track lights or table lamps.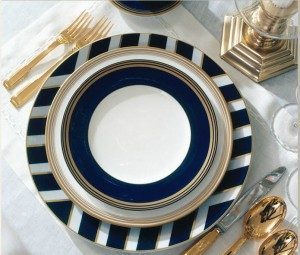 Tableware
When selecting your dinnerware, the most important factors to consider are lifestyle and storage. Some homeowners may deem it necessary to have two sets of dishware: one for entertaining and one for everyday use. If you're going to go this route, ensure that you have the proper space to store your tableware.
Multiple surfaces
Of course, the first surface to consider is your main table, but never underestimate how much surface space you'll ultimately need, especially if you're big on entertaining. If you have the space, consider a bar top, a sideboard or a server, to stow appetizers, drinks and extra tableware. Utilize the length of the room, with a long table, or corners with a small credenza.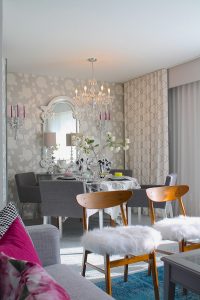 Wise pattern usage
Contrary to common belief, your dining room definitely does not have to be stuffy and formal. Since it's a room that's used for brief and fairly specific amounts of time, you can afford to be bold with your colour and pattern choices. If you're scare to overdo it with patterns, go crazy with the upholstery on your chairs, and keep the rest of the decor simple and clean.