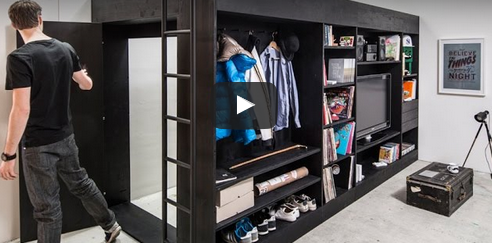 Fantastic Multi-functional Furniture Ideas
Multi-functional furniture is blazing a path of its own. If you like the idea of space saving or you want a great new, modern look for you home, multi-functional furniture is for you!
#1: The Storage Bench: Montana Burnett gives us a sneak peak of her idea for the storage bench. What she does with this bench is awesome!
#2: Bed and Storage in One: This video shows you how to turn seven standard kitchen cabinets from IKEA into a platform bed with plenty of storage.
#3: How to Build a Multi-function Seat: This seat is not only multi-functional, but looks great too! Plus, the Aussie accent doesn't hurt lol.
https://youtu.be/MRL3p7CrwtI
#4: Compact Living Cube Multi-Functional Furniture and Storage; Swiss designer Till Konneker of Ill Designs moved into his apartment studio only to discover it lacked storage space. Like a creative artist that he is, Till imagined a storage space large enough to house a library, a bed, a closet and much more – a multi-functional furniture set for the modern home
https://youtu.be/HMJ5dgCm6YA
#5: Wall Bed Systems Talk about multi-functional! The LGM Tavolo is a desk, bed and shelving all in one. This queen size wall bed offers 35 linear feet of shelving and a 5-foot fold-down table. The shelving rotates to expose a queen size wall bed and side tables.
#6: Transformable Ottoman Stools: This is cool for the person who loves to entertain.
https://youtu.be/Ed_BmbC67Tw