Five Tips to Get Through the Winter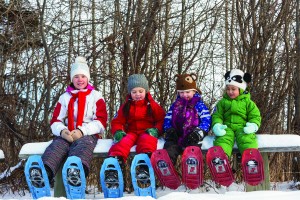 Has the snow got you dreaming of the warm summer sun and hot days by the lake? For those who want to hibernate our way through the winter, here are a few tips to boost your spirits.
Tip #1: Start thinking about your ultimate summer vacation. You can guarantee your spot at many iconic national park camping destinations as early as January, using the Parks Canada online reservation service. The user-friendly online reservation system has many useful features such as the option to view photos of campsites before booking. The service even allows you to book guided hikes before you arrive at your destination.
Tip #2: Plan a trip to an outdoor day spa or hot spring. There's nothing quite like having the stress of everyday life melt away. Canada's Rocky Mountain national parks boast relaxing hot mineral springs in some of the most iconic winter vistas. Visit Radium in Kootenay National Park, Miette in Jasper and Banff Upper Hot Springs on your trip to the Canadian Rocky Mountains.
Tip #3: Winter may not be everyone's favourite season, but that doesn't mean you can't learn to love it by taking up a new outdoor activity. Whether you choose to snowshoe, toboggan, skate or ski, there's a winter sport you'll surely love at a national park near you.
Tip #4: If you're not the type to rough it in a tent during the winter, perhaps a cabin or oTENTik is more your style. These unique camping accommodations, available at select parks across the country, offer a unique blend of homey comfort and a taste of outdoor adventure that will make you want to go camping every winter.
Tip #5: No need to get fancy, just bundle up and go for a walk outside. Enjoy some quiet time in Canada's national parks and historic sites where you can set your own pace and connect with nature in your own way.
The ground may still be covered in snow, but warmer weather is just around the corner, so start dreaming of summer, purchase your Parks Canada Discovery Pass and reserve an adventure, for a night, a weekend, a week or more, at www.pc.gc.ca/eng/voyage-travel/reserve.aspx
www.newscanada.com