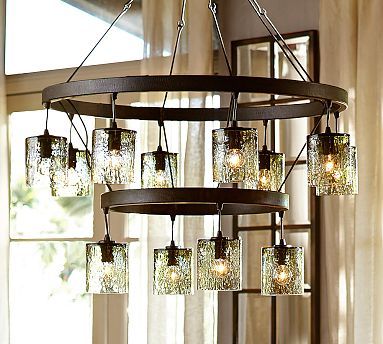 How to Choose the Right Chandelier for Your Dining Room
When it comes to illuminating your dining room, the right chandelier can do your space a major favour. In addition to providing light and ambiance, a properly selected chandelier fixture can compliment your existing elements and exhibit your personal style. On the other hand, a poorly chosen chandelier can take away from your space, and serve as an embarrassing, unavoidable eyesore (not to mention the toll it will take on your wallet).
To avoid subjecting yourself and your guests to a monstrosity of a fixture for the next decade or so, be sure to consider these three crucial elements: diameter, hanging length, and style.
Diameter.
Size is arguably the most important factor to consider when shopping for your chandelier. If your dining room is already decorated, you want to choose a fixture that is about a foot less than the width of your table at its widest point.
Hanging length.
First, measure the distance between your table top and your ceiling, as this will determine how you will hang your chandelier. Leave a 30 inch margin between the bottom of the fixture and the top of the table and a two feet margin (at least) between the top of the fixture and the ceiling. If you're working with high ceilings, you may want to consider a fixture with multiple tiers. Selecting a chandelier with an adjustable rod or chain will prove to be helpful in the future, should you choose to replace your dining table.
Style.
Everything from your existing decor to the size of your dining room will effect the style of chandelier you choose. You want to be well-versed in the aesthetics of the models available on the market in order to ensure you are making the right choice for your space.