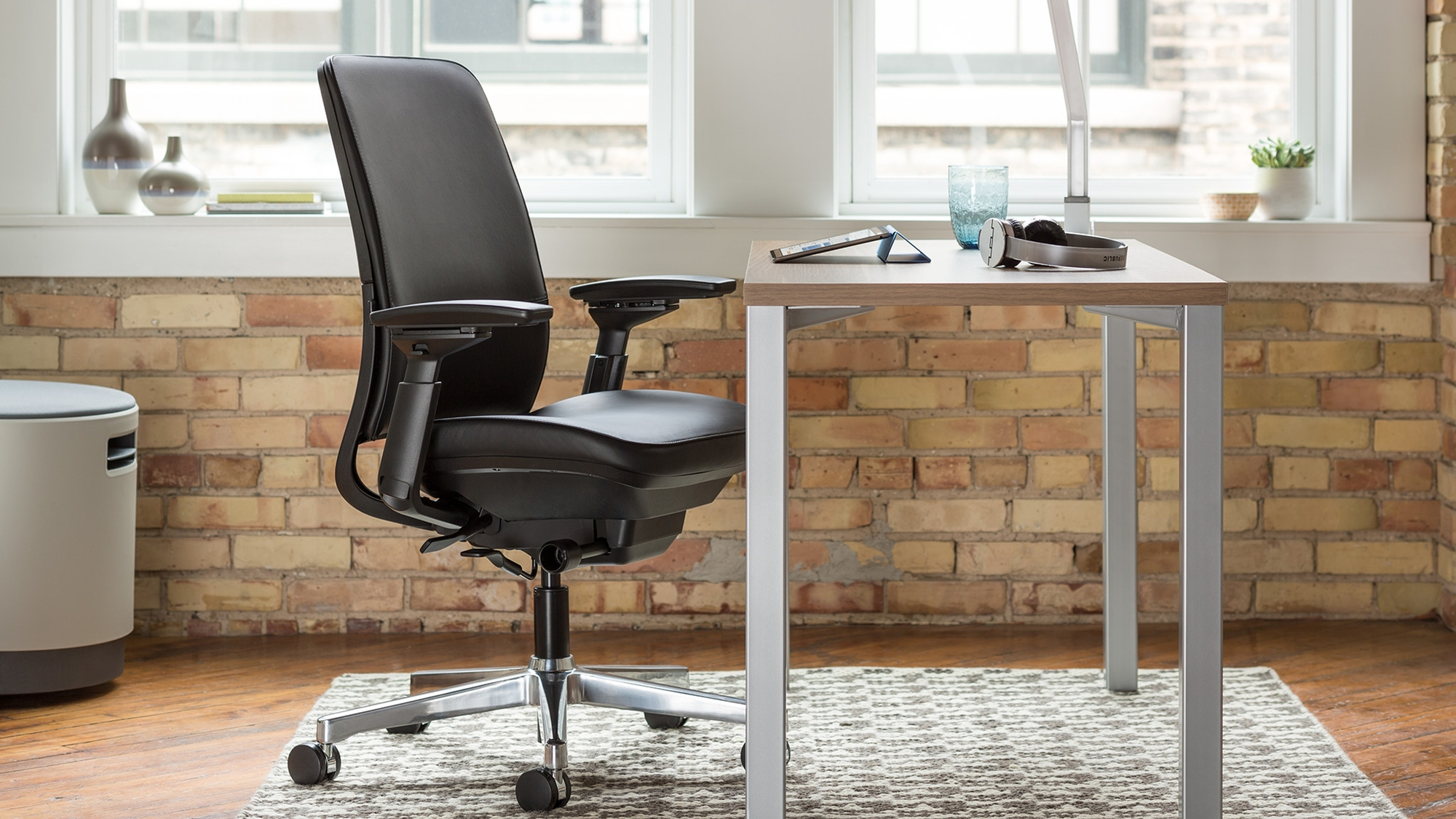 Over the past year and a half, many companies have had to transition some or all of their staff to a work at
home environment. As a result, hybrid work strategies are becoming a growing trend as companies realize the benefits of offering a flexible work environment. A hybrid work strategy enables employees to work from home while still engaging at the office for community and collaboration. A recent study conducted by Angus Reed discovered that this trend is growing in popularity among employees with 39% of them saying they prefer a hybrid model while 29-34% would look for another place of employment if a hybrid model was not adopted in their current workplace!
Of course, working from home does not work for everyone. According to the experts at POI Business
Interiors, there are many things that should be factored into the decision including the home
environment, type of work (focus work vs collaborative work), individual personalities (introvert vs extrovert) and the ability to separate worklife and homelife. For some, working from home may elevate productivity while for others, an office environment may be a better setting.
To successfully incorporate a hybrid work strategy into your workplace, POI experts suggest you consider
performance, privacy, productivity, flexibility, individual needs and connection! The work from home experience should replicate the office experience in terms of creating an environment that supports individual comfort and wellbeing while enabling productivity. A hybrid work strategy involves working
with each employee to create a plan that supports physical comfort and safety, takes individual
personalities into consideration and ensures a healthy worklife and homelife balance is maintained. Technology will also play a large part in this plan, from proper lighting to reliable connectivity and of course, virtual collaboration between office and home with software applications that keep everyone connected.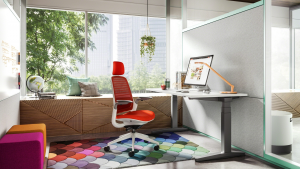 AFFORDABLE QUALITY
Steelcase Series™ 1 delivers ergonomics, quality, and choice while making it attainable for everyone. With LiveBack™ technology and soft curved arm caps to maintain forearm support, its intuitive adjustments fit a broad range of users, making it easy to use. A wide range of colors, fabrics and finishes make it easy for
companies to put their brand on display in the office. Pair with the Migration SE, a height-adjustable desk built for the home office with performance and well being in mind to support you wherever work gets
done.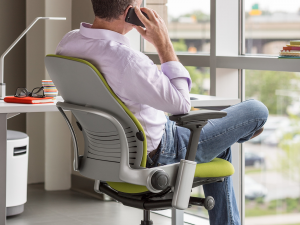 ERGONOMIC BEST SELLER The Leap office chair features patented technology in the seat and back proven to increase productivity. Leap's LiveBack® changes shape to mimic the movement of the spine and supports your body as you move. Natural Glide System™ technology enables you to comfortably recline while keeping your body aligned with your work so as not to strain your eyes, neck, or arms. 4-way adjustable arms move in height, width, depth and pivot to better support the neck and shoulders.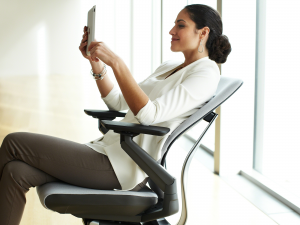 FULL SUPPORT Gesture is the first chair to support a greater range of technologies, postures and user sizes. The back and seat move as a synchronized system to provide continuous and persistent support. The arms move similar to a human arm which allows users to be supported in any position. This chair provides excellent support for any seated position and adjusts quickly for ease of use.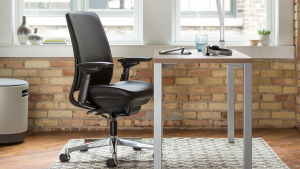 CLASSIC STYLE Steelcase's table style fixed desk fits in a range of environments as a table or a desk. Post legs provide simple and classic aesthetic as well as ample space for storage. Pair with a classic style Amia chair for all day comfort. A system of flexors offer continuous lower back support as you move throughout the day and keeps your body aligned to your work as you recline and switch postures. The seat contours to
you, while a flexible seat edge relieves pressure on the back of your legs as you recline or lean forward.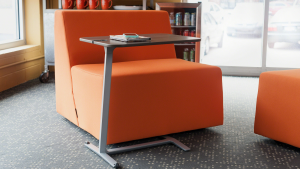 FLEXIBILE SPACE
Transform your living space into a working space with the Campfire Skate Table. Lightweight and mobile, it moves effortlessly to adjust to you instead of you adjusting to your work. Ideal for lounge settings, the Skate Table makes any place a place to get things done.
All Items Available from POI, http://www.poi.ca