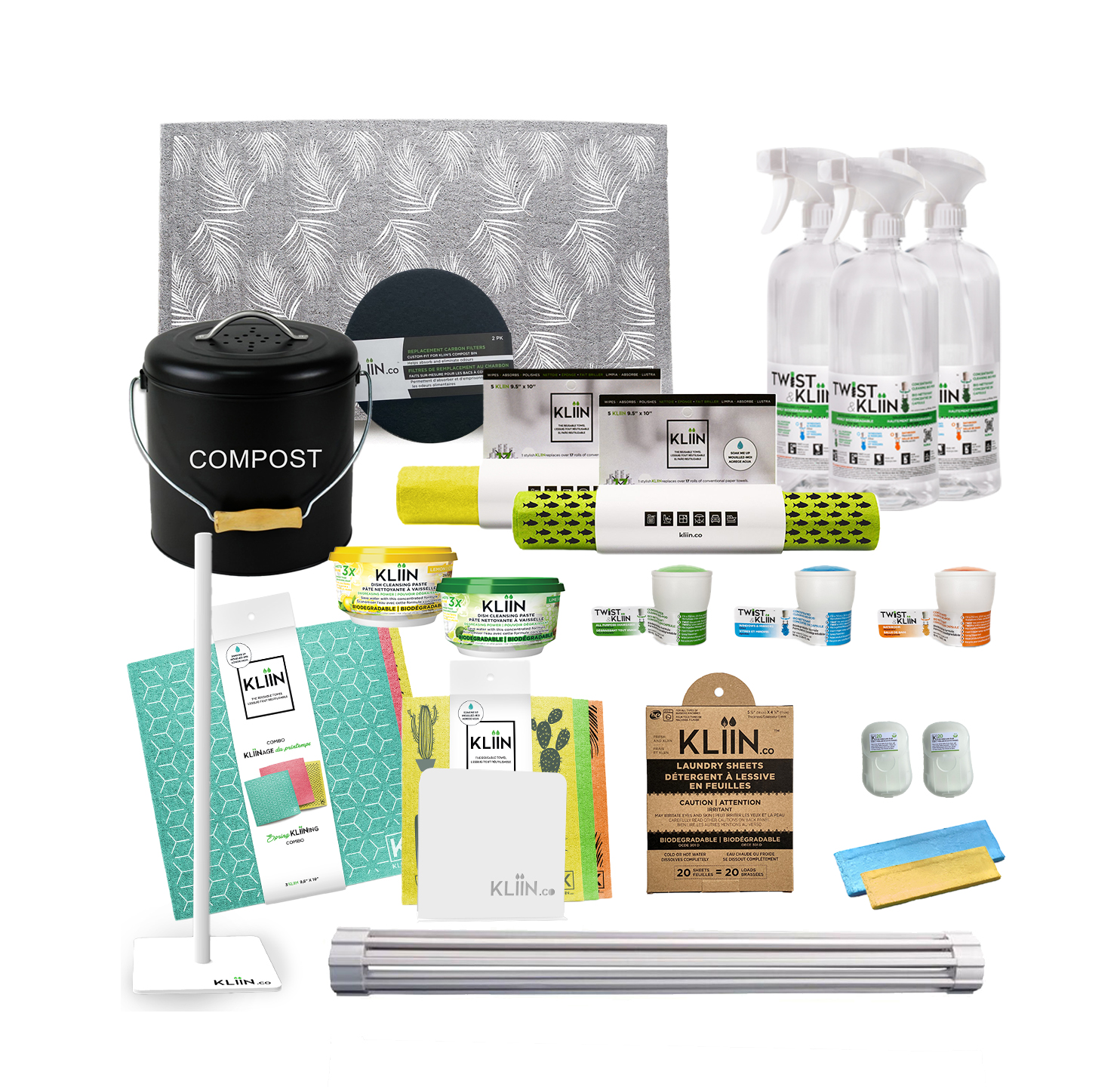 KLIIN Your Home Giveaway!
Give your home a fresh, eco-friendly clean with this prize pack valued at $250! Included: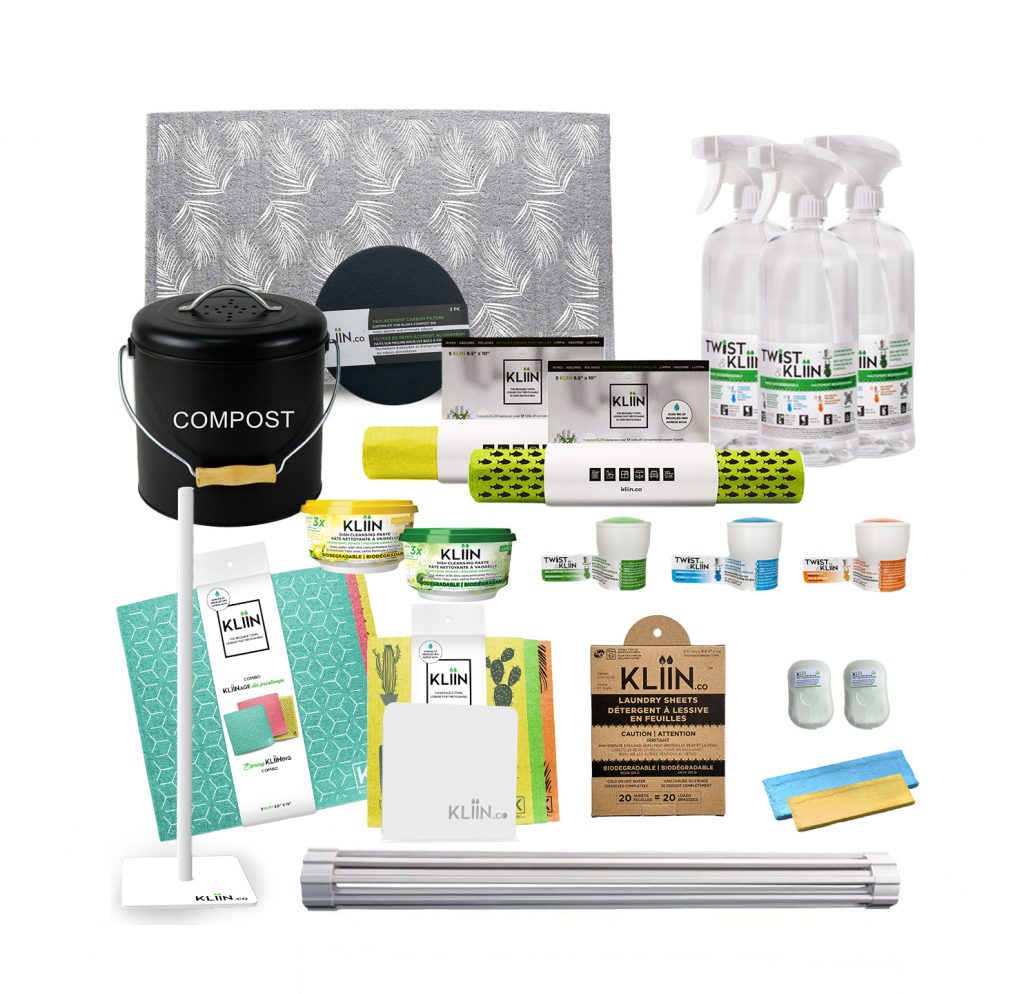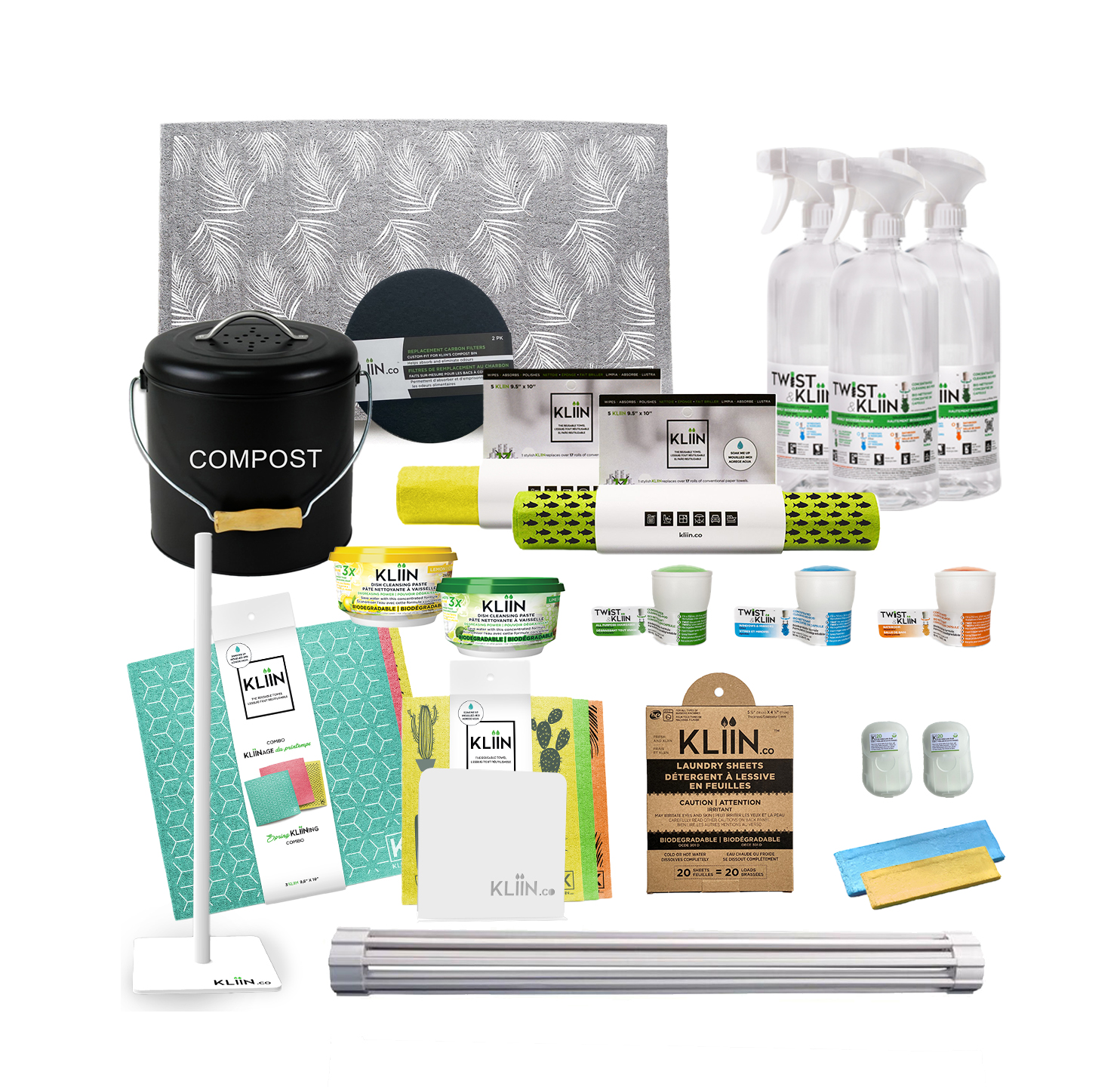 TWIST & KLIIN Concentrated Bio-Pods (1 bottle each, All-Purpose, Windows and Bathroom)
SEALED pod – Safe for your kids !
Concentrated formula – Compact and 100% recyclable pods
Instant & Exact dosing (no dilution time required)
Highly Biodegradable : Meets OECD 301
Easy to carry and avoid shipping unnecessary water – 18 times less storage space used)
Won't damage or dull your surface on short, mid or long-term
Minimizes carbon footprint : 20 times less10 times less plastic than a bottle sprayer
Compost Bin
Perfect indoor tool for creating rich compost from kitchen waste while cooking for the kids ! Made of galvanized steel for strength, with a format designed for daily use.
The lid keeps the contents enclosed.
The ventilation holes allow air to circulate, preventing bad smells.
A carbon filter is included to eliminate odours.
KLIIN Drying Mat (12'' x 20'')
Super absorbent : Will retain all excess water from washing your dishes but will also dry really quickly !
Roll-up Stainless Steel Drain Tray
Perfect addition to our drying mats. Exact same size, place it on top of it. It allows air circulation for all dish parts to dry easily without retaining humidity. It also fits over the sink so water can drip into the drain for drying dishes, pots and pans and glasses.
Made from durable silicone coated stainless steel, the rack won't rust and is non-slip can be rolled up for easy storage. It is heat resistant up to 130 to 150 Celcius to receive your pots !
2x Dish Cleansing Paste (Lemon and Lime) :
The eco-friendly way to wash dishes :
Concentrated formula
Biodegradable
Degreasing power
Saves water
Lasts 3 times longer than liquid dish soap
Compact, recyclable container
Easy to carry: ideal for outdoor activities / camping
Minimal ecological footprint: uses less space in your camping luggage (= more toys for the kids!)
KLIIN Cloths : 3pk Small + 3pk Large + 2x 5-sheets rolls :
100% NATURAL Made of eco-friendly cellulose and cotton fibres
BIODEGRADABLE AND COMPOSTABLE In just 28 days
WASHABLE In the dishwasher and washing machine
HYPER ABSORBENT Absorbs up to 15 times its weight
Economical: a single KLIIN replaces up to 17 rolls of conventional paper towels
Soft: pleasant to use : Even for your little ones' mouths or when bathing !
Resistant: to wear and tear
Durable: lasts for months
Versatile: perfect for all surfaces
Hygienic: dries quickly and keeps bacteria from multiplying: no more bad smells!
KLIIN Laundry sheets
Eco-friendly, biodegradable laundry sheets. Lightweight solution, portable, for use at home or during your travels / camping. Effective in hot or cold water. For all types of washing machines. Paraben-free. Phosphate-free.
Biodegradable Compressed Sponges
The perfect helper for washing dishes and doing other household chores
Ultra-thin when it arrives, it expands (6X its size) when placed in water.
100% BIODEGRADABLE (in 2 months). Made of natural cellulose.
Dishwasher-safe
Biodegradable Hand Soap Sheets
Carry your KLIIN hand soap sheets. Place one sheet in the palm of your hand. Add warm water. Lather and wash. Rinse