Chef Rob Thomas prepares a delicious Patatas Bravas Pierogies Recipe that offers a spicy twist to your traditional pierogies.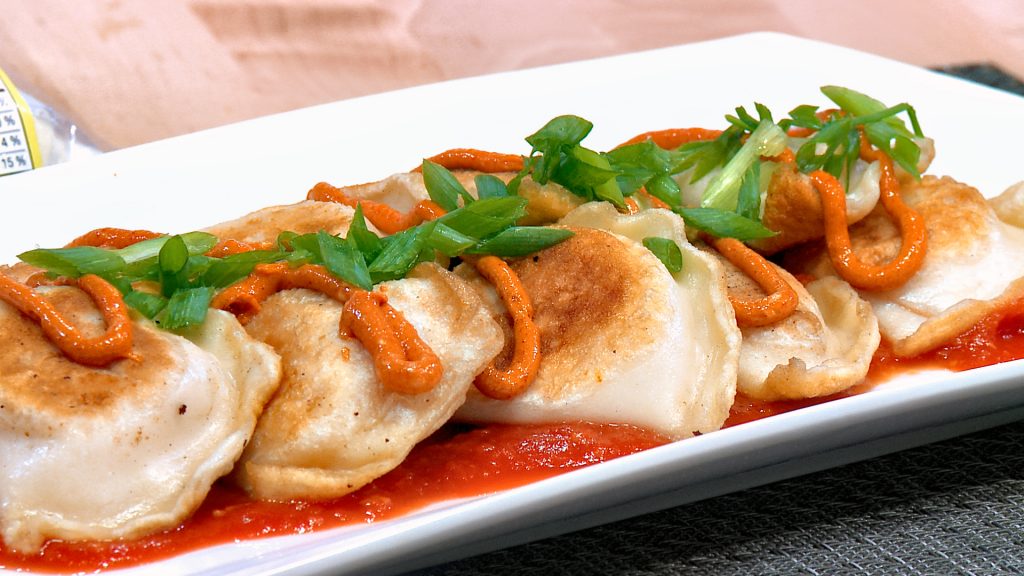 Ingredients
Pierogies
Spicy Tomato Sauce
1 can crushed tomatoes
1/2 cup diced onion
2 Tbsp minced garlic
Olive oil
Salt
Tabasco
Sliced green onion for garnish
Smoked Paprika Aioli
1 cup mayo
2 Tbsp minced garlic
1 Tbsp smoked paprika
1 lemon
Patatas Bravas Pierogies Directions
Prepare Perfect Pierogies as per package instructions.
Prepare the spicy tomato sauce which will provide a delicious base to this dish. In a small pot, heat olive oil and add diced onions and minced garlic and pinch of salt. Cook until translucent. Add in a can of crushed tomatoes and season with Tabasco and salt to taste.
In a separate bowl, prepare the Smoked Paprika Aioli garnish for this dish. Whisk mayo, garlic and paprika together. Squeeze juice from one lemon and whisk thoroughly to combine. Season with salt to taste.
To serve this dish, spoon a generous amount of spicy tomato sauce onto a plate. Place cooked pierogies over the spicy tomato sauce. To finish, drizzle with the Smoked Paprika Aioli and garnish with chopped green onions. Serve immediately.