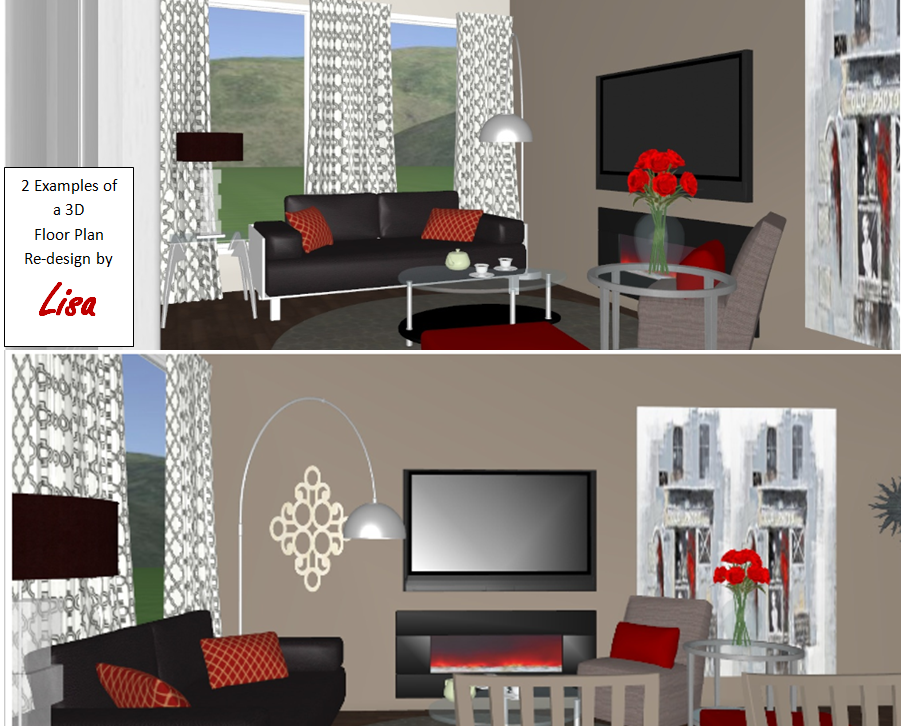 Re-Love It: Creating a Plan

My Home Has The Blues! Do you feel like I do?
Winter is finally over and  I am ready to get over the winter blues and embrace the new spring season ahead. I am ready for a change … and so is my house! Every season brings new colours,  new textures and a fresh new look! This is why we yearn to re-create our interior spaces.
How do we get ready to re-love our home again? We can create a plan.
The best way to "Spring" into action is to start imagining how you want your room to look and feel. Decorating your home is one of those things you procrastinate on. We often get stuck at this stage because we don't know what to do with our home. Paralyzed with the fear of mistakes and not trusting our inner decorator, we would rather do nothing than fail in trying a new look. Spring is the perfect time to get rid of that dingy old kitchen or update that family room stuck in the 80's. Just think, if you take the time to plan the room now – it could be finished by summer!
COMMIT: Pick one room in your house that you would love to change and commit to changing your space by completing the design within 4-6 months.
GET INSPIRED: Get inspired by creating a pinterest board of furniture and accessories that reflect your personal style.
START WITH A FLOORPLAN: It can be difficult to imagine your home with a new colour or new style of furnishings. Maybe you're just not good at visualizing what your room could become – that's why I love starting with a floorplan.
For many of my clients, I create a 2D floorplan (as shown below) to help visualize the space and kick start the process.
I call it the "BLUE"print for successful re-design.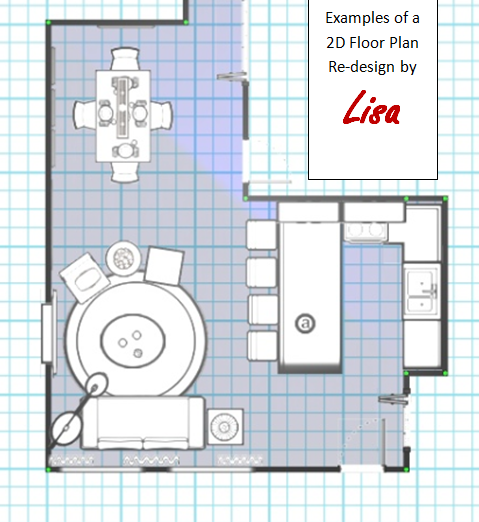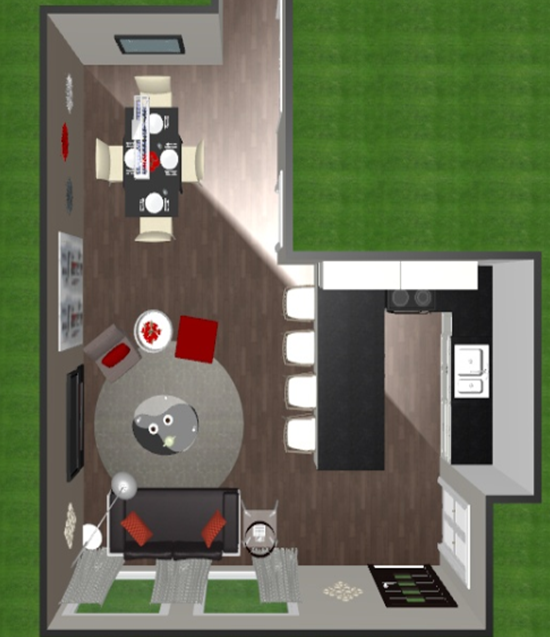 Sometimes taking the 2D (two dimensional) floor plan and rendering it into a 3D (three dimensional) view (as shown below) helps the client see new potential for their space and takes the fear out of re-decorating. They get excited about their home and entertaining again because they can see it before they commit to any purchases. Now you can create a budget and purchase your products as you can afford them over the next few months.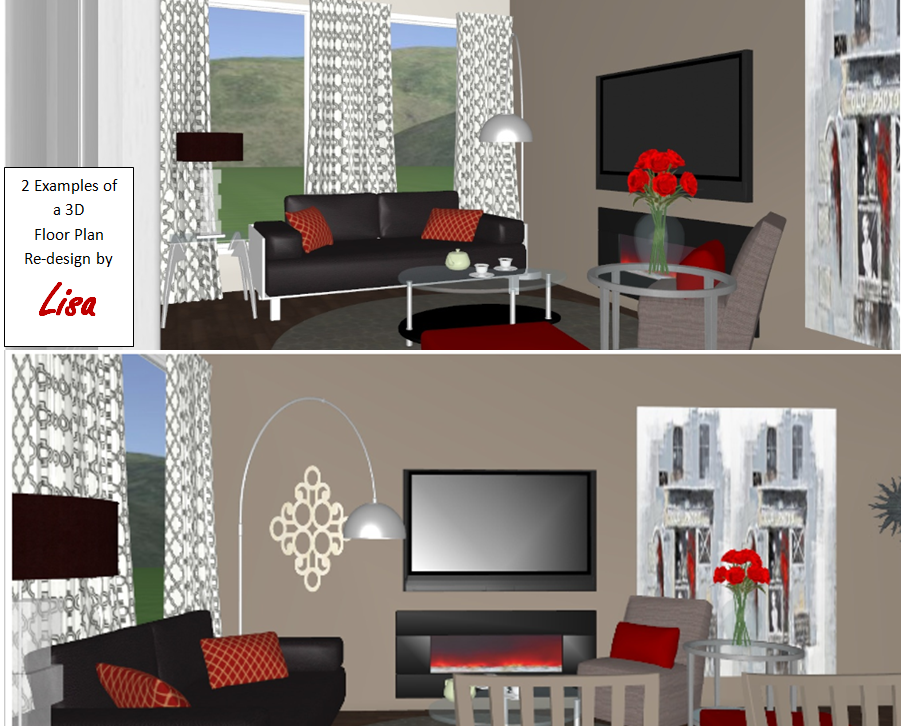 Using a virtual floor plan can give you the confidence to try out a new colour on the walls or a new textile on your furniture, pillows or drapery – all without lifting a drippy paintbrush or buying the wrong piece of furniture! You can choose your colour and style and tell your own home story. If you don't like it, with a click of a button, the colours and styles can be changed!
FURNITURE PLACEMENT: The greatest thing about floor planning is the power of furniture placement. Proper furniture placement brings flow and function to your home. Once furniture is in the right place, the room actually feels bigger, better and more relaxing. This professional plan keeps you from buying something too big or too small for your home. Many people buy oversize furniture because they didn't measure their space properly. In my experience, people often want something right now and in the excitement of shopping they make costly mistakes in their purchases (that's when I get called in to help). A floor plan saves you time and frustration.
BUDGET: Create a budget that is reasonable for your time frame. This allows you to purchase your products as you can afford them over the next few months.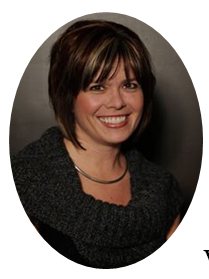 GET STARTED: If you need help creating your floorplan and chasing your "blues" away, give me a call and you can re-love your home again!

Lisa Loeppky PH: (204) 326-7587
Email: lisaloeppky@furnplus.ca
180 Main Street, Steinbach, MB