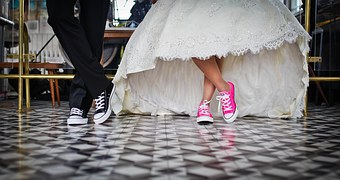 What to Wear to a Wedding When There's No Dress Code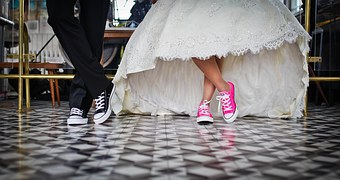 Attending a wedding with an absentee dress code can be a lot like assembling IKEA furniture without instructions. You have a million pieces to choose from, a complete lack of guidance and a very real, looming reality that you may end up with a finished product that is totally wrong. 
An unmentioned dress code is usually unheard of in the wedding world. A lot the times, for weddings that are the more casual or smaller end of the spectrum, the bride and groom may not think it necessary to guide the clothing choices of their guests. But just because the happy couple aren't concerned, doesn't mean that you, as their guest, have a similarly easy breezy attitude on the matter. So keep these simple tips in mind for a fret-free dress code experience.
Don't wear white. 
This is likely the most important commandment of all the dress code commandments; and also the most obvious. Steer clear of white, off white and cream.
Avoid head-to-toe black.
Black is universally flattering and universally tempting, but not appropriate for a wedding, especially during the summer.
When in doubt, go conservative.  
A.K.A. nothing too tight, too short or too low.
Pants are okay. 
Especially if dress code is not specified, pants are safe and appropriate attire. Try to dress up pants with a dressy-ish top and accessories. Nothing can make pants more formal , or occasion appropriate, than a pretty pair of heels.
Do your research beforehand. 
If you're really stumped: check out the venue, contact friends and family who are also attending the event and keep in mind that the time of day the wedding is being held can give you some clues as to what to wear; (the later in the day, the dressier you should probably go).