Winter Activities for Families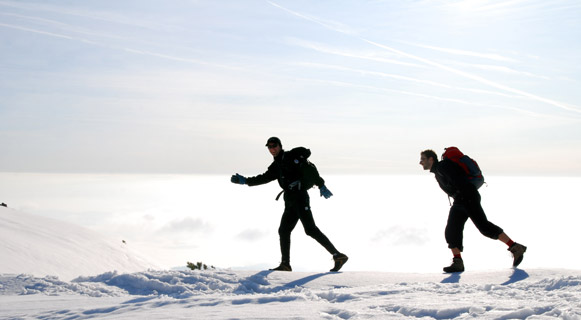 Text by Paul Friesen
I look out the window and watch the snowflakes slowly fall to the ground, covering my lawn in a blanket of pure white. At first I want to panic, "Oh no, more snow shoveling, icy road conditions and frost bitten ears." I contemplate turning up the heat and locking myself indoors for the next five months. Then I spot three children on my neighbor's lawn across the back lane. Bundled up in ski pants scarves and mittens, they're trudging through the freshly fallen snow with proud looks on their faces as they look back on their trail, like explorers making the first footprints in a new land. They fall to the ground, laughing as they spread their legs and arms. It is then that I remember my own days of making snow angels and wonder when little flakes of snow became so terrifying. We could learn a lesson or two from the children across the street. The first cue we must take from our young educators is that if we are to get through winter healthy and happy, we must embrace and not fear Mother Nature.
Now that we've overcome our fear of the cold, it's time to find a winter activity to suit you and your family. The second cue we can take from the kids across the street is that having fun in the winter can be simple. Try putting on your boots and toque and join your kids to help them build a snowman. This is a relatively inexpensive way to enjoy the outdoors with your family, the only costs being some buttons and a carrot for the nose (top hat and scarf are optional). And while you're out there, another way to enjoy the outdoors is to have a snow fight. What kid doesn't like rolling up snow balls and throwing them. Just make sure you set a few ground rules, such as no face washing or dumping snow behind someone's neck.
Another cue we can take from the children is their back-yard exploration. While the backyard is a great place to begin your journey, as a grown up you may want a little more scenery. In that case try taking your little backyard explorers to a provincial park and discover the vast magnificence of Mother Nature on a sleigh ride. You can even take some warm chili or a thermos of hot chocolate to help keep your family warm during the trip. However, if you feel like doing something more vigorous or if the little ones are big enough, try exploring the countryside using snow shoes or cross country skis. You can usually take a class if you're a first timer and you can rent the equipment if you're not quite ready to invest in four or five pairs for the entire family. Also make sure you plan your course and consult a map before heading out.
Of course, if cross-country skiing is not quite your pace you can always head to the slopes and attempt the downhill version. The ski rentals and lift tickets may be a little pricier than their cross-country counterparts, but for some the excitement of barreling down the mountain is well worth the price. It is imperative however that you have the ski skills before going head first down the mountain. Again, enrolling in a class is highly recommended for first timers. Again this includes another cost, which may be okay if you're by yourself. If you're starting to feel the strains of your budget, though, or if the kids aren't ready to start shooting down the slopes on long skis, you can always resort to the safer less expensive version of flying down a snowy hill — tobogganing. Wooden toboggans are a great way for three or four of you to head down the hill together, while plastic magic carpets are a relatively inexpensive way for you or the kids to fly down alone.
Finally, who could resist the most obvious winter activity of all, ice skating? You can either invest in a new or used pair of skates or rent a pair from your local community centre. Many indoor rinks have some free skating hours for the public, and there are lots of parks with outdoor rinks that are always free of charge. You can play tag with kids on the rink, and the time on the ice will help the youngsters prepare for possible careers in hockey or ringette.
So, I'm taking my cue from the children across the street. It's time to put on my coat and go enjoy the great majesty that winter has to offer.