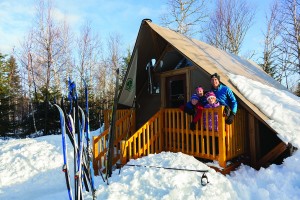 Camping is an iconic Canadian pastime enjoyed by millions every year. But while most campers pack away their gear once the frost sets in, winter offers a twist on this outdoor adventure.
Parks Canada takes care of the country's national parks and historic sites and offers these tips on how well-prepared campers can take full advantage of this winter wonderland.
Planning in advance is key. If you're not a camping expert, don't fret. There are resources at your fingertips like the Learn-to-Camp app. It will provide you with the insider tips you need to camp like pro.
Pick the camping style that is best for you. Winter camping in the woods can be a magical experience, but if you're not that kind of camper, there are other options. Book a heated oTENTik, yurt, or cabin for comfortable winter 'glamping'.
It's all about the gear. The right equipment will make winter camping much more enjoyable. A few key items to include are a four-season tent, winter-rated sleeping bag, lantern, pillow, tarp, and warm clothes. Use a checklist to ensure no important items are forgotten.
Get out there. National parks are the perfect winter playground for you and your family. Grab your skis, snowshoes or skates and enjoy the snowy outdoors. Try snow tagging. Make your mark in a snowy field then hike to a lookout point with a camera. You will take nothing but picture and leave only your footprints.
Take time to relax. Once the sun goes down, enjoy the peace and tranquility, look up and take in the starry night sky, all by the glow of the campfire. Don't forget the hot chocolate.
More information is available online at www.reservation.parkscanada.gc.ca or toll-free at 1-888-773-8888.
www.newscanada.com