Essentials for Smart Winter Wardrobes
Whether you live for the outdoors or simply love someone who does, focus on these tips to dress for success this winter.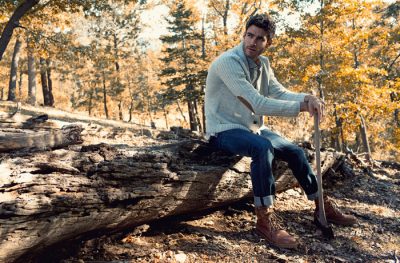 1. Invest in warm, comfortable and durable boots. You don't mess around, and neither should your boots. Boots are an investment piece — if your feet aren't dry and warm, you're not going to be happy. So do yourself a favour and opt for a good quality, insulated waterproof boot. Check the sole of the boot — the thicker it is, the warmer your feet will stay.
2. Jeans, jeans, jeans. Did you know you can buy insulated jeans? They still look cool, but are more practical than ever for our bitter winters. A good pair of jeans can withstand daily wear and tear as well as nature's worst. A tough guy will never admit he gets cold, but with a pair of T-Max lined jeans available at Mark's, the next time he says he's warm, you'll know he means it.
3. Layering is key. If you're not prepared, quickly changing weather can either make or break your day. Get the proper protection by outfitting yourself in layers. Make sure you have a base layer repelling the moisture away from your body. Your mid-layer should be a warm fleece to keep the heat in, and your outer-layer should be waterproof, breathable, and insulated for those extra cold days. Too hot? Take a layer off. Too cold? Put a layer back on.
4. Flannel is your friend. Flannel's versatility makes it perfect for yard work or hanging out by the campfire. And did you know plaid is now fashionable? Go for a bold plaid in autumnal hues like red, orange, yellow, and deep greens. Wear your flannel with dark wash jeans to dress it up or light wash to dress it down and pop on a vest for extra warmth. It's the ultimate manly piece in your wardrobe.
5. Wear a toque and gloves. On cooler days, if your core is protected but your extremities aren't, even the warmest coat won't help you out. Protect yourself from the elements by keeping these small accessories close by.
Save
Save
Save
Save