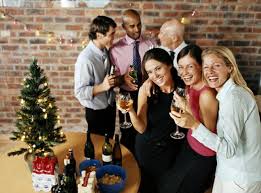 Quick & Easy Holiday Appetizer
It's your turn to bring appetizers to the family or company Christmas party. What do you bring that everyone can eat? You may not be able to please everyone but these appetizers are sure to please most!
1) Cheese Quesadillas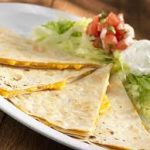 Incredibly simple to make, just-from-the-oven cheese quesadillas are always a crowd pleaser.
Ingredients:
8 – 8 inch flour tortillas
2 cups (8 ounces) grated Monterrey Jack
1- 12 ounce container refrigerated store-bought salsa
Directions
Heat broiler.
Place 2 tortillas on a baking sheet and sprinkle ½ cup of the cheese evenly over each. Top with 2 more tortillas.
Broil until golden and crisp, 1 to 2 minutes per side.
Repeat with the remaining tortillas and cheese.
Cut into triangles and serve with the salsa.
2) Chickpea and Mint Crostini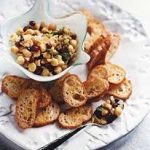 In this no-cook recipe, combine chickpeas with juicy pomegranate seeds and chopped mint for a bright, fresh topping.
Ingredients
1 – 15.5 ounce can chickpeas, rinsed
½ cup pomegranate seeds (from 1 small pomegranate)
¼ cup fresh mint, chopped
2 scallions, chopped
2 tablespoons extra-virgin olive oil
Kosher salt and black pepper
1 small baguette, thinly sliced and toasted
Directions
In a medium bowl, combine the chickpeas, pomegranate seeds, mint, scallions, oil, ¾ teaspoon salt, and ¼ teaspoon pepper. Serve with the bread.
3) Shrimp with Tarragon Aioli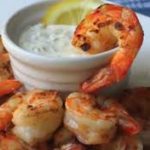 Using pre-cooked peeled shrimp drastically cuts down prep time; just whisk the dip ingredients together and serve.
Ingredients
¾ cup mayonnaise
½ cup dill pickles, finely chopped
2 tablespoons fresh tarragon, chopped
kosher salt and black pepper
1 ¼ pounds cooked peeled and de-veined large shrimp
1 cup store-bought cocktail sauce
Directions
In a small bowl, combine the mayonnaise, pickles, tarragon, and ¼ teaspoon each salt and pepper. Serve with the shrimp and cocktail sauce.
4) Bacon-Wrapped Apricots with Sage
Instead of the usual bacon-wrapped dates, serve this twist which pairs dried apricots with salty bacon.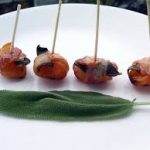 Ingredients
24 small fresh sage leaves
24 large dried apricots
8 slices bacon, cut crosswise into thirds
2 tablespoons pure maple syrup
toothpicks, for serving
Directions
Heat oven to 375º F.Place a sage leaf on each apricot, wrap with a piece of bacon, and place seam-side down on a baking sheet.
Bake until the bacon is beginning to crisp, 6 to 8 minutes per side.
Remove from oven and brush with the maple syrup. Serve with toothpicks.
5) Endive with Ricotta, Almonds, and Raisins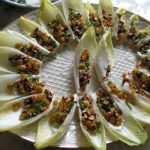 Dress up crisp endive leaves with a creamy ricotta filling for a beautiful handheld appetizer.
Ingredients
½ cup unsalted roasted almonds
½ cup golden raisins
2 tablespoons chopped fresh chives
3 tablespoons extra-virgin olive oil
1/8 teaspoon kosher salt
1/8 teaspoon pepper
4 endives, ends trimmed and leaves separated
1 ½ cups ricotta
Directions
In a small bowl, combine the almonds, raisins, chives, oil, salt, and pepper.
Arrange the endive leaves on a plate and top each with a dollop of fresh ricotta and a spoonful of the almond mixture.
6) Spicy Black Beans and Avocado Canapes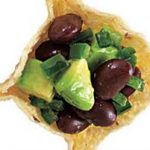 Scoop-able tortilla chips are the perfect vehicle for a mixture of black beans, diced avocado, and minced jalapeno.
Ingredients
½ cup black beans
1/2 avocado, diced
1/2 jalapeno, finely chopped
1 teaspoon extra-virgin olive oil
kosher salt and black pepper
24 scoop-able tortilla chips
Directions
In a medium bowl, combine the beans, avocado, jalapeño, oil, 1/4 teaspoon salt, and 1/8 teaspoon pepper.
Divide among the tortilla chips.
7) Smoked Salmon Triangles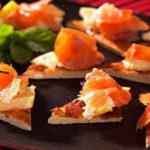 Upgrade the classic smoked salmon-cream cheese pairing with these elegant open-faced mini sandwiches.
Ingredients
12 thin slices of pumpernickel bread
8 ounces cream cheese
2 teaspoons caraway seeds
8 ounces thinly sliced smoked salmon
2 tablespoons chopped chives
Directions
Cut the bread in half on the diagonal. In a small bowl, combine the cream cheese and caraway seeds. Spread evenly over the bread and top with the salmon. Sprinkle with the chopped chives before serving.
8) Mini Grilled Cheese Sandwiches with Chutney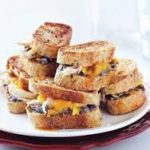 The fruit jam brings out the nutty, warm flavors in the melted cheese and cut through its richness.
Ingredients
12 slices white sandwich bread
12 ounces cheese (such as Fontina or Gruyère), thinly sliced
1 cup fruit chutney (such as cranberry, fig, or mango)
2 tablespoons unsalted butter
Directions
Form 6 sandwiches with the bread, cheese, and chutney.
In batches, melt the butter in a large skillet over medium heat and cook the sandwiches until the bread is golden and the cheese is melted, 2 to 3 minutes per side.
Cut each sandwich into quarters before serving
Save