7 Tips to Keep Your Child's Feet Healthy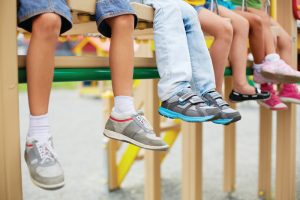 Experts say wearing ill-fitting and inappropriate footwear during childhood and adolescence can lead to long-term foot pain and mobility problems. This is why the foundation for a healthy, active life begins with your child's shoes.
"People mistakenly think a child's foot is a mini version of an adult's foot," says Kevin Fraser, president of the Pedorthic Association of Canada and a Canadian certified pedorthist. "However, as children's feet are still developing, special care to reduce injury and improve function can be beneficial."
He recommends keeping a close eye on your children's feet and being extra vigilant with foot care if they are very active in sports or dance or experience rapid growth or significant weight gain, as these can have a significant impact on growing feet. However, don't be too alarmed if you notice something concerning in your child's feet, as it's likely just normal growth and development. If the concern persists, book an appointment with a foot expert to determine if a change in footwear or a foot orthotic is required.
Use these seven expert tips to help keep your child's feet healthy:
Keep their feet clean and toe nails trimmed. This basic care can prevent injuries.
Shoes that are too small can cause pain and developmental problems so have the length and width of your child's feet measured every three to six months.
Running shoes are best for school. Flimsy, slip-on flats, moccasins, and sheepskin-style boots will not give your child's feet the support they require.
If your child participates regularly in a sport, make sure you buy shoes specifically designed for that activity.
Turn your child's shoes over and look at the tread wear — if you notice uneven or localized wear, book a consultation with a Canadian Certified Pedorthist.
Don't pass shoes from sibling to sibling. Although it's tempting to hand down lightly worn shoes, the wear patterns of the first child will be different than the second child's.
If your normally active kid isn't running around or participating in their regular activities, seek professional advice.
Find more information on caring for your child's feet online at pedorthic.ca/footwear/children.
www.newscanada.com