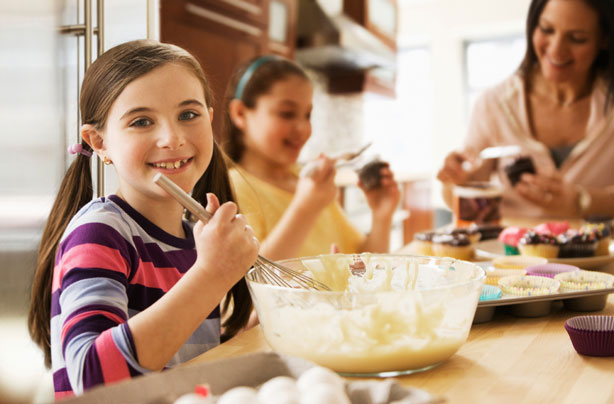 9 Tips for Cooking with Kids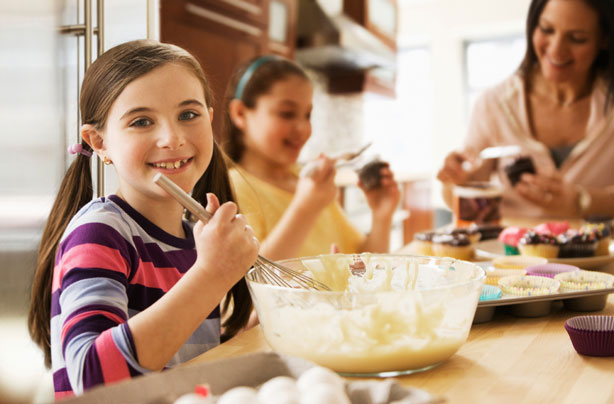 Kids love to cook; its a messy way to have a great time, it gets their creative juices flowing and they feel proud of themselves when everything is done. Teaching your kids cooking skills will help them later on in life and you get to spend time with them as a bonus. Here are some tips when your little ones are with you in the kitchen.
Don't Rush: Expect it all to take a bit longer then it usually would so make sure to plan for extra time. For younger kids, the journey is more important than the ending.
You WILL Get Messy: This cooking thing is a messy business and when your kids are involved there will be extra mess. You can do damage control by putting a plastic tablecloth or garbage bags on the floor or table. It will be much more fun if you let the mess happen and then clean up later together.
Look up Recipes in Advance: When you look for a recipe to do with you kids, make sure its nothing complicated and the recipe is something suitable for their age. If need be, do some prep before you get them to start helping you.
Get Them Ready: Since we both know it will be a messy job, let them use clothes that are made to get messy. Put on an apron and tie back long hair.
Educate Your Kids on Food Hygiene: Make sure the kids wash up before they start working with the food.
Talk to Your Kids While Cooking: With older kids, you can get them to read you the recipe step by step. Talk to them throughout the cooking process. With younger kids, just explain to them what your making and show them pictures if you think it will help.
Teaching Opportunities: As you cook, talk about what you are doing, talk about the ingredients, processes and techniques. Cooking involves science, geography and math.
Touching and Tasting: This will probably be their favourite part; the tasting! This will make the process more enjoyable and may encourage your kids to be more adventurous.
Making it Fun: Kids will love to learn about cooking if you don't take it to seriously. Have some fun with them. Start off with easy recipes and work your way up to harder ones as the kids get older. It will give them a sense of accomplishment, you'll see.