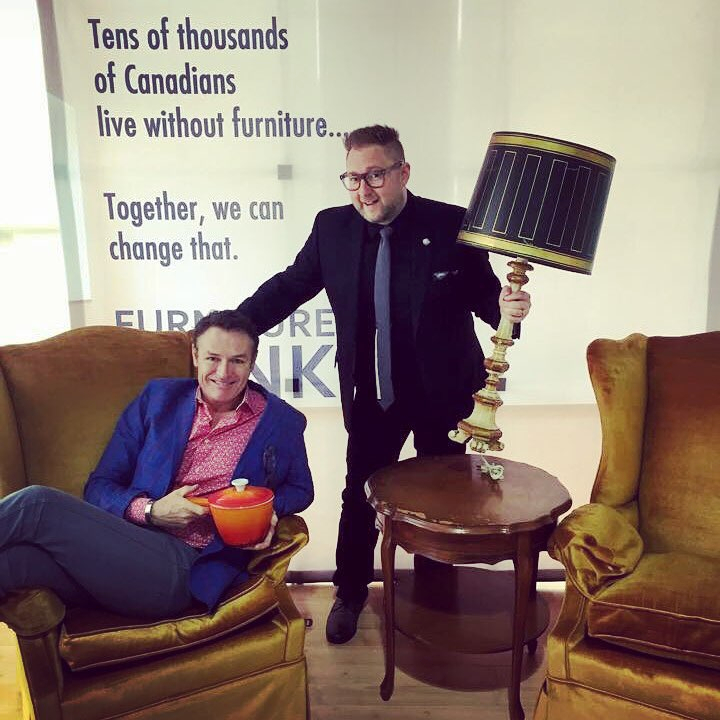 Chair Affair is an annual fundraising project hosted by the Furniture Bank. Designers take old furniture pieces and give them new life. These items are then auctioned off at the annual Chair Affair Gala. This year, a number of our regular guest experts are participating and we thought we'd give you a behind the scenes look at some of their designs!
P.S. Right now, until October 31, you can vote for your favourite design. The 10 designs with the most votes will be auctioned off live online across Canada during the event!
Glen Peloso & Jamie Alexander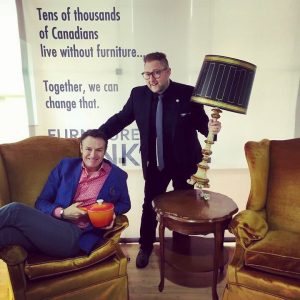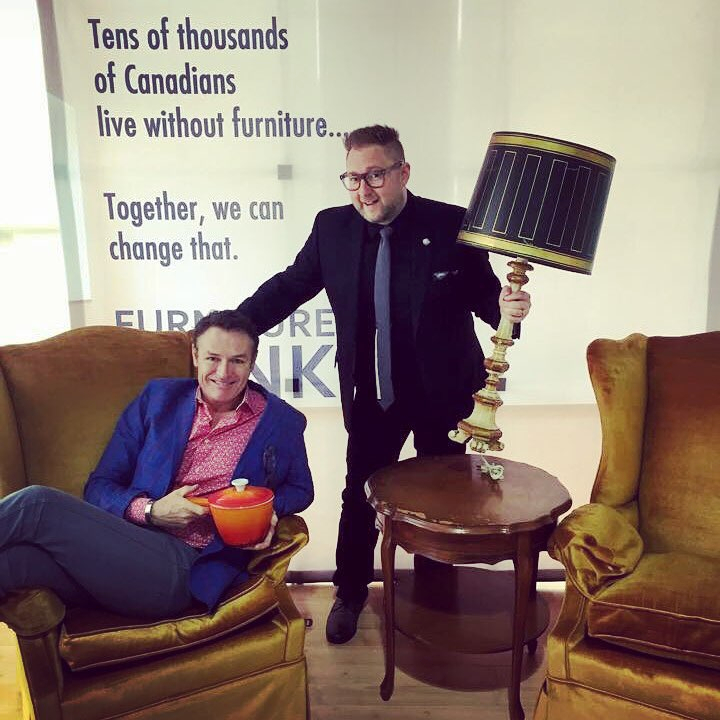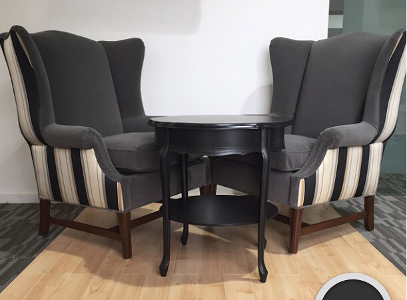 The furniture bank is an organization that provides furniture to those that are not able to have both a place to live and furniture for that place. If you were arriving from a war torn country, escaping an abusive situation or moving from the street into a home, you need to have a way of making your homes work. Imagine a bedroom with no bed, a kitchen with no table or chairs, no sofa, no chairs, no lamps etc. The Furniture Bank collects the furniture that no longer has a home because people have moved, downsized or changed their design direction and donates this furniture to those that can use it. So many of us have the privilege of making our homes beautiful while others struggle just to make a home.
The Chair Affair is an evening that engages the design community to help raise money for the Furniture Bank. This fantastic group of design professionals go to the Furniture Bank and select a chair that they will remake to be auctioned during the evening. Jamie and I selected these great old winged back arm chairs and, with the generous support of Joanne Fabrics and Vienna Upholstery, we re-imagined them to be what they are today. We wanted them to be comfortable and plush in the warm velvet but have a sense of fun. We love the look from every angle which, for us, is a great success.
Everyone in the community, from fabric suppliers like Joanna and upholsters like Vienna, recognizes the importance of making a home functional and that we are very blessed not to be running from a place of war or emotional terror. Everyone gives generously of their time and resources to help. We believe that giving to others who are in need gives them a better life and makes our own that much more blessed.
Visit https://www.furniturebank.org/chairaffair/ and see all of the chairs that have been re-imagined, Don't forget to vote for your favorite! Feel free to make a donation as well and know that it will go straight to these families that need our help.
Jane Lockhart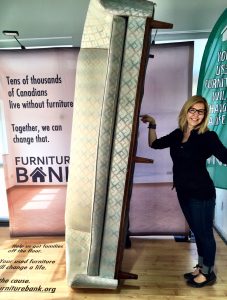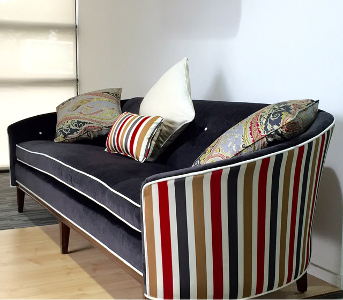 From Tired to Treasure! When I saw this sofa in the back room of The Furniture Bank's Donation Centre, it was worn out and covered in fabric that didn't accentuate it's beautiful lines. Looking at its long slender shape, curved side arms and classically tailored legs made my heart skip a beat: I knew it was THE one. It had the feel of another era, perhaps the 1930s or 40s. It was the sofa's splendour from this bygone era that inspired me to select lux material and rich colours from Robert Allen Fabrics. Classic stripes, contrast piping and plush velvet take this sofa from a once tired item ready for the trash to a treasured piece of furniture that will last a lifetime!
Jackie Glass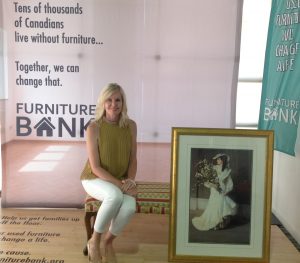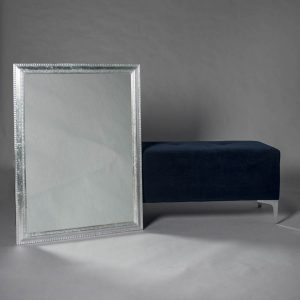 My inspiration for this 70sstyle bench was high style and versatility. With the help of my upholstery and fabric friends at Gresham House Furniture and JF Fabrics, the bench was transformed from an outdated, floral tufted bench with wooden legs into a luxe modern tufted bench in inky blue velvet and glam, polished nickel legs. Formerly a dated print framed in brassy gold, the talented artists at White Pear inserted a mirror and refinished the frame in silver leaf for a fresh updated look. Together these chic, hand-crafted pieces will work well in a walk-in closet/dressing room, master ensuite bath, bedroom or entrance hall. The perfect complement for any home!
Evelyn Eshun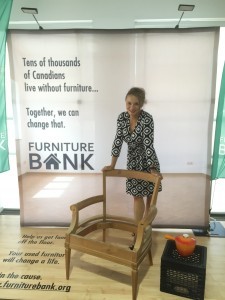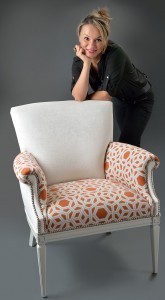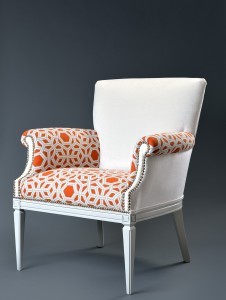 The chair frame I chose was originally created in the mid 1700's during a period called Neoclassical era. It is a simple, classic design which suits both traditional and contemporary interiors. Since my favourite colour is orange, I was inspired the moment I walked into JF Fabric's wonderful showroom and saw a sea of ORANGE…I knew my fabric was amongst the gorgeousness! For the main fabric, I chose a lattice white and orange pattern that reminds me of a traditional French garden plan and paired it with a white velvet which makes me think glam and luxury. My goal is to always create comfortable and timeless interiors which don't compromise style and a touch of glamour. I always want my designs to be approachable and memorable, this chair pays homage to its heritage as well as the modern lives which we live today. (Photography by Larry Arnal)
P.S. Right now, until October 31, you can vote for your favourite design. The 10 designs with the most votes will be auctioned off live online across Canada during the event!
Dvira Ovadia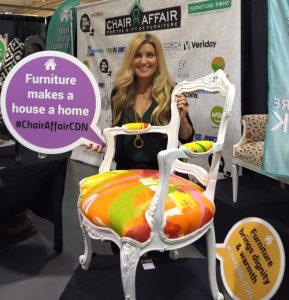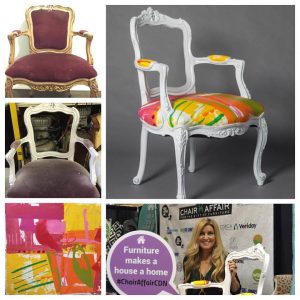 As a designer, selecting and allocating furniture is one of the most essential components of my daily undertaking. For most of us, furniture is a basic necessity made glamourous that we often take for granted. For those living on the poverty line, furniture is a basic necessity that is not even at arm's reach on the affordability scale. Can you imagine coming home to a mattress on the floor and cardboard boxes as your dining table? The Furniture Bank, much like the renown food bank, helps those in need find furniture pieces that will make their empty nest a home.
The Furniture Bank is an unbelievable organization that helps furnish empty homes for immigrants, sick and less fortunate people in our community. In order to keep this organization afloat, a yearly Gala is held to raise awareness and funds for. This year I had fun being involved with the 5th annual Toronto "Chair Affair " Gala.
Up for auction at the Gala will be a worn out antique Queen Anne throne chair that I redesigned, taking it from its traditional form and creating a modern masterpiece. Freedom of expression is the message behind this chair, allowing ones creative abilities to flow without restrictions. Merging art and structure to create something unexpected.
A house without furniture is not a home but a shelter. Receiving a gift of furniture fills those empty cavities and provides a sense of warmth and a place to call home.
You can either donate well-loved furniture pieces to The Furniture Bank, a charity helping those in need to furnish their newly acquired homes or update it by adding new fabric and finishing touches. If you love refurbished furniture like I do , please attend the "Chair Affair" happening on October 30th at the International Centre. This year you can bid from anywhere in Canada for a one of a kind chair that can change a life!
All proceeds from this fun event go to The Furniture Bank and visitors are invited to bid on refurbished prices of furniture all designed by respected local designers.
To learn more about the Chair Affair, Furniture Bank or to purchase tickets, please visit: https://www.furniturebank.org/chairaffair/