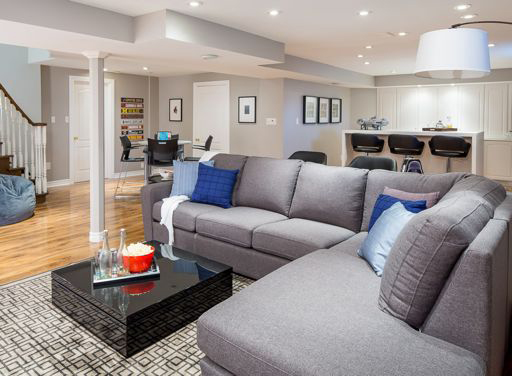 Inspiration for Your Family-Friendly Man Cave
On this week's episode of the Marc & Mandy Show, designer Jo Alcorn gave us a tour of a man cave designed to please the whole family. While the term "man cave" may bring to mind dark, dingy spaces in serious need of a cleaning; creating a stylish man cave that also doubles as a family space that the whole family can enjoy is very doable!
4 Family Friendly Man Cave Ideas
– Theatre Area:  A big screen TV with comfortable seating creates the perfect spot for the boys to hang out and watch the game or for the family to gather for a family movie night.
– Bar: Besides the cool factor, a bar area will keep refreshments close at hand. This means guests won't be running back and forth between the TV and the kitchen all evening long. A bar area isn't just a great idea for adults. A well-designed bar area will include space to keep snacks and non-alcoholic drinks on hand for younger family members.
– Memorabilia: It might be sports memorabilia, concert posters, comic books, action figures or model cars – a man cave is the perfect place to display these personal items that don't really fit in to the decor in the rest of the home. In Jo Alcorn's space, comic book pages and Star Wars posters are given a stylish update with classic black and white frames.
– Game Tables: Game tables that reflect your family's personal interests are a fantastic edition to any man cave! Specialty tables for things like pool, ping pong, poker, air hockey, etc make a fantastic edition but if space is a concern, a simply table and chairs like the adjustable table in Jo Alcorn's space provides a space for card games, board games and many other fun activities.
Looking for more fabulous man cave ideas? Check out our Houzz idea book!