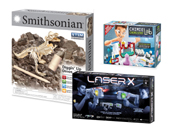 Enter to Win: Kids' Activities Package!
Buki Chemistry Lab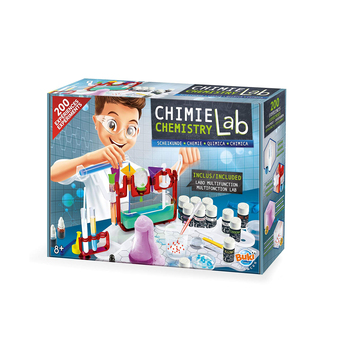 How to make slime? What is acid rain? Why do some chemical reactions produce heat? How to make invisible ink? Answer these scientific mysteries with the Buki Chemistry Lab! These safe and chemical-free scientific experiments use everyday household essential products such as salt, vinegar and flour. These ultra-fun kits promote awareness of science and stimulate curiosity to help understand how everyday things work.
Buki Chemistry Labs are available in two sizes with 150 or 200 experiments. Also available from Buki, a range of S.T.E.M. products that open the world of science to kids including Buki's Bug Viewer, Bug Vacuum, Metal Detector and Walkie Talkies
Laser X Morph Double Blasters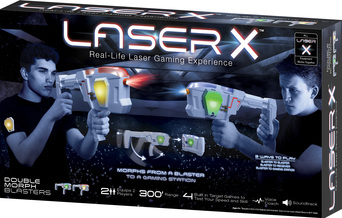 Blast your opponents up to 300 feet away! Laser X provides a real-life laser tag gaming experience! Laser X Morph Blaster provides 3 awesome games to play that test your skills either as a team or on your own. Don't forget to listen to the interactive voice coach, who gives tips feedback during the game. Includes two Laser X Morph Blasters and two receiver vests.
Smithsonian Science Kits – Diggin Up Dinosaurs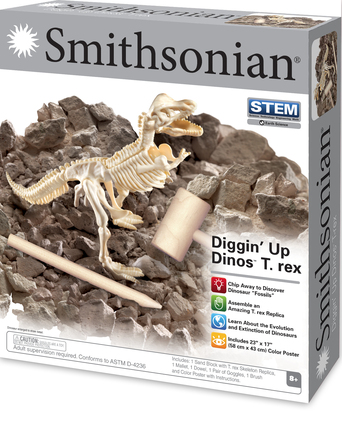 From gem collecting to growing sea monsters, or conducting your own archeological digs or growing crystals, these Smithsonian Science Kits are a great way to introduce the world of science to children.
Smithsonian Science Kits are available in a wide array including Giant Volcano, Crystal Growing, Diggin Up Dinosaurs, Rocket Science, Rock & Gem Dig and Robo Spider.
Contest open to Canadian residents age 18+. Void where prohibited by law. Contest ends at 12:00 am on June 23rd, 2020. Winner will be contacted by email. For full contest rules, email onlinemedia@canadianhometrends.ca