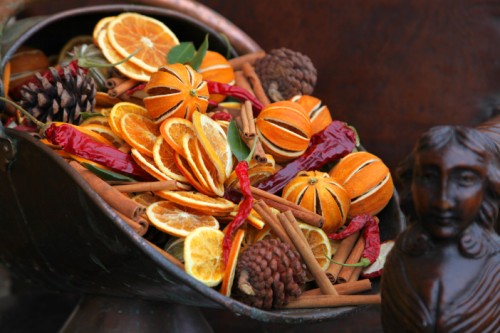 How to: Make Your Home Smell Like Christmas
When you enter a room in your home, what does it smell like? Does it smell clean? Does it have an odor to it? A pleasant smell is a great way to set the mood in a room and creating the smell of Christmas doesn't have to be difficult:
Pomanders Balls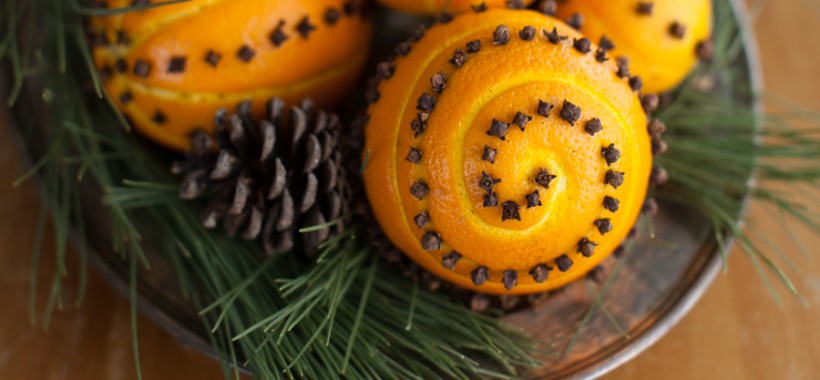 Supply List:
• Citrus fruits – oranges, lemons, grapefruits, limes
• Toothpicks
• Whole cloves
• Greenery for display
Instructions
– Use a toothpick to help you make a guide hole in your citrus for the clove. Remove the toothpick and insert a clove. Repeat, creating the pattern of your choice
Fir and Cinnamon Room Spray
You can make this room spray easily from your favorite fragrances, or follow the recipe for a spritz of holiday scent in any room of the house.
Ingredients
• 3 tablespoons vodka, ethyl alcohol or witch hazel
• 10 drops juniper or cedar wood essential oil
• 10 drops clary sage or rosemary essential oil
• 10 drops bergamot or orange essential oil
• 10 drops cinnamon or clove essential oil
Instructions
Combine in a spray bottle and fill the bottle to the top with water. Shake well before spritzing. Makes 8 ounces.
Note: do not spray directly onto skin, and avoid getting spray in eyes or inhaling.
Cranberry Orange Apple Cider
Ingredients
• 1 1/2 cups fresh cranberries
• 3 tangerines, halved
• 3 whole cinnamon sticks
• 2 star anise (optional) gives a strong black licorice smell.
• 1 teaspoon whole cloves
• 1 inch piece fresh ginger
• 1 vanilla bean + 1 tablespoon vanilla extract
• 1 small branch fresh pine
• 1 cup apple cider, pomegranate or cranberry juice
• water
Instructions
Combine all the ingredients in a medium size sauce pot. Fill the pot with water until it reaches 3/4 the way full. Place the pot on the stove and bring to a gentle boil. Reduce the heat to a simmer, adding more water as needed. Let it simmer for close to 4 hours and then let it cool over night and simmer again the next day. Just be sure to keep adding more water.
Aromatic Fire Starters
Ingredients:
• Soy or bees wax
• Bay leaves or cinnamon sticks (or go crazy and use both)
• Whole cloves
• Mini pine cones
• Dried rosemary
• Cotton wicks
• Paper muffin liners
• Muffin pan
Instructions:
– Fill the paper muffin liners with bay leaves, cones, spices and herbs.
– Nestle a 1 and 1/2 inch piece of cotton wick into the center of each well.
– Melt the wax and pour it into each well, making sure the items are partially submerged in the hot wax. (They don't have to be completely covered.)
– Let cool completely before removing from the muffin tin. Store in a tin or jar until ready to use!
To use the fire starter, place in the bottom of a fireplace between the logs. Light the wick.
IMPORTANT: These are only for use in traditional fireplaces. Do not use for gas fireplaces or wood-burning stoves. Exercise safety precautions when using.
Apple and Spice Potpourri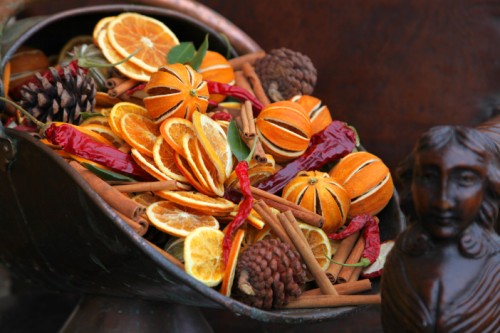 This potpourri is ridiculously easy to make (just put materials in a jar and wait a few days), smells fantastic, and looks homey and rustic in the bathroom or on a side table.
Supplies Needed
• Dried apple slices
• Dried orange slices
• Whole nuts (with shells)
• Cinnamon sticks
• Whole cloves
• Juniper berries
• Dried rose hips
• Laurel (bay) leaves
• Pine cones
• Essential oils: cedar wood, clove, cinnamon, orange and pine are all great together
Instructions
Just eyeball it and add bigger handfuls of the larger items (pine cones, cinnamon sticks, nuts, orange slices) and smaller handfuls of the smaller, colorful and highly scented items (rose hips, cloves, juniper berries, bay leaves, etc). Put everything into a big jar, sprinkle with the essential oils and gently toss. Then it's ready to put in small bowls to display or package up to give away.
Save