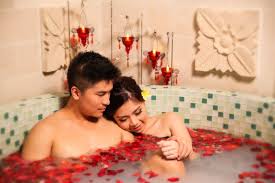 Planning the Perfect Spa Date
Nothing beats a spa date when you need a little pampering! If you're on a budget, or just feel like having a relaxing evening at home with your partner, we've got a few tips to help you create a simply, relaxing spa evening on a budget!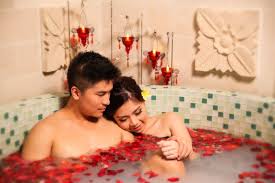 1. Send your spouse or partner a homemade invite for a personal touch.
2. Share a steam in your intimate sauna. Turn up the hot water in the shower before you get in so it fills the room. Then get in and scrub down. A quick DIY scrub you can use is sunflower oil mixed with sugar. Enjoy conversation or quiet music while you two gently scrub the days stress away.
3. Have a warm, sensual bubble bath together. Use some bath salts or scented bubble bath and have a glass of wine or sparkling juice while you and your spouse relax.
4. Light a few candles for a romantic feel. Turn off all the lights and have some romantic, relaxing music playing softly. When you get out of the tub, give each other a sensual massage with massage oils or lotions. Make sure to massage for at least 15 minutes each.
5. Give your man a spa-worthy shave. Sit him up in a comfy chair that will give him support for his neck and apply hot towels to his face. Use a razor that has 4 blades. Start with shaving cream or oil and massage it into his neck. Very slowly shave his face in the direction of the hair growth. Make sure to finish off with his favorite after shave.
6. Prepare ahead of time and place a bottle of body oil for sensual rubs, massage lotion, and a blindfold beside the bed. Blindfold your partner and then continue the massage. The blindfold will heighten other senses for the ultimate massage that will be both relaxing and exciting all at once.