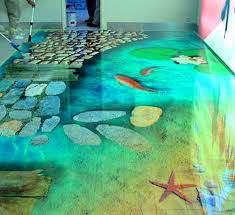 Unique, Low Cost Flooring Ideas
If you're looking for low-cost and unique flooring ideas, consider these nontraditional DIY ideas that put everyday salvaged materials to good use.
Belted Flooring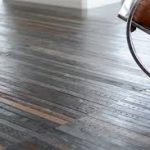 If you're a fan of recycling and reusing, you are going to like reclaimed leather belt flooring. The old belts are honed to identical thickness, then glued into panels that can be used to cover floors or walls.
Cents and Sensibility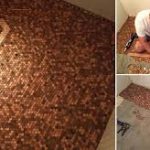 Who doesn't like the look of copper? All you do is glue pennies individually, then finish with black sanded grout and three coats of polyurethane floor sealant.
Can the Faux Look Work?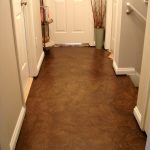 Use two coats of blue latex paint, apply a gray topcoat and use a wood graining tool to simulate the look of real planks. Finish with four coats of polyurethane sealer for a scrubbable floor.
Sparkle, Sparkle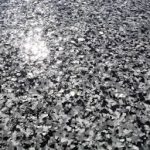 Got a boring, plain concrete floor? Turn it into a dazzling surface worthy of Buckingham Palace. Use epoxy paint for garage floors. Instead of sprinkling those standard black and white color chips, use sparkly craft store glitter. Tip: Don't spread the glitter like chicken feed; instead, toss it into the air and let it flutter down.
Who Are You Kidding?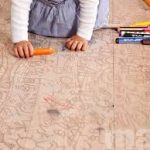 "Carving Kids" engineered flooring from Mafi is made from three layers of cross-laminated wood — top and bottom are oak. This is perfect if you have little ones running around.
Caps It Is!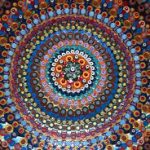 If you like colourful floors, start gathering bottle caps from your favourite beverages — you'll need about 120 caps to make 1 square foot of mosaic-like bottle cap flooring. Speed up collection by asking local restaurants and bars to save their caps for you. Install tough little bottle caps like small tiles: Set them in thin-set mortar, then fill up the spaces with sanded grout. Finish off with polyurethane floor sealant.
Did Somebody Say Toast?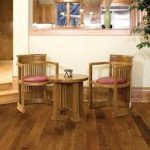 Ah yes, fine malt whiskey is the colour of this flooring. Reclaimed wood floors from McCay Flooring are made from authentic whiskey barrels. Although the scent of the spirits has faded, the old markings and stamps on the white oak staves are still there.
Jazz Up the Terrazzo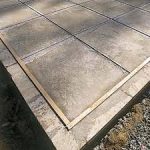 If you can afford the $10 to $50 per sq. ft. cost of a terrazzo floor, you probably won't mind springing an extra amount for decorative brass or stainless steel inlays. Custom order some from a local metal artist, or hire a commercial shop that will make your designs using the latest computer-controlled cutter.
Your Going to Pop Your Cork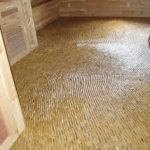 A tribute to determination, patience, and maybe a hint of OCD, this wine cork floor has over 10,000 corks in it. Each was glued down with ceramic tile adhesive and fastened with a finish nail. Corks comes from renewable sources, so consider wine cork flooring as a sustainable, reclaimed building material. You'll need lots of wine-loving friends to make this happen. So much fun!
Going My Way?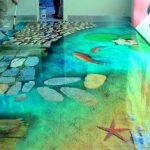 Made of heavy-duty vinyl or polypropylene, self-adhesive decals are used on walls but will work on smooth, sealed concrete slabs, such as a basement floor.