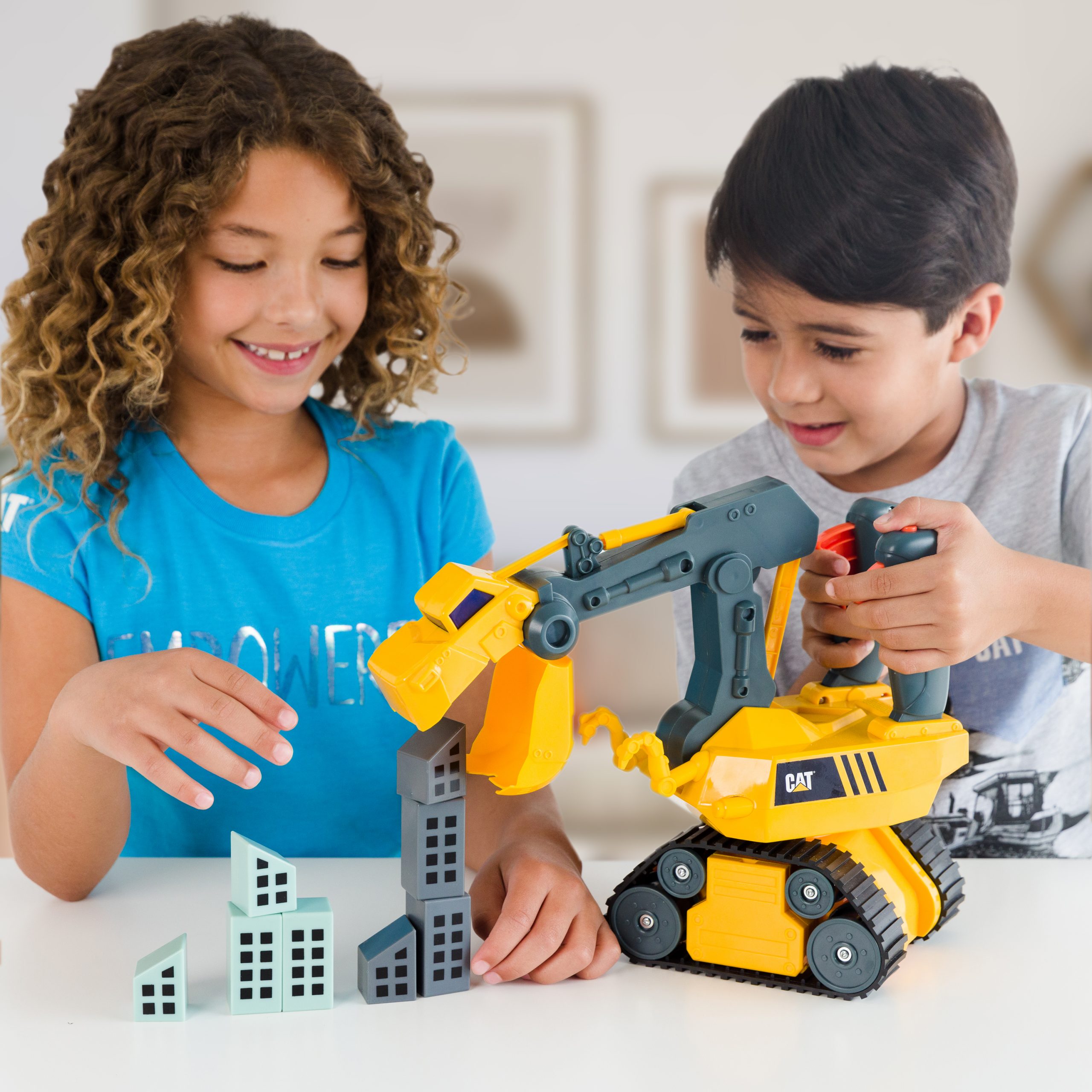 The Cat Roarin' Rex-Cavator is an all-new take on a traditional construction vehicle. Combining the mighty king of the Dinosaurs, the Tyrannosaurus Rex, and the tough rugged Cat excavator creates the ultimate dino constructor around. With two ergonomic joysticks your child's movements control the dino's neck and head accompanied with lights and roarin' dino sounds to elevate the experience. Included with the Roarin' Rex-Cavator are nesting building blocks your child can stack using the dino's precision control. Only half the fun is stacking them up, now, destroy them and knock them down! Real Cat machines are known for their high quality, these toys are no different, built to withstand the elements and perfect for indoor or outdoor play. – www.funrise.com
HOLIDAY FUN
As Santa's most-trusted helpers, The Elf on the Shelf Scout Elves serve as his eyes and ears around the world. Once adopted by families, they listen to kids' wishes and fly nightly to the North Pole to report on their families' adventures to Santa. However, they always return the next morning and usually hide in a new spot. Each kit Includes: Adoptable Scout Elf who plays hideand-seek, The Elf on the Shelf: A Christmas Tradition illustrated storybook, Keepsake box, Official adoption certificate. Available at Canadian Tire, Toys R Us or Indigo/ Chapters. – www.elfontheshelf.ca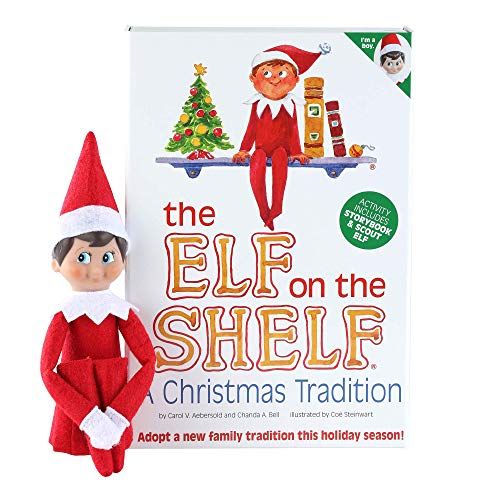 BRIO Christmas Steaming Train Set This is a 26-piece train set perfect for creating lasting holiday memories and traditions. The set includes the Battery-operated steaming train, cargo crane with presents, and a Santa figurine. Tracks can be positioned around the base of your tree for decorative use year after year. Compatible with all BRIO World railway products! www.ravensburger.org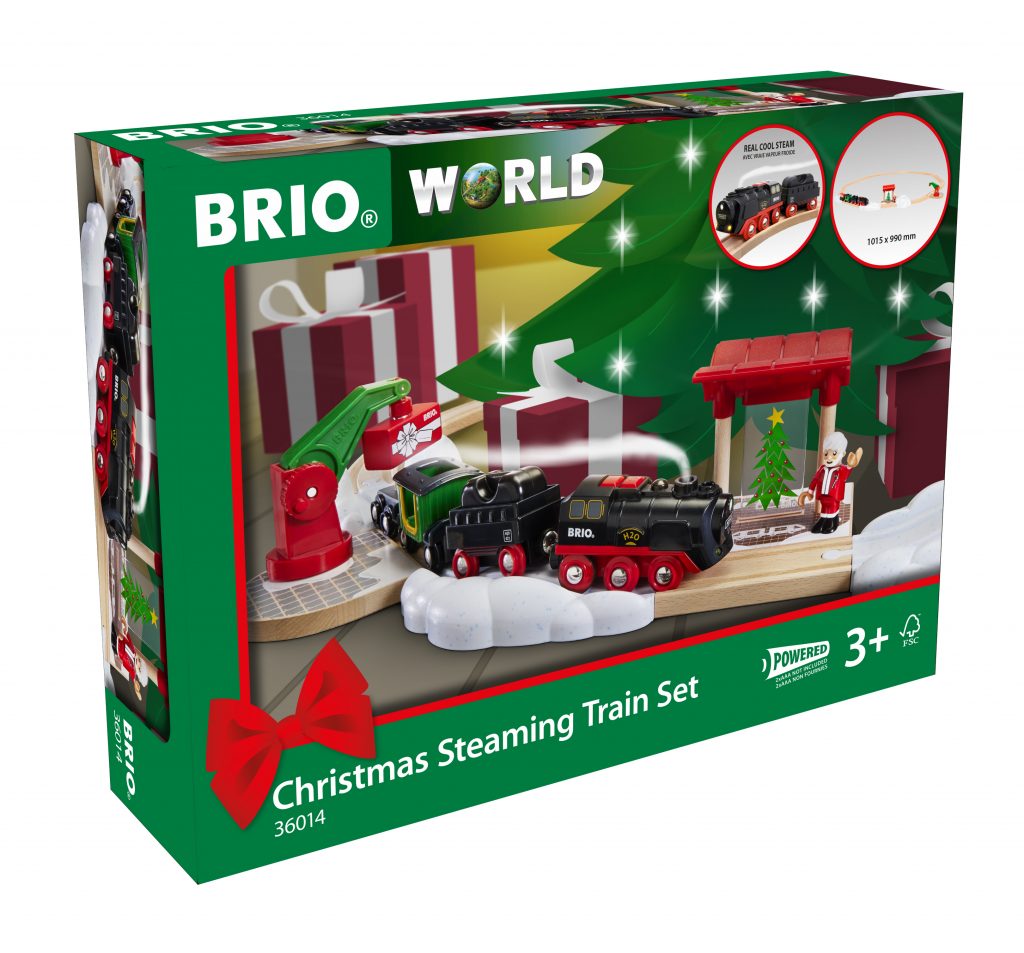 Nutcracker & Gingerbread Man HOLIDAY POPPERS Two new festive Holiday Poppers make the holidays merry! And they make a great stocking stuffer! A traditional Nutcracker Popper and whimsical Gingerbread Man Popper join the classic Poppers line, helping deliver hours of free-form, festive fun! Just press their bellies and P-O-P out a soft red or green foam ball up to 20 feet! – www.hogwildtoys.com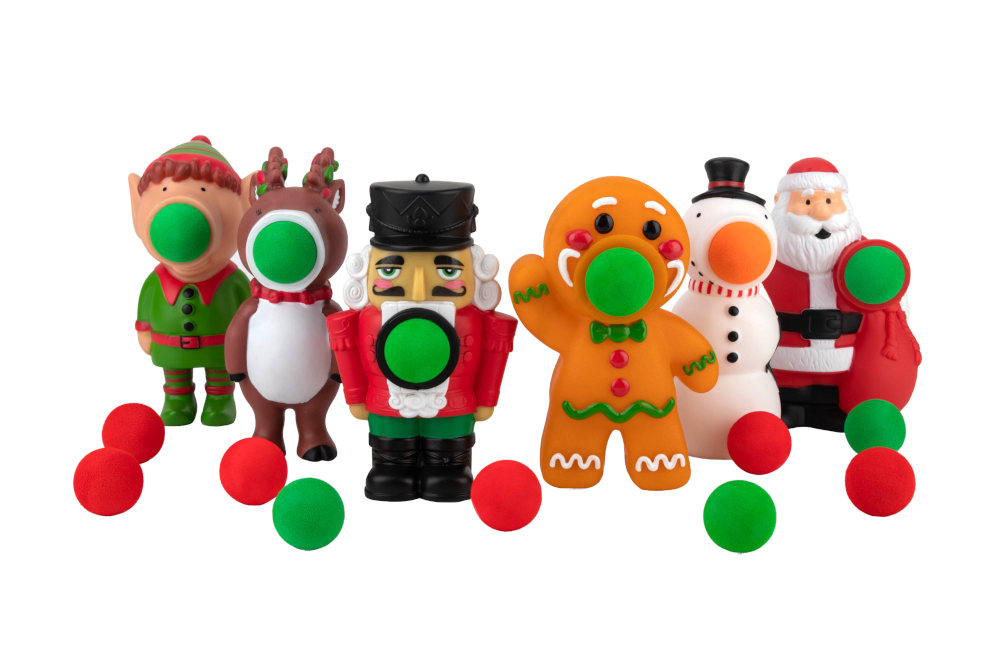 PLAYMOBIL Wiltopia – Research Tower with Compass includes two PLAYMOBIL figures, Sofia and Rick Palmer, a research tower with detachable compass, an animal knowledge card, a drone, two howler monkeys, hummingbirds, a caiman and many more exciting Amazon animals and exciting extras. The best view over the jungle is offered by the Research Tower with a rotating platform and removable, functional compass for the next hike. The tower also serves as a shelter for howler monkeys. – www.playmobil.ca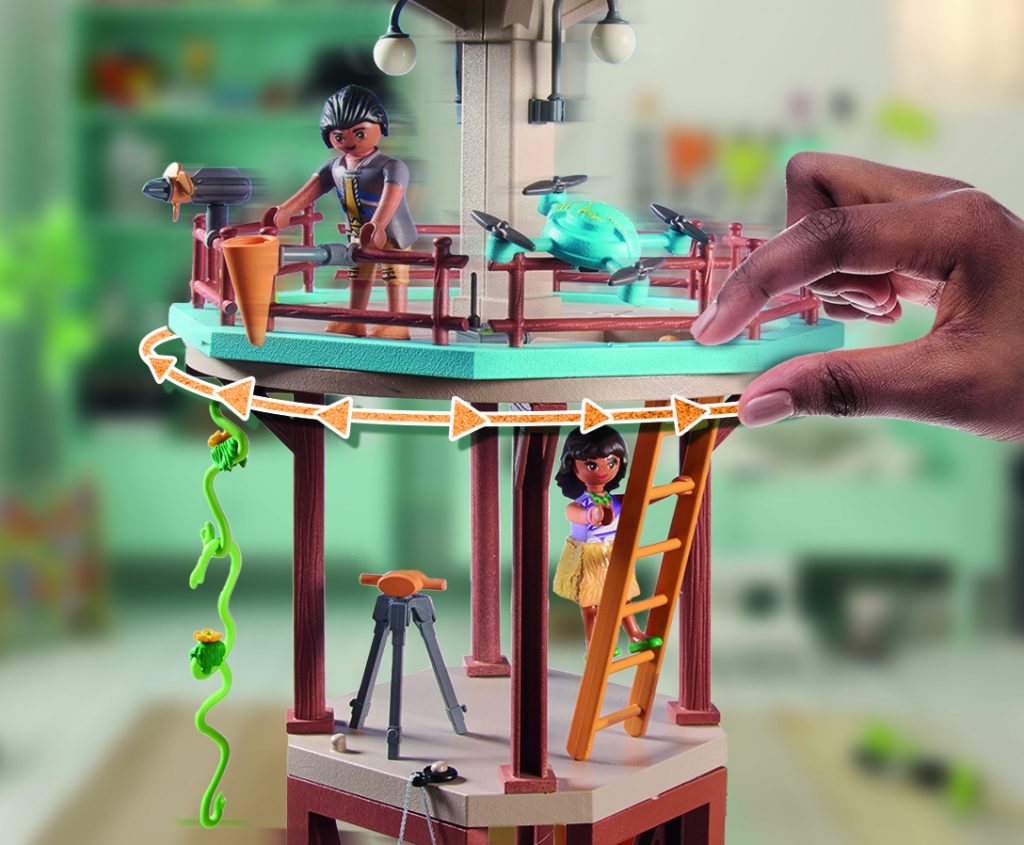 PLAYMOBIL Wiltopia – Boat Trip to Manatees playset includes two PLAYMOBIL figures Dr. Da Silva and Jamie Palmer, a boat, a manatee with two cubs, an underwater camera, measuring equipment, veterinary accessories and many more extras for exciting Amazon adventures. Travel the Amazon by boat to discover the animal world and nature and take photos underwater with their waterproof camera! – www.playmobil.ca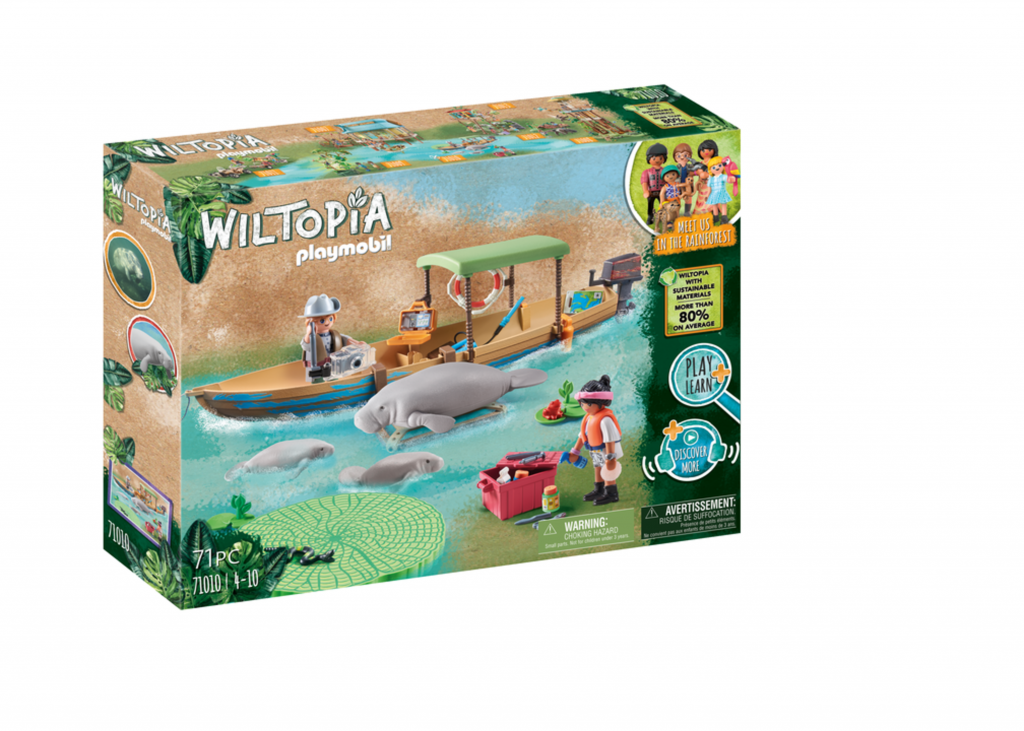 FNAF Snap: Playset- Storage Rm w/Chica Close in on Snaps! Chica in her Storage Room Playset before she moves! Comes with 11 customizable pieces, including 2 face pieces, 1 torso, 1 accessory, 1 head, 2 tables, 1 robot head, 1 box with hat, and 1 playset base. You can attach the face pieces to any robot head on the wall for storage. The tables, robot head, and box with hat can be moved to customize each playset. Parts can be snapped to tables too! In fact, you can collect and connect playsets to create even more killer adventures. Vinyl Snaps! Warning: Choking Hazard. Collectible comes with small parts. Not for children under 8 years. – www.funko.com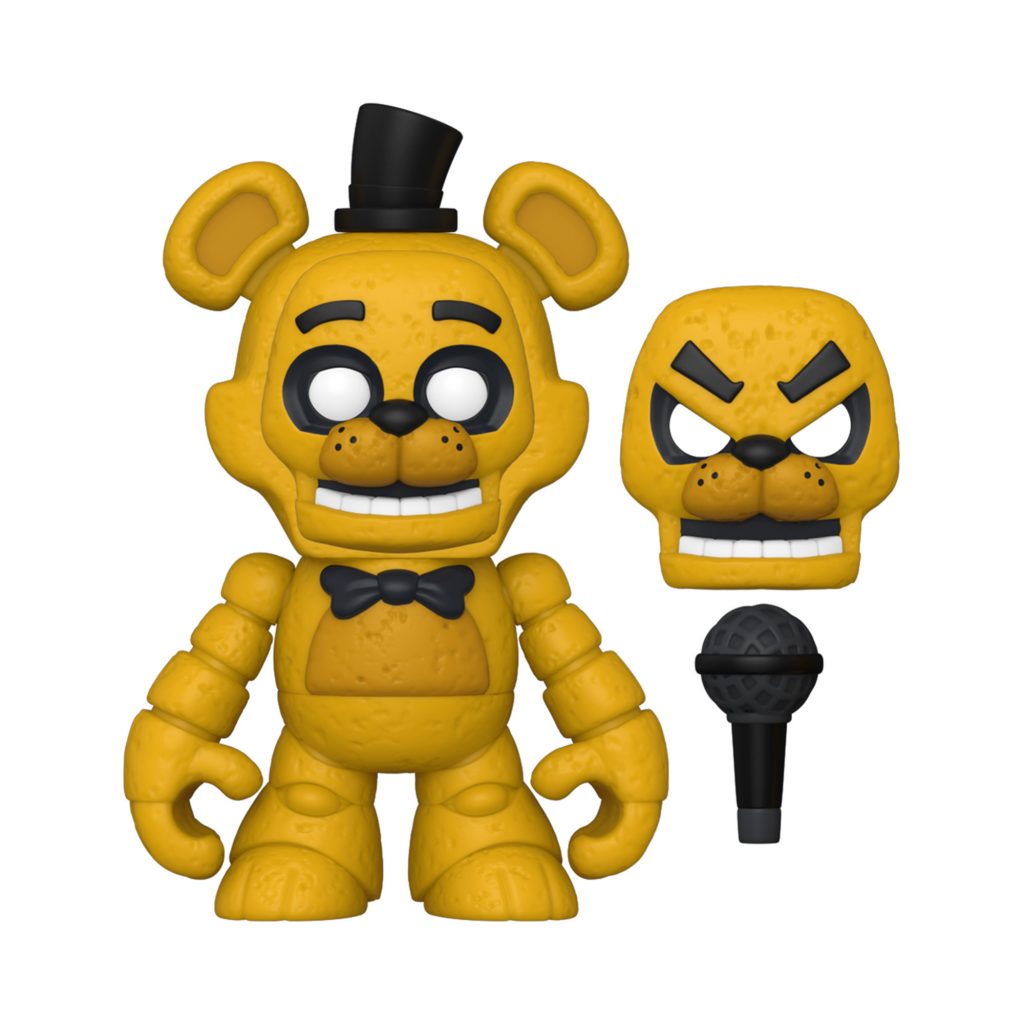 Introducing the Got2Glow Fairy Pet Finder by WowWee with over 80 new virtual fairy pets to find, 40+ in each different jar! Search for fairy pets in your bedroom, in the kitchen, outside in the garden, and even by your own pets – there's always a fairy pet around. Increase your chances of collecting rare fairy pets by bringing your jar to new locations and grow your collection by trading fairy pets with friends! Bond with your fairies by giving them hugs, saying hello, and feeding them. Fun for ages 5+ www.got2glowfairies.com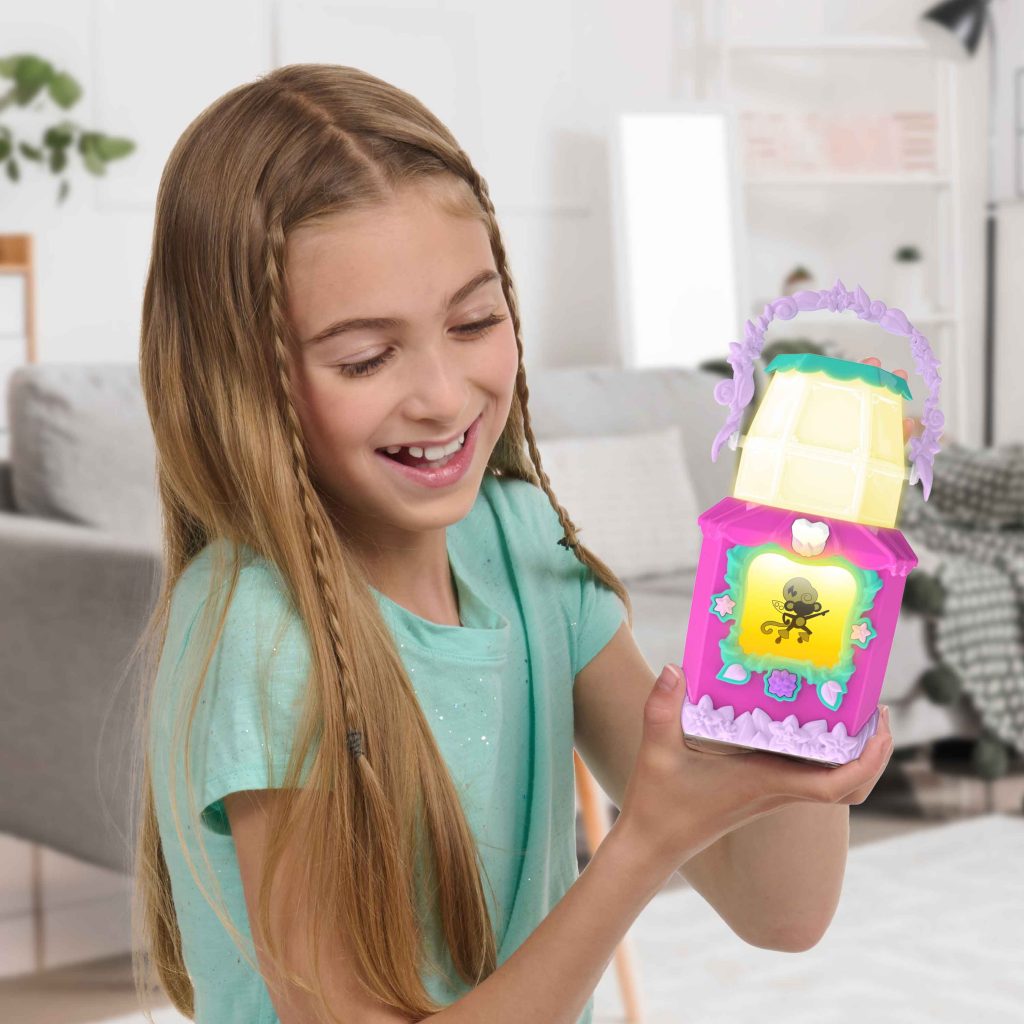 Become a master of real magic with the newest addition to the world of Magic Mixies, the Magic Mixies Magical Crystal Ball, featuring more than 80 lights, sounds and reactions. Your Crystal Ball comes with a new interactive, light-up wand – discover real magic exists within as you cast spells and the Crystal Ball reacts to your movements. The magic and the fun continue with the interactive Magic Mixie's four modes of play: Fortune Telling Mode, Spell Mode, Game Mode and Tickling. You can make real magic happen again and again by repeating the creation process! Once you are done playing for the day, the Crystal Ball can be switched to "Night-Light Mode." Available at all major toy retailers across Canada in blue and pink. Suitable for ages 5+. – www.moosetoys.com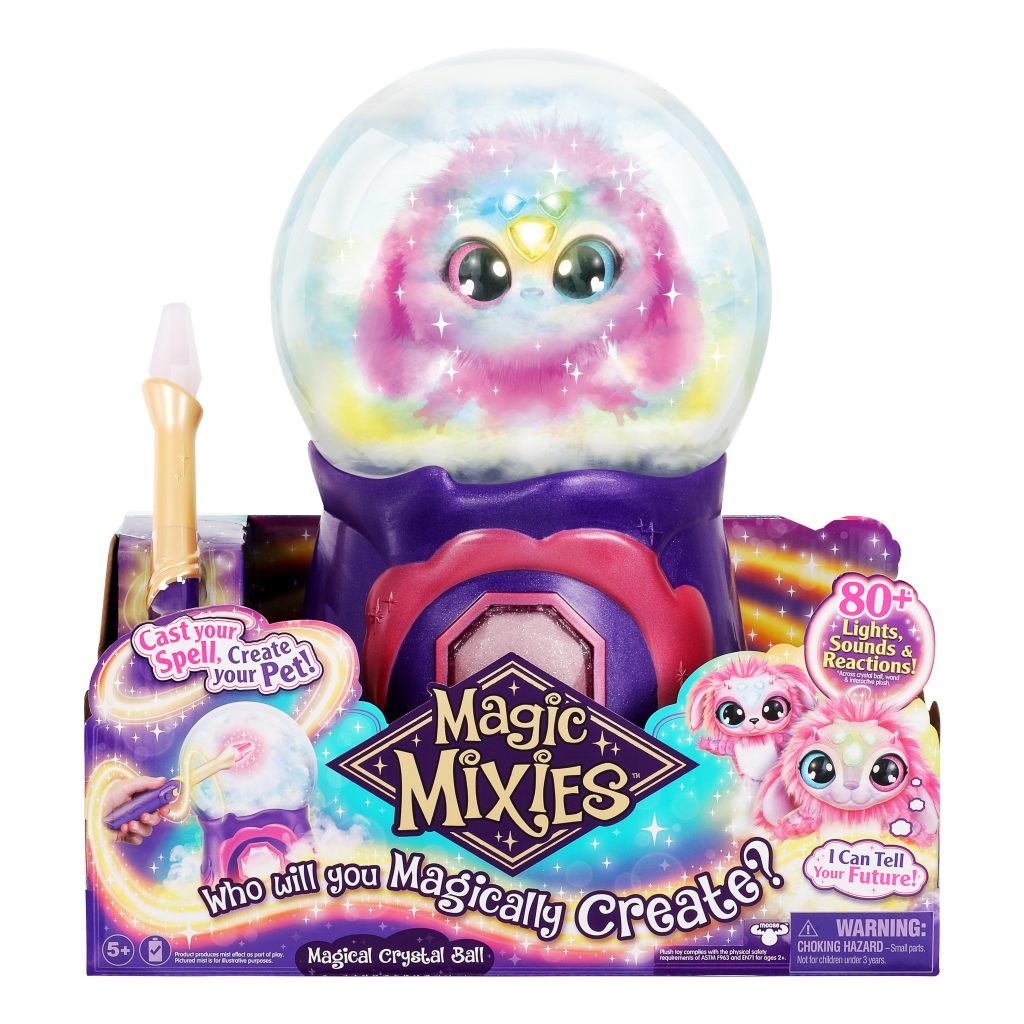 The Got2Glow Fairy Finder you know and love is back in an adorable new size, with over 20 virtual baby fairies to find! Your Got2Glow Baby Fairy Finder lights up as it detects virtual baby fairies around you; follow the lights, sounds, and directions on screen to find all the baby fairies! This all-new portable size makes it easy to find virtual fairies everywhere! Choose from 3 all-new games to play with your baby fairies: Follow the Fairy, Catching Fairies, and Fairy Frenzy! The Got2Glow Baby Fairy Finder is compatible with other Got2Glow toys.Fun for ages 5+ www.got2glowfairies.com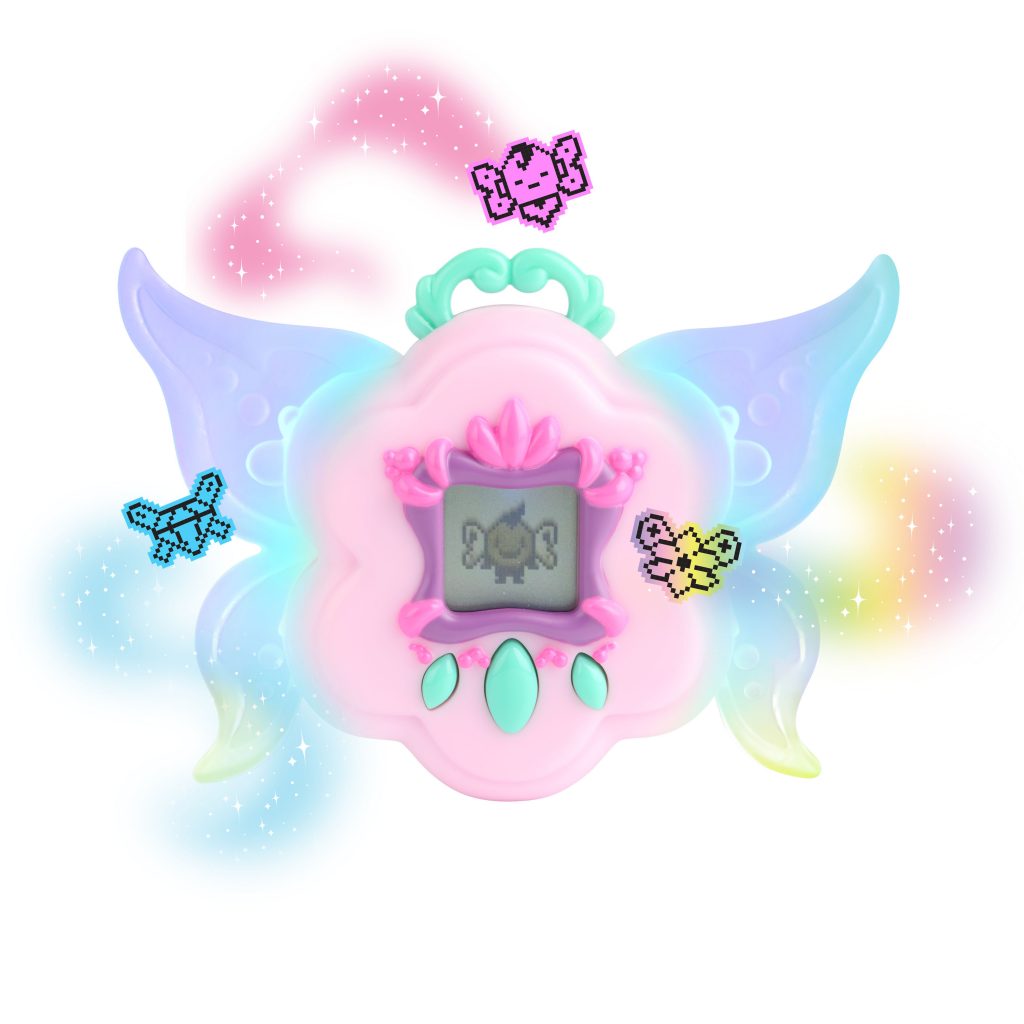 L.O.L. Surprise Loves Mini Sweets Dolls come in an earth-friendly PAPER BALL! Your favorite treats are now your favorite dolls! Find characters from Jolly Rancher, Hot Tamales, Hershey's Kisses, Mike and Ikes, Chupa Chups, Dum Dums, Pez, and Peeps. Unbox 8 surprises to reveal all the ways to play.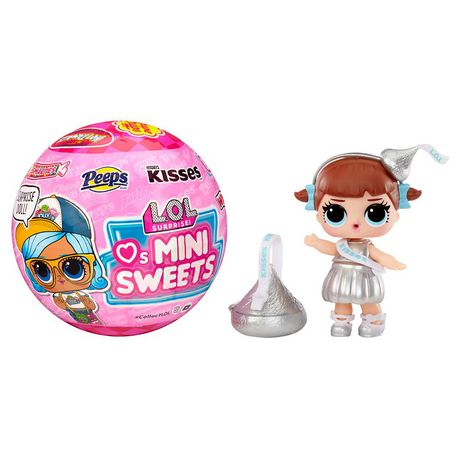 L.O.L. Surprise Loves Mini Sweets Surprise-O-Matic Dolls in brand new Surprise-O-Matic vending machine packaging! With the Surprise-O-Matic, unboxing these 9 cute surprises just got even more interactive and fun! Just the press of a button delivers each sweet surprise the same way you get your favorite candies from a vending machine.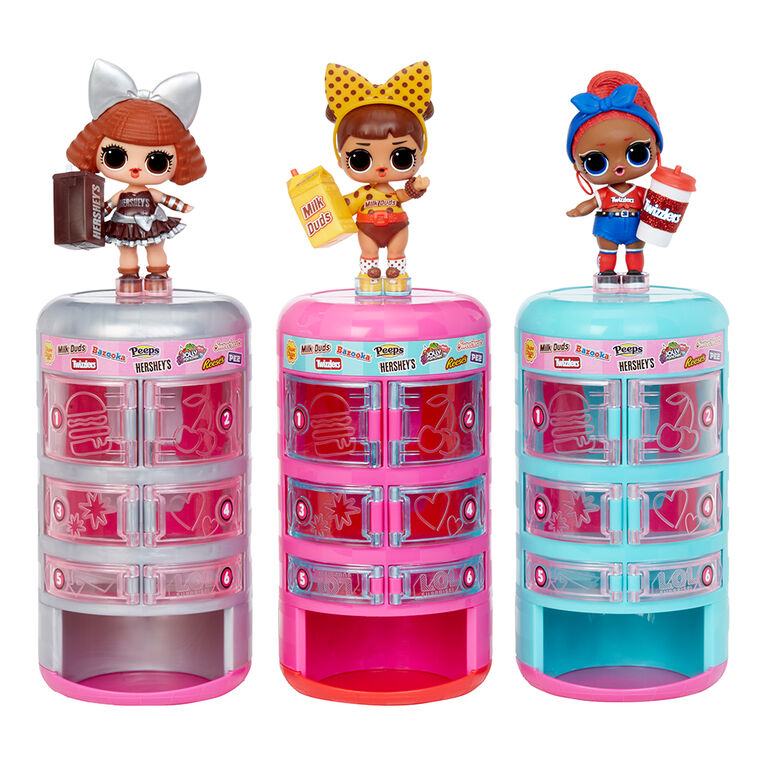 Introducing L.O.L. Surprise Loves Mini Sweets Dolls in a brand-new Hershey's Kisses Deluxe Pack! Unbox OVER 20 extra tasty surprises to reveal even more ways to play! Three sweet B.B.s match three yummy Hershey's Kiss flavors: Hot Cocoa, Lava Cake, and Special Dark, each with a bag to fit a real Hershey's Kiss candy!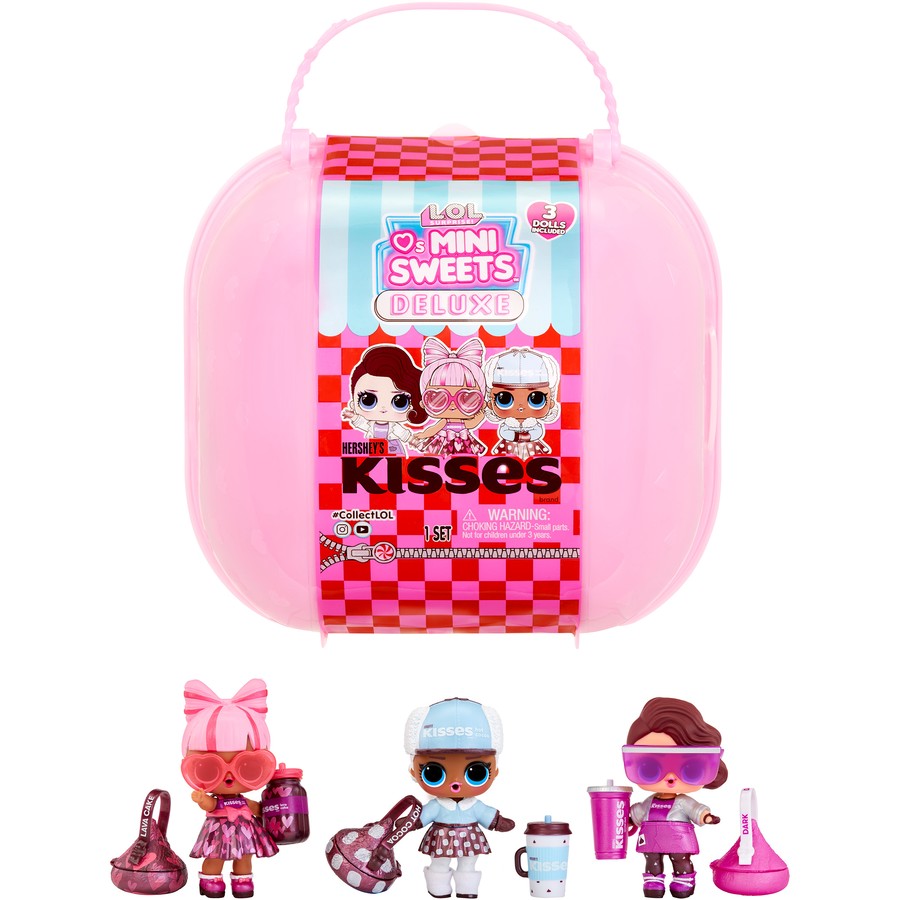 Introducing the Woodland Series 4 BFF Bright Fairy Friends! Each fairy comes housed in its very own fairy home with bright, motion activated twinkle lights. You can also use your fairy home as a night light! Press your fairy's necklace to make her wings glow with radiating multi-colored lights! Collect all the fairy dolls from Series 1, 2, 3 and 4, and enjoy swapping out their fashions and accessories! Shine Together! www.funrise.com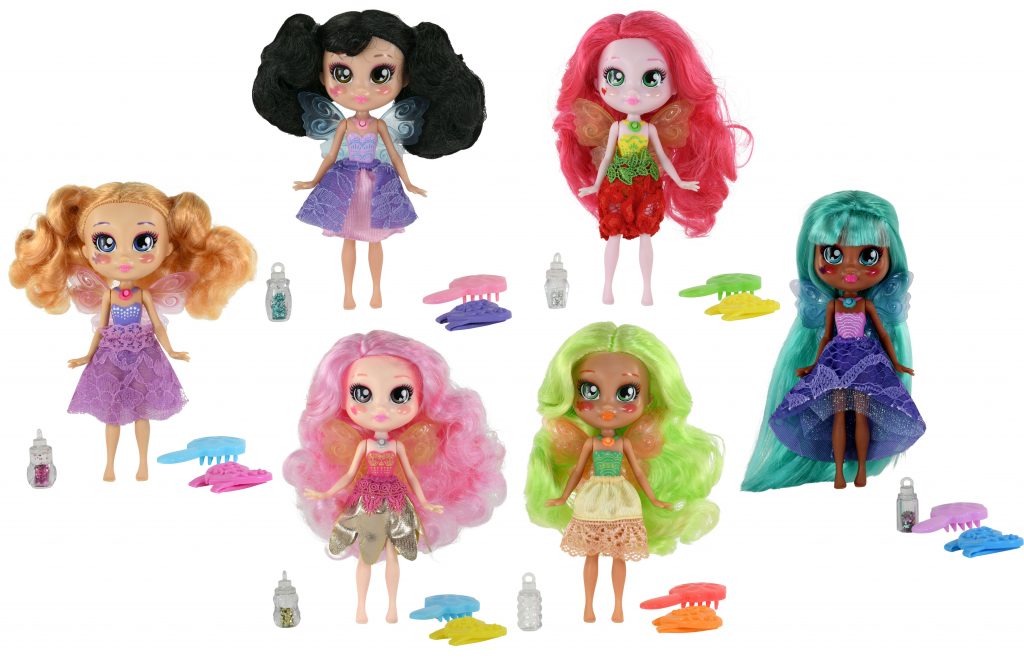 With Cat Power Haulers, you take control! These vehicles feature Motion Drive Technology allowing for fun and intuitive play that brings the action to life! With Motion Drive Technology, push the vehicle forward to make the engine rev and activate the lights; push the vehicle backward to hear back-up sounds; move the bucket or dump bed to hear hydraulic sounds and flash the lights. The features activated by the child's interaction with the vehicle create an engaging and realistic Cat experience every time they play. Batteries included. Collect them all! www.funrise.com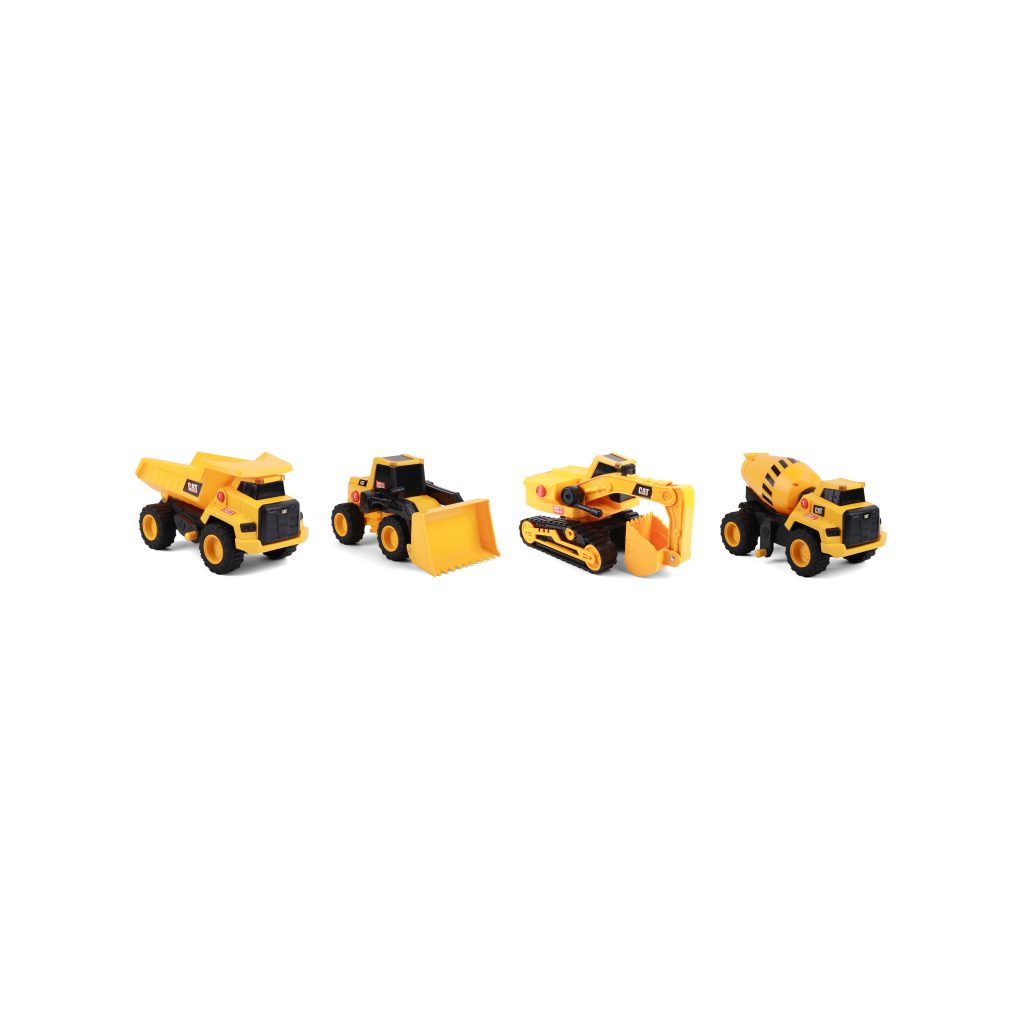 Introducing the Rocket League® Micro RC. A full-function remote control replica vehicle, modeled with realistic game-inspired features such as lights and quick acceleration. This 2.75"/ 69mm ride is a 2.4Ghz vehicle that features working headlights and taillights, and includes a goal, game ball and controller that also charges and stores the vehicle. With these awesome accessories, you can compete in vehicular mayhem over and over. Take your favorite Rocket League vehicle out of the screen and into your hands! Appropriate for ages 5 and up. – www.funrise.com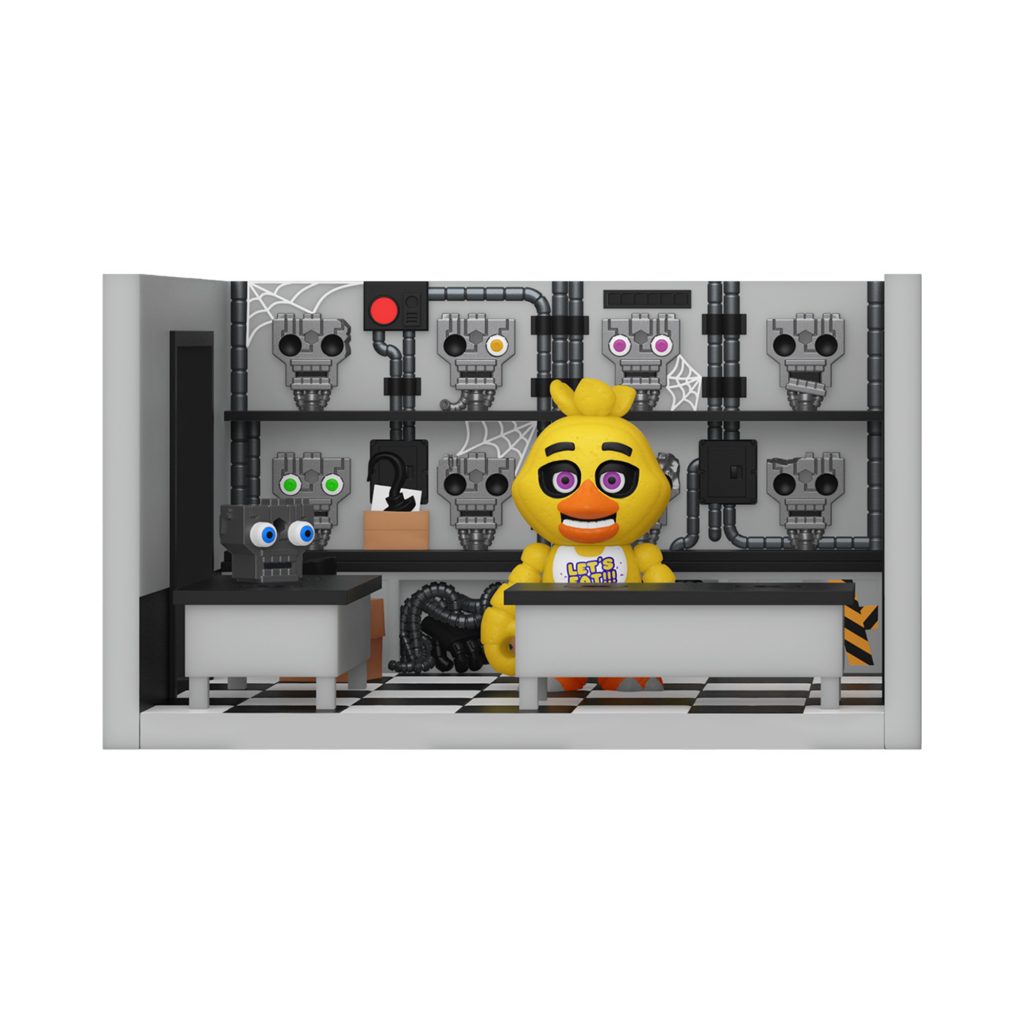 Imaginext™ DC Super Friends™ Bat-Tech Batbot Young crime fighters can create their own epic BatmanTM adventures with the turn of a Power Pad, the large robot transforms into flight mode with awesome lights, sounds and BatmanTM character phrases. Then kids can push the Batbot along to 'soar' to the rescue! 2-in-1 BatmanTM robot that transforms into an action-packed playset with cool lights, sounds, and BatmanTM character phrases. Turn the Power Pad to transform into "flight" mode, then squeeze the trigger to bring the arms forward and roll along to "blast off" for action – shop.mattel.com/en-caen-ca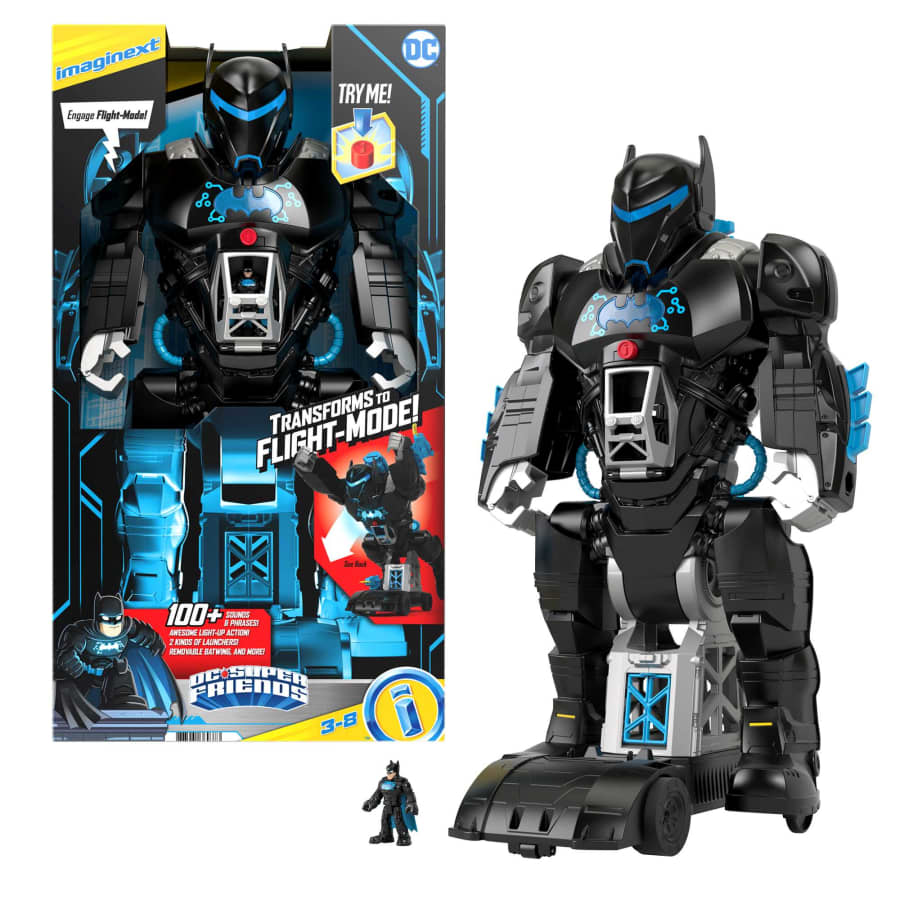 The GraviTrax PRO: Giant Set features 409 elements that include unique components and everything you need to begin building your own vertical action-packed track systems. Build with walls, pillars and balconies that can be attached together to form threedimensional structures. The pillars have special notches to connect them with the transparent walls and create more intricate paths for the marbles. Suspend your tracks in the air with the balconies. www.ravensburger.org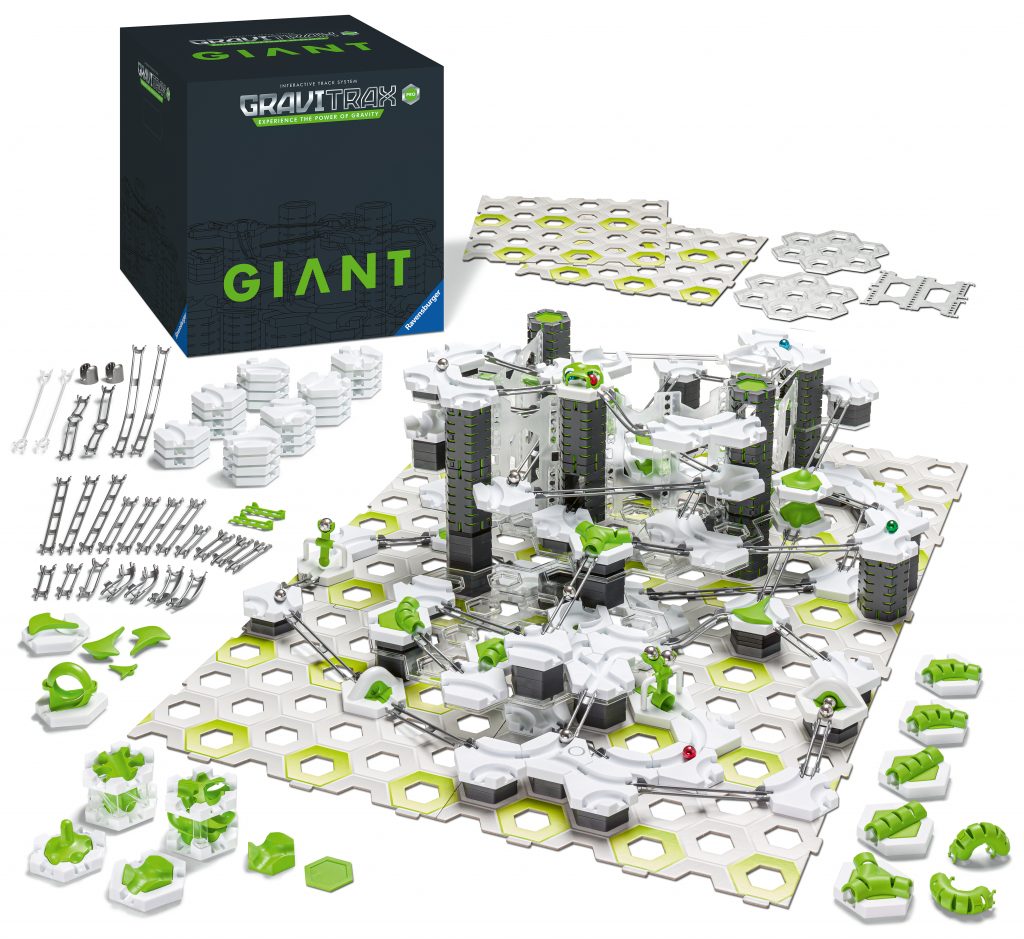 Globe Electric's Glow Light Board Encourage your kids to get creative with Globe's fun, colourful neon light board. Perfect for learning ABC's, doodling, and drawing, it comes with 20 stencils and 6 dry erase markers, a perfect gift to help inspire creativity this holiday season!. Available at Canadian Tire stores across Canada. – www.globe-electric.com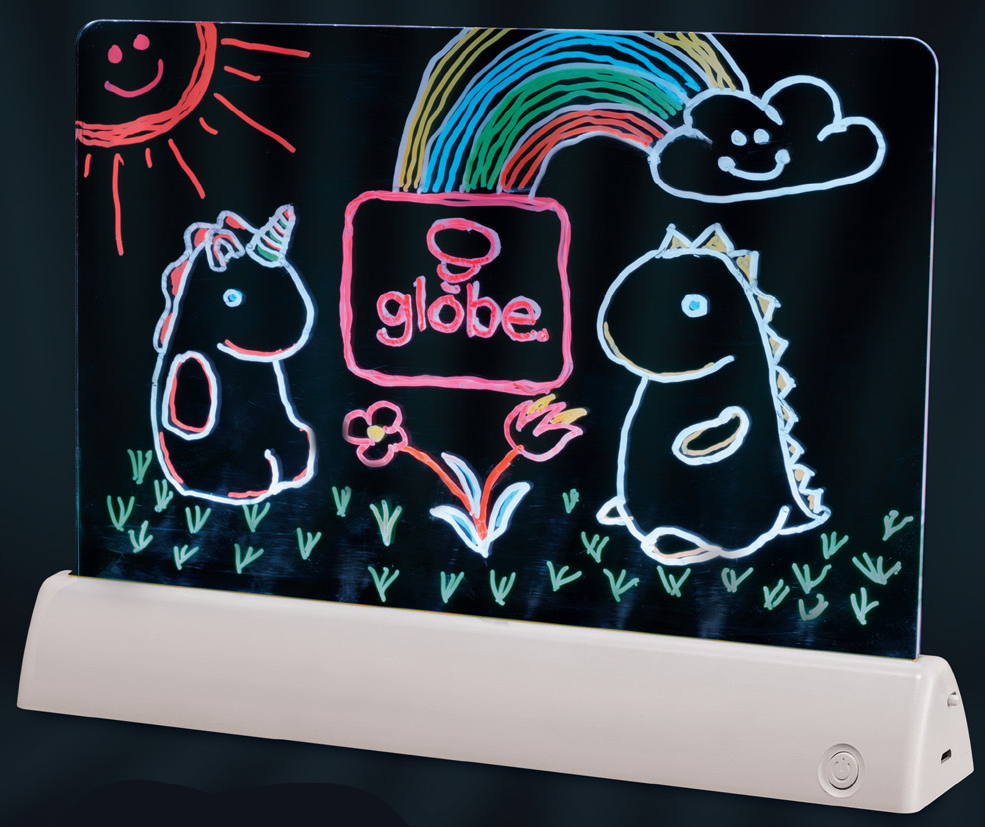 FNAF Snap: Playset- Stage w/Freddy (GD) Close in on Snaps! Golden Freddy in his Stage Playset before he moves! Set comes with 12 customizable pieces, including 2 face pieces, torso, legs, 1 accessory, 1 head, 2 tables, 3 chairs, and 1 playset base. Tables and chairs can be moved and customized. In fact, you can collect and connect playsets to create even more killer adventures. Warning: Choking Hazard. Collectible comes with small parts. Not for children under 8 years. www.funko.com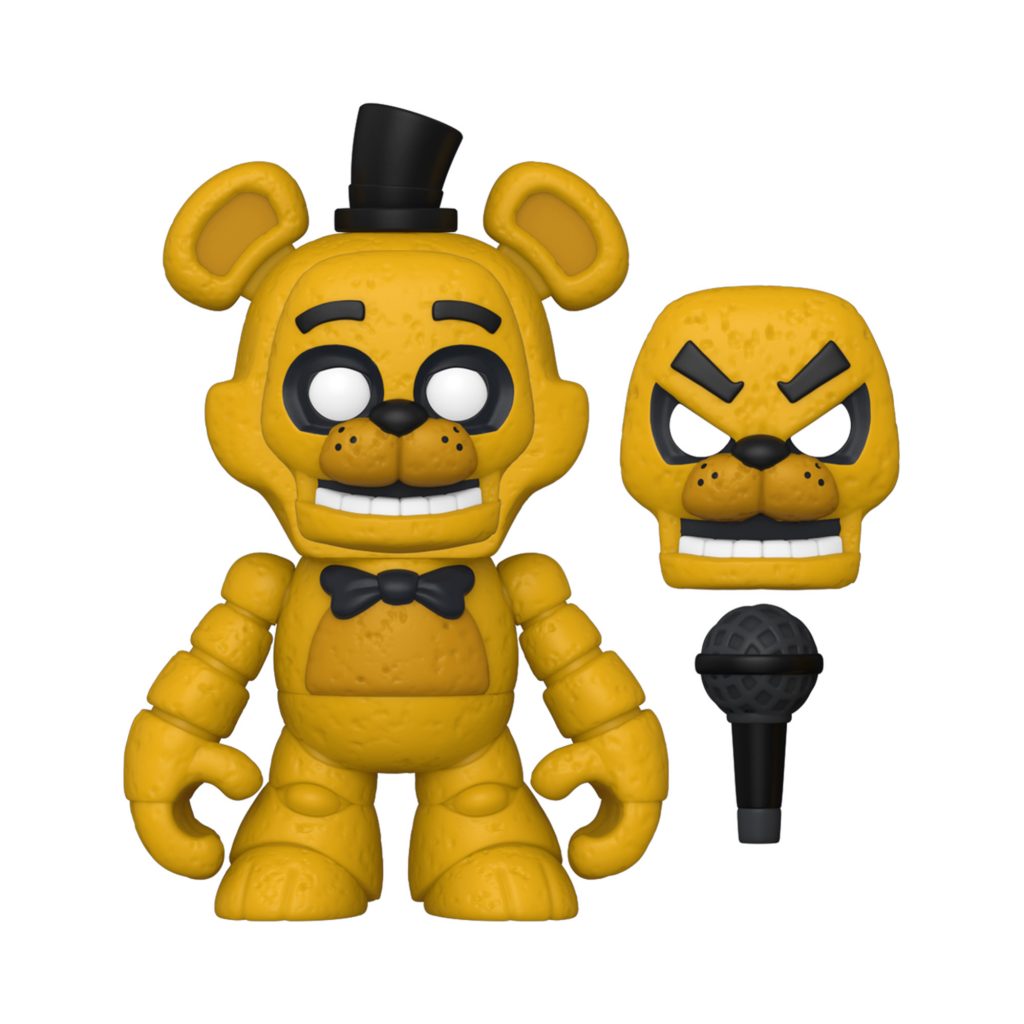 The National Geographic Dino Fossil Dig Kit allows kids to become a paleontologist in search of dinosaur fossils! This unforgettable, hands-on STEM toy has all the tools needed to excavate the astounding T. rex tooth replica inside the large dig brick. Find National Geographic Kits at Walmart!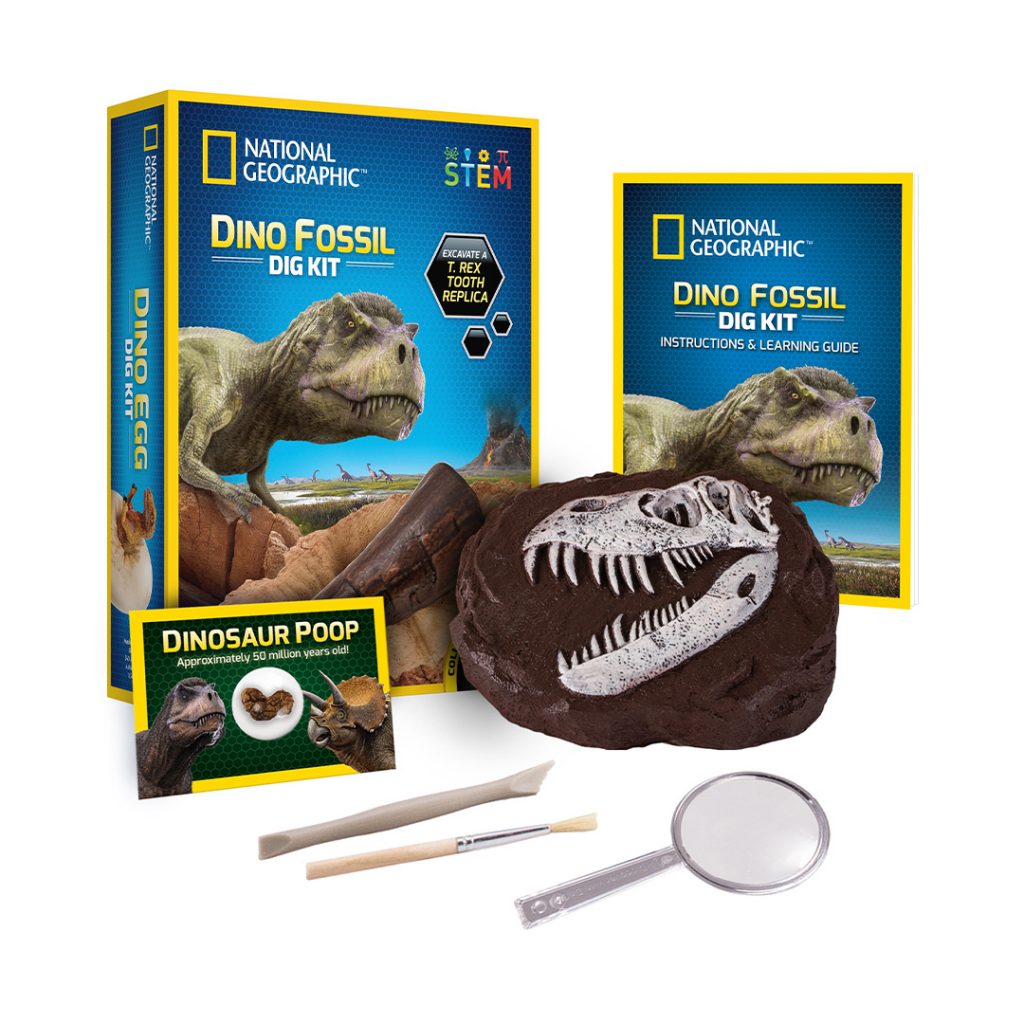 DJ Bouncin' Beats When little ones press the buttons, this interactive dance partner bounces to life with colorful lights, motorized spring action, and 75+ songs, sounds, and phrases that teach the alphabet, counting, colors, and more. With 3 Smart Stages® levels and lots of exciting bouncing action, the DJ Bouncin' BeatsTM toy helps keep little dancers wiggling, giggling and learning as they grow.- shop.mattel.com/en-ca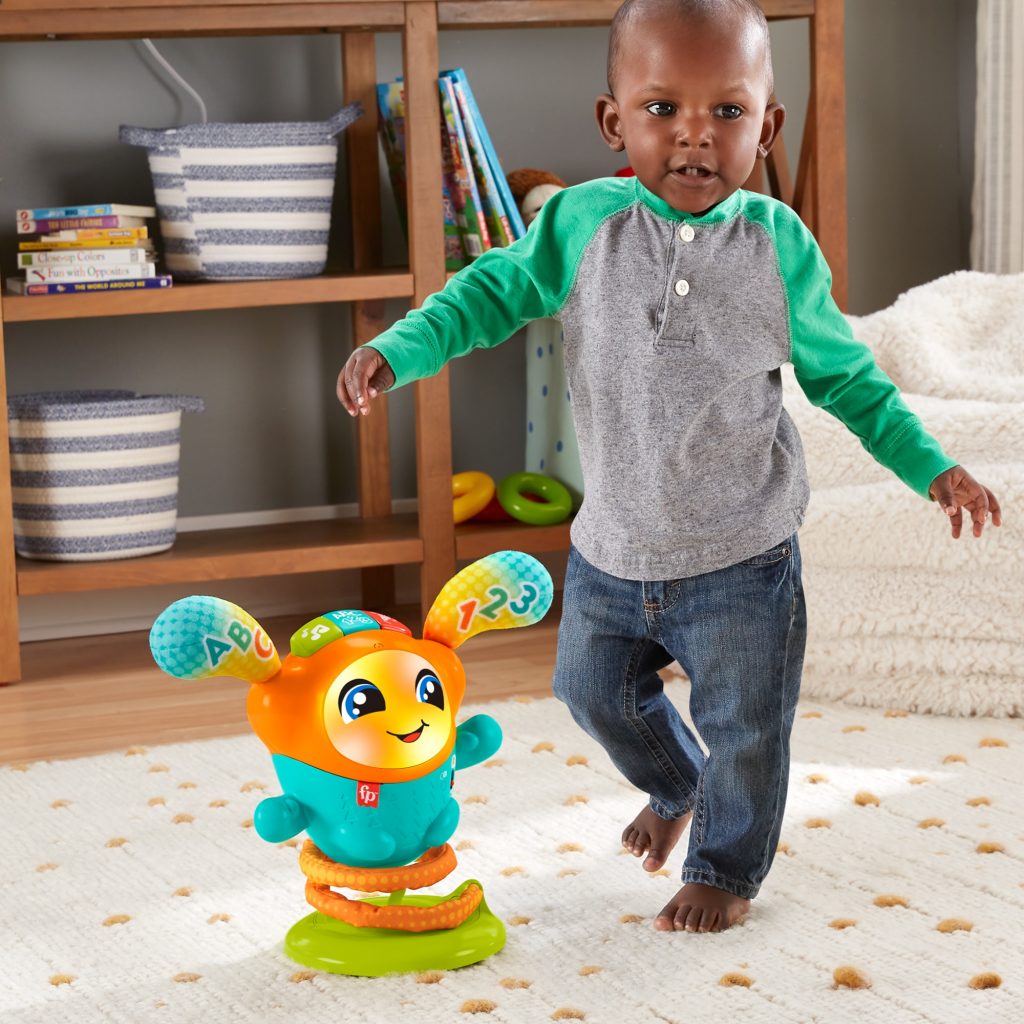 My First Kidi™ Smartwatch Help little ones care for themselves and learn about time-telling with a friendly woof-woof in a wrist pet they'll love to care for. Get extra help with potty training by setting 30-, 60- or 90-minute reminders. Keep little smiles healthy with the Brush Your Teeth reminder or get them to sleep on time with a chime that tells them when to get ready for bed. Kids will love taking this digital doggie on all their adventures while learning a little responsibility along the way. Give the pup a name and care for them right on screen. This super-talented pup can even be taught to do 20 tricks and will celebrate with barks and confetti. Explore the Time Master app and choose from 20 digital and analog clock faces. Connect watch-to-watch with a friend who also has a My First Kidi™ Smartwatch (sold separately) for more games and activities. Available in blue and purple. – www.vtechkids.ca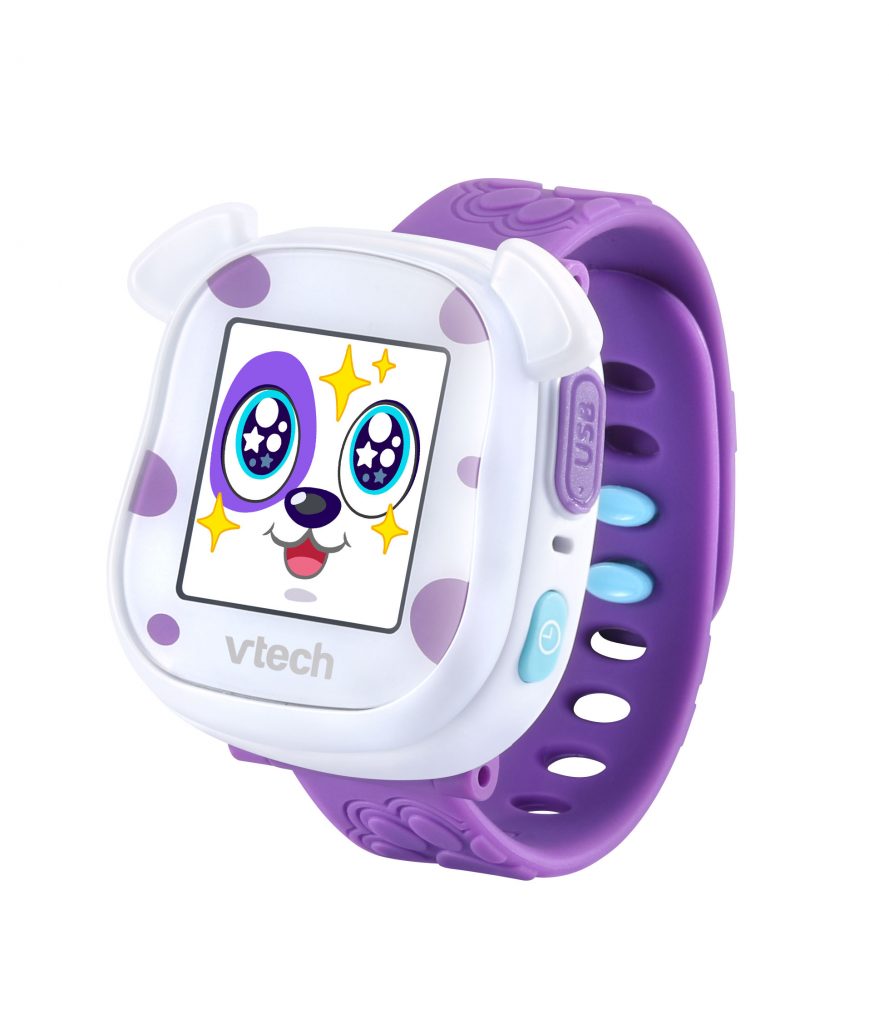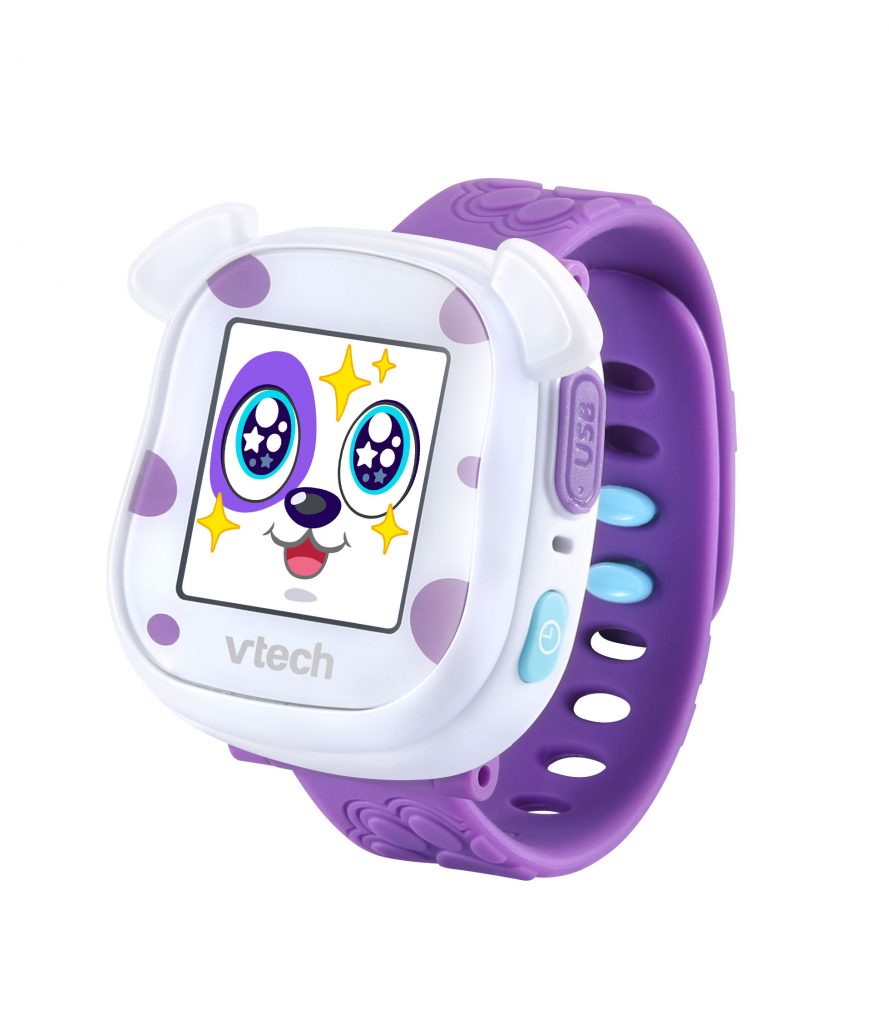 Globe Electric's Terry the Triceratops and Wally the Whale Squish Night Lights No need to be afraid of the dark this season with these adorable holiday gifts or stocking stuffers! Globe's Terry the Triceratops and his friend Wally the Whale are perfect companions to have by your child's bed to help them drift off into dreamland. Simply tap them on the head to light them up and continue to tap to cycle through a variety of colours. Available at GlobeElectric.com and homedepot.ca. Sold separately. – www.globe-electric.com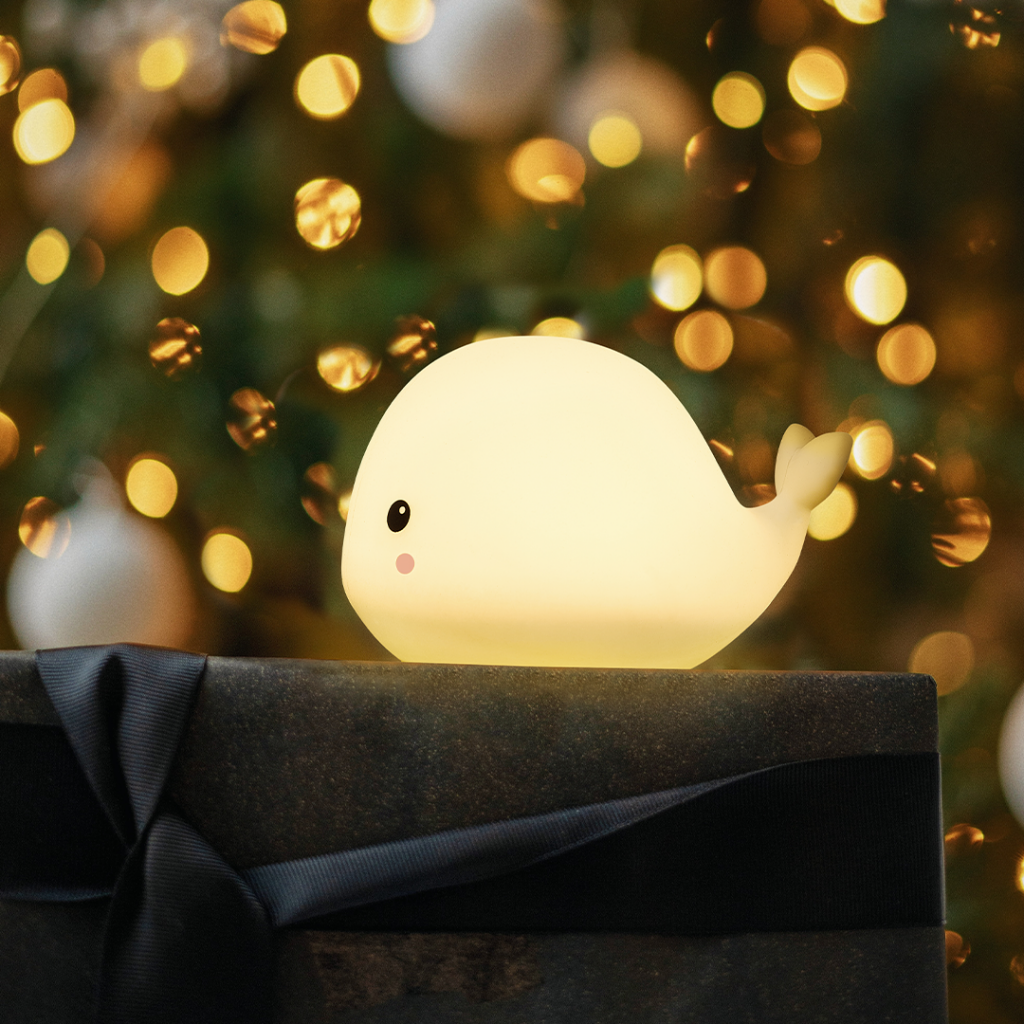 Huggies Little Snugglers Diapers are designed for gentle skin protection, with softness and breathability to help keep baby dry & comfortable. Safe for baby's delicate skin, Huggies Natural Care Wipes are plant-based wipes & made with 99% water. Huggies Little Snugglers Diapers and Natural Care wipes are both hypoallergenic, free of fragrance and parabens to provide a gentle clean and outstanding protection for your baby. – www.huggies.ca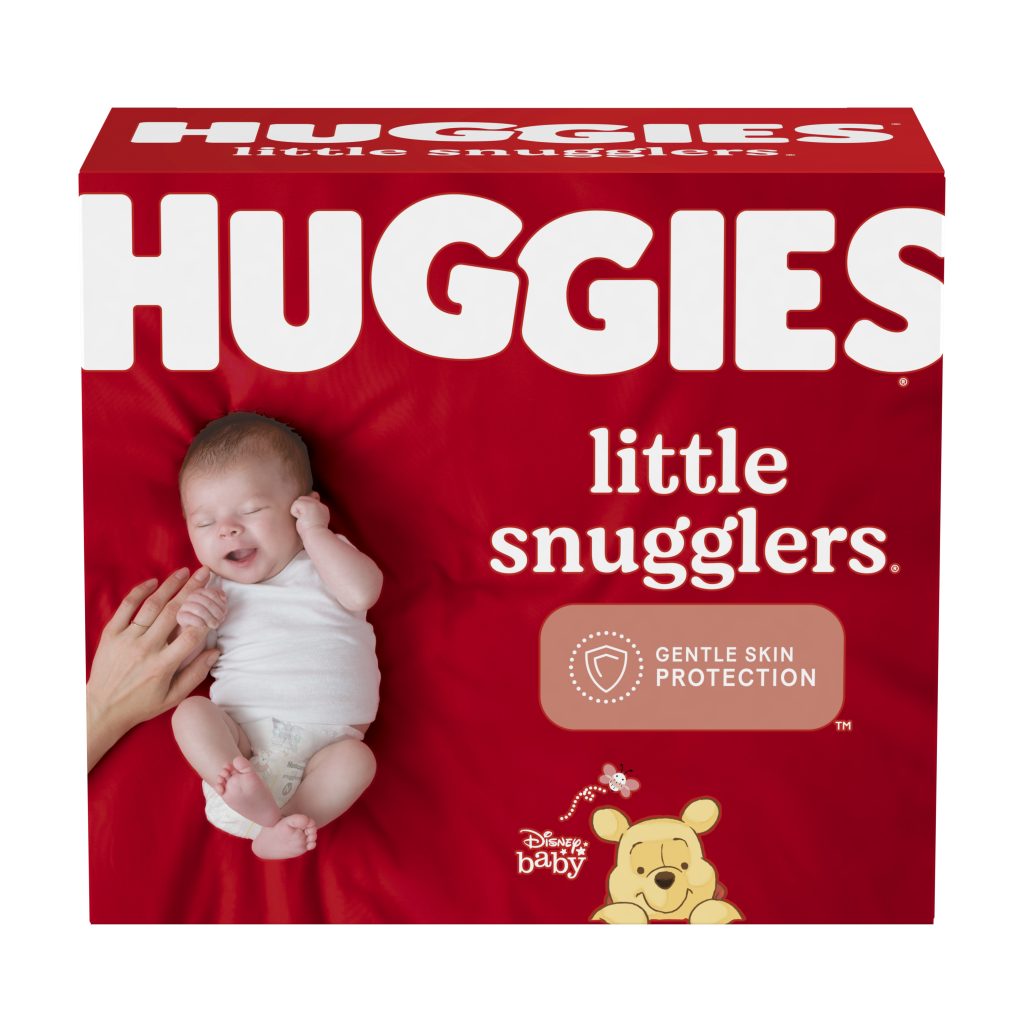 Pull-Ups has both day and nighttime training underwear that work together as the potty training system! Pull-Ups daytime training underwear make potty training fun, fast, and easy with refastenable sides and a Disney graphic that fades when wet, teaching your Big Kid to stay dry. Consistency is key when training. Putting your Big Kid back in a diaper at night can be confusing, instead use Pull-Ups Nighttime Training Underwear for overnight protection. – www.pullups.ca.