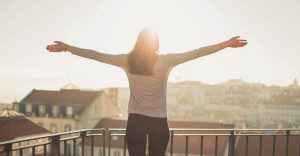 Marie Kondo is nothing short of an inspiration. The author, entrepreneur, and founder of the KonMari method has become a worldwide icon for her approach to organization, which focuses on streamlining a living space and surrounding oneself with items that — as the title of her recent book puts it ) 'Spark Joy.'
Kondo's latest endeavour involves serving as a global ambassador for the Live #InSync Initiative from Activia, the world's largest fresh dairy brand. The project inspires and celebrates women who know how to align body and mind and work constructively with their inner critic to pursue their best.
The cause is dear to Kondo's heart — she admits to grappling with self-doubt virtually every time she tackles a new project. "I often hear my inner voice question if I'm able to achieve my goals, which can provoke anxiety and fear. But I've learned to accept that inner voice and allow it to challenge me to consider how I can best move forward."
Kondo isn't alone — a study showed that 62 per cent of women agree that their inner critic can hold them back more than most other things in their personal life.
Kondo will be responsible for curating a special book as part of the Live #InSync initiative that features a collection of real-life stories of how contemporary women find ways to feel at one with themselves, be in the moment, and convey what it means to Live InSync. Submissions close December 31, 2016; visit Activia.ca for more information.
For Kondo, the book will be like having a conversation with women from around the world. "Reading their stories will be like hearing their voices and I look forward to learning from their experience."
www.newscanada.com