Avoiding the "Mom Jeans" Issue
When it comes to fashion, we women all have that dreaded issue of the "Mom Jean" look. It is not a great look! It is really, really outdated and something you want to avoid. Here are some tips on avoiding that awful look.
Tip #1) Stretch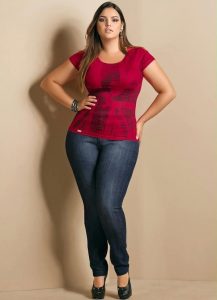 Jeans tend to have spandex or some other materiasl to give their jeans that Mom stretch. This can be good and often gives the jeans more comfort and a great fit. But, too much stretch can make the jeans fit like leggings. Hence forth, they will accentuate every little bump and make your thighs look like they are stuffed in sausage casing. Trust me no one wants that!
Tip #2) Cut
I don't care who you are; but no one looks good in tapered jeans. I repeat..NO ONE. Only very thin women with straight hips look ok in skinny, straight-leg jeans. The unwritten fashion rule has been that the boot-cut style is the most universally flattering fit, except in the case of shorter women (below 5'4") then a straighter cut would be more flattering because flare can accentuate short legs (though I've seen some pretty petite women look rockin in a slight boot cut, so make sure you give them both a fair try).
Tip #3) Size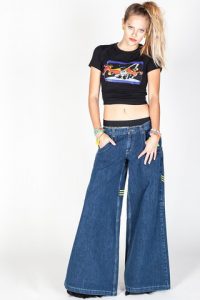 Don't be stubborn and only try on jeans in a certain size (either because you think that's the size you are or that's the size you want to be. Trust me, I'm plus size and I feel your pain). Sizes vary a lot by each brand and cut.You don't want to look utterly ridiculous because you think you are a certain size.
Tip #4) Length
Jeans look the best when they're worn long. They should fall to the floor (or just about) when you put shoes on. This is an very common mistake. If the jeans are too long, don't hem them!! Cut them off, wash them, and let them fray naturally (you'll look so cowgirl chic). If you like jeans that are more dressy (e.g. trouser fit or dark wash) and you absolutely have to hem them; try sandpaper to give them the distress look. This will make them match the new hems so they look like the original ones. Otherwise, they'll look those back-to-school jeans our moms use to buy us (I can't be the only one!)
Tip #5) Risers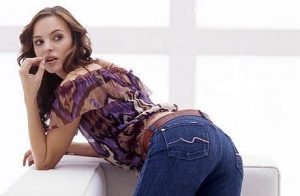 Low rise jeans tend to be the more flattering look. Now, I don't mean you need to go shave certain areas low, but they should sit at least a few fingers below your belly button. A lower waistline does create the illusion of a smaller bottom, (who knew?!), but high-waist jeans make your butt look like it starts way higher than it actually does.
Tip #6) Style
Don't go all fancy with weird washes or lots of bedazzling ala the Kardashians. Funky washes are more trendy and definitely won't stay long in the fashion world. Also, there's a fine line between looking great and looking like you're trying too hard. Fashion forward women are not hoochie mamas.
Tip #7) Price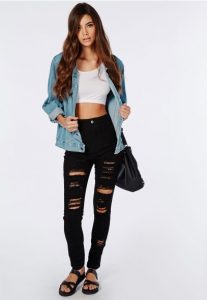 A great pair of jeans can be pricey and I usually get sticker shock. But I wear jeans often, so make sure they fit right. They'll cost a pretty penny. I myself love used jeans because they are worn in and wont take so long to feel comfy.
Tip #8) Working that bum
If you don't feel that your butt will look good in jeans. Make em look good! Do some squats or other butt busting exercises to lift that butt and trust me,it will look great!