Bake Bunny Cookies with Your Kids for Easter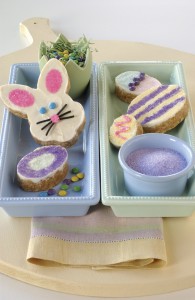 Easter is a creative time for children with arts and crafts—and especially in the kitchen if they can bake and decorate Easter Bunny cookies in many different shapes and sizes. Take a look at this easy little recipe for Easter Cookies.
Certain ingredients are essential for texture and taste success, like the combination of margarine, sugar, flour and corn syrup. In fact, it's the special properties of corn syrup that will give your cookies that professional look and touch—and a tantalizing taste. As importantly, with some concern recently about high fructose corn syrup, it is worth noting that Crown Golden, the corn syrup of choice in this recipe, does not contain high-fructose-corn-syrup:
Prep Time: 20 minutes
Cook Time: per batch, 9 minutes
Chill Time: 1 hour
Yield: 4 dozen cookies
Ingredients:
• 1 cup (2 sticks) butter or margarine, softened
• 2/3 cup sugar
• 1/2 cup Crown Golden no-high fructose corn syrup
• 1 tablespoon lemon juice
• 1 egg
• 3-1/2 cups flour
• 1/4 teaspoon salt
• Parchment paper
• Coloured sugar for decorating
Beat margarine, sugar, corn syrup, lemon juice, and egg in large bowl with mixer at medium speed until well blended. Gradually add flour and salt; beat until well mixed. Cover; refrigerate at least at least 1 hour, until dough is easy to handle.
Preheat oven to 350°F/180°C. Line cookie sheets with parchment paper.
Roll out dough on lightly floured surface, one third at a time, to 1/8-inch/ 1/2 cm thickness. Cut into desired shapes using cookie cutters if necessary. Place on parchment paper-lined cookie sheets. Decorate as desired with coloured sugar.
Bake 7 to 9 minutes or until lightly browned. Remove and cool on wire racks.
Store in tightly covered containers.
Additional recipes are available online at www.achfood.ca.
www.newscanada.com