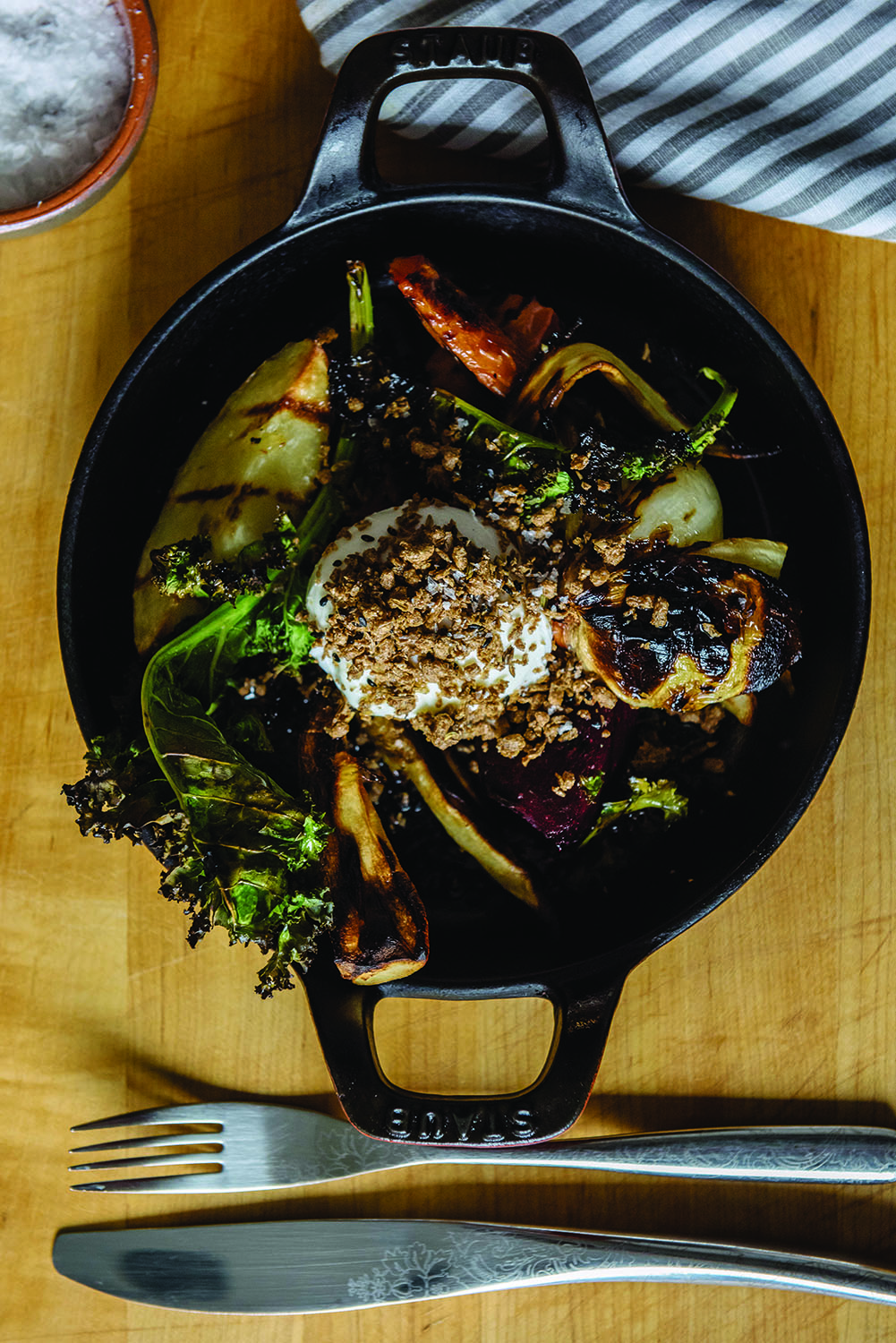 Grill a Healthy Breakfast – for Dinner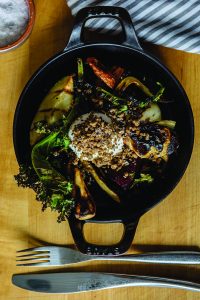 Summer barbecues are all about big, bold, great taste — but can they be good for you too? Superstar celebrity chef Elizabeth Falkner says yes with her grilled breakfast hash recipe that combines smoky flavours with the nutritious benefits of fibre, the year's hottest food trend. Perfect for morning or evening, this dish makes it easy for Canadians to top up their daily fibre intake.
Grilled Root Vegetable Breakfast Hash with Crunchy Poached Egg
Makes: 4 servings
Ingredients:
2 medium beets
2 parsnips or carrots, sliced in half, quarters or lengthwise
2 white, red or Russet potato or sweet potato
1 medium size onion, sliced into quarters with stem attached
2 cups kale leaves with stems
1 tbsp caraway seeds
1 tbsp fennel seeds
1 tbsp sesame seeds
1/4 cup Kellogg's All-Bran Original cereal, ground
1/4 cup Kellogg's All-Bran Buds cereal
1/2 tsp Tobasco (optional)
3 tbsp maple syrup
1 tbsp clarified butter
2 tbsp browned butter
1/2 cup olive oil
1/4 cup sherry vinegar
Juice of 1/2 a lemon
1/2 tsp kosher salt
Black pepper
4 eggs
Directions:
Preheat oven to 400 ° F. Puncture the potatoes in a few spots and wrap each in foil with a pinch of salt. Place the beets in separate foil with a pinch of salt and 1 tsp olive oil and wrap. Place the parsnip or carrot slices along with the onion in a separate piece of aluminum foil and drizzle with olive oil and a little salt and pepper. Wrap to seal.
Place all vegetable packages in the hot oven and roast the beets and potato about 40 minutes. Remove the carrot and onion after about 15-20 minutes.
Turn on the barbecue. Remove the beets from the foil and slip off the skins. Cut into quarters. Remove the potatoes and cut in half and then quarters and toss in olive oil. Remove the carrots and onion from the foil.
Toast the caraway, fennel and sesame seeds in a dry sauté pan. Cool and toss with 1 tbsp of clarified butter, 2 tbsp ground Kellogg's All-Bran Original cereal and 2 tbsp Kellogg's All-Bran Buds cereal. Set aside to cool.
In a blender, combine the Tobasco, maple syrup, browned butter, olive oil, sherry vinegar, juice of half a lemon and salt and pepper to taste.
Grill the potatoes, carrots, onions and beets on the barbecue for a couple of minutes on each side to get some char and smoke. Grill the kale leaves quickly or cook in a cast iron pan on the grill just to wilt slightly.
Bring a pot of water to a boil and add 1 tbsp white wine vinegar. Poach eggs and remove with a slotted spoon. Allow to dry on a clean dish cloth or paper towel.
To plate, divide the vegetables among four plates. Divide the kale on each plate. Drizzle some of the vinaigrette over each plate. Set a poached egg on each plate and finish with the Kellogg's All-Bran seed crunch and a little finishing salt. Serve immediately.
Find more delicious outdoor-inspired recipes online at allbran.ca or join the conversation on social media using #AllBranNew.
www.newscanada.com