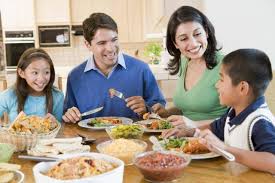 Healthy Comfort Foods on a Budget
Comfort foods hold a lot of memories for some people. This may include mom's home cooking or dad's five alarm chili. Either way, smells and odors are a trigger to memories like these. With Christmas over, healthy comfort foods that are easy on the budget are a must!
1) 30 Minute Chicken and Cauliflower Yellow Curry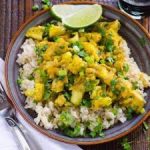 What you need:
Brown rice or quinoa*
1 large onion, cut in half moons
3 large garlic cloves, minced
2 inch ginger, minced
2 medium bell peppers, cut into 2 inch strips
1 tbsp olive oil, extra virgin
14 oz can coconut milk, light**
2 tbsp honey or maple syrup
2 tbsp yellow curry powder (red or green is OK)
2 tsp turmeric (optional)
1 tbsp cornstarch or 2 tbsp whole wheat flour
1 + 1/4 tsp salt
1 tsp ground black pepper
1.5 lbs cauliflower (4 cups), cut into small florets
1.5 lbs boneless & skinless chicken breasts, (cut)
1/3 cup cilantro, chopped (optional)
1/3 cup green onions, chopped (optional)
Instructions:
1- Cook brown rice or quinoa as per package instructions.
2- Preheat large non-stick deep skillet on low – medium heat and add olive oil. Add onion, garlic, ginger, bell peppers and cook until soft, about 7 minutes, stirring occasionally.
3- Add coconut milk, honey, curry powder, turmeric, cornstarch, salt, pepper and stir to combine. Bring to a boil, add cauliflower + chicken and stir. Bring to a boil, reduce heat to low, cover and cook for 20 minutes. Serve hot, on a bed of brown rice or quinoa, garnished with cilantro and green onions.
2) Pasta with Creamy Pumpkin Sauce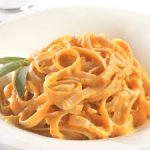 What you need:
2 cloves garlic
1 Tbsp butter
1 cup pumpkin purée
1 cup chicken broth
⅛ tsp nutmeg
¼ tsp chili powder
Pinch cayenne pepper
Freshly cracked black pepper
2 Tbsp half & half or cream
8 oz. pasta
Instructions:
1- Begin boiling a large pot of water for your pasta. Once the water is boiling, add the pasta and boil until al dente (7-10 minutes). Drain in a colander.
2- While waiting for the water to boil, prepare the sauce. Mince two cloves of garlic and add them to a large skillet with one tablespoon of butter. Sauté over medium-low heat for 1-2 minutes, or just until the garlic is soft and fragrant.
3- Add the pumpkin purée and chicken broth to the skillet and stir to combine. Add the nutmeg, chili powder, cayenne pepper, and some freshly cracked black pepper. Stir in the spices and let the sauce simmer over medium-low heat while the pasta cooks (about 10 minutes), stirring occasionally.
4- Once the pasta is finished cooking and is draining in a colander, add the half and half or cream to the skillet and stir it into the pumpkin sauce. Taste the sauce and add salt if needed (this will depend on the type of broth you use). Finally, stir the drained pasta in to the sauce and serve.
3) Zucchini Fettuccine + Rosemary Butternut Creme Sauce

What you need:
1 medium butternut squash
3 tablespoons coconut oil, divided
1 medium yellow onion, chopped
2 garlic cloves, minced
2 teaspoons dried rosemary, crushed (to release flavor)
1 cup full-fat canned coconut milk
½ cup vegetable or chicken broth
½ teaspoon sea salt
1 pound shiitake mushrooms, sliced
3 pounds zucchini, spiraled into fettuccine
Freshly-ground black pepper to taste
Instructions:
1- Preheat oven to 375 degrees F.
2- Slice butternut squash in half lengthwise. Grease a baking sheet with 1 tablespoon of coconut oil and then lay butternut squash (cut side down) on sheet pan.
3- Roast for 30 – 45 minutes, until squash is tender and flesh can easily be pierced with a fork. Once cooked, allow squash to cool, then scoop out the flesh (this should yield about 5 cups of flesh) and discard the skin. Add the flesh to a blender.
4- Meanwhile, add 1 tablespoon of coconut oil to a pan over medium heat. Add the onions and garlic and sauté for 3 – 5 minutes, until onion is translucent and garlic is fragrant.
5- Next, add the sautéed garlic & onions, rosemary, coconut milk, broth, and salt to a blender with the butternut squash flesh. Blend until smooth.
6- Add the remaining tablespoon of coconut oil to a large pan. Add the mushrooms and sauté for about 2 minutes, until they are just starting to brown. Then add the zucchini fettuccine and cook for about 3 minutes, until zucchini is almost tender. Add the sauce to the pan and continue to cook until sauce is hot and zucchini is tender.
7- Garnish with freshly-ground black pepper and serve hot.
4) Cheesy Cauliflower Shepherd's Pie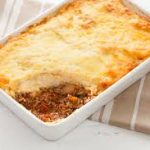 What you need:
1 lb ground lamb
1 lb ground beef
1/2 cup chopped onion
1 tsp salt
1/2 tsp pepper
1 clove garlic, minced
1/2 cup dry red wine
1 tbsp arrowroot starch
2 tbsp chopped fresh rosemary
Topping:
1 1/2 lbs cauliflower florets
2 garlic cloves
2 tbsp butter
1/2 tsp salt
1/4 tsp pepper
4 ounces grated cheddar cheese
In a large skillet over medium heat, brown the lamb and beef until cooked through, about 10 to 12 minutes. Using a slotted spoon, remove to a separate plate or bowl. Drain all but 1 tbsp fat from the pan and discard.
Return pan to heat and add onion, salt and pepper. Cook until onion is translucent, about 5 minutes. Add garlic and cook until fragrant, 1 minute more.
Return ground meat to pan. Stir arrowroot starch into the wine and add to the pan. Cook until wine is mostly evaporated and juices have thickened, 4 to 5 minutes. Stir in chopped rosemary and remove from heat. Transfer filling to a 2 quart casserole dish
Topping:
Preheat oven to 400F.
Set a steaming basket into a large stockpot and add water to the bottom. Add cauliflower and garlic cloves and steam until cauliflower is very tender, 6 to 8 minutes.
Drain cauliflower well and transfer to a blender or food processor, along with the garlic cloves. Add butter, salt and pepper and blend until smooth (you may need to do this in batches, depending on the size of your blender or processor).
Spread over the filling in the casserole dish and sprinkle with cheese. Bake 20 to 25 minutes, until filling is bubbling and cheese is melted.
Turn broiler on high and broil 4 to 6 inches from heat for 3 or 4 minutes to brown cheese. Remove and let sit a few minutes before serving. Serves 8
5) Sweet Potato, Black Bean, & Lentil Vegetarian Chili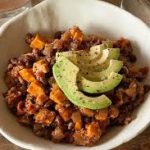 What you need:
1 tablespoon olive oil
1 onion, diced
5 cloves garlic, minced or grated
2 tablespoons chili powder (start with a small amount)
1 teaspoon smoked paprika
3/4 teaspoon cumin
3/4 teaspoon cayenne pepper (to your liking)
1 1/2 teaspoons salt
3 cups vegetable broth
3 cups water
1 (25-28 ounce) jar marinara sauce (I use Trader Joe's)
1 (6 ounce) can tomato paste
2 cups green lentils
4 carrots, diced
1 large sweet potato, peeled and cubed
3 cups (2 cans) black beans, drained and rinsed
Instructions:
1- In a large pot over medium heat, add the olive oil and chopped onion. Sauté for about 3 minutes.
2- Add the garlic, chili powder, paprika, cumin, cayenne, and salt. Cook for about two more minutes.
3- Add the vegetable broth, water, marinara sauce, and tomato paste. Stir in the lentils and carrots. Turn the heat up to high, bringing the broth to a boil. Once it boils, reduce the heat to medium low, cover and simmer for 10 minutes.
4- After 10 minutes, add cubed sweet potato and black beans and simmer on medium low for 40-50 more minutes or until the lentils are tender. Add extra water or broth to thin, if needed, toward the end.
5- Top with sour cream, avocado slices, or freshly grated cheese, if desired. Enjoy!
6) Roasted Eggplant with Spinach, Quinoa, and Feta
What you need:
1 large eggplant, cut into 1 inch cubes
2 tablespoons olive oil
salt and pepper
1 tablespoon olive oil
2 cloves garlic
5 to 10 ounces fresh spinach (to taste)
1 and 1/2 cups cooked quinoa
1/4 cup Feta cheese
Instructions:
1- Preheat oven to 420 F. Line a baking sheet with foil. Grease the sheet lightly with olive oil.
2- In a large bowl, mix cubed eggplant with 2 tablespoons olive oil, and season with salt and pepper. Spread chopped eggplant over the lightly greased baking sheet. Roast for 20-25 minutes (or more, depends on your oven) until eggplant softens. Midway through roasting, take out the sheet and flip over eggplant cubes to the other side using spatula – that will help even out the roasting.
3- While eggplant is being roasted, heat 1 tablespoon of olive oil in a large skillet, add spinach and 1 minced garlic clove and cook for a couple of minutes, constantly stirring, just until spinach wilts. Remove from heat.
4- Once eggplant is done, immediately remove it from the baking sheet into the same skillet with spinach, off heat. Immediately add quinoa and second clove of minced garlic. This will allow cooked eggplant to release some juices when mixed in with quinoa. Mix everything well, off heat, and season with more salt if needed. Don't add too much salt or omit it altogether as you will be using Feta cheese too. Top with Feta cheese
7) A Healthy Mac & Cheese Casserole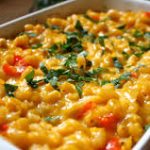 What you need:
4 oz multi-grain macaroni
4 tbsp olive oil, divided
3 tbsp Panko bread crumbs
2 tbsp flour
1/2 tsp paprika
1/2 tsp salt
1/8 tsp black pepper
2 c fat-free milk
1/2 c shredded, reduced-fat Cheddar cheese
Instructions:
1. Preheat the oven to 350°F. Coat an 8-inch x 8-inch baking dish with vegetable spray.
2. Bring a pot of water to a boil, and cook the macaroni according to package directions. Drain, rinse with cold water and drain again. Set aside. Combine the bread crumbs and 2 teaspoons oil in a small bowl. Stir with a fork to evenly coat the crumbs with oil.
3. Add the remaining 3 tablespoons plus 1 teaspoon oil to a large saucepan. Set over medium-high heat. Whisk in the flour, paprika, salt and pepper until smooth. Add the milk, whisking constantly. Cook, whisking, for about 5 minutes, or until thickened. Remove from the heat. Stir in the cheese until it melts. Stir in the macaroni. Pour into the baking dish. Top evenly with the crumbs.
4. Bake for 15 minutes or until bubbling and golden. Allow to sit for 10 minutes before serving.
5. Eat it up, nom, nom, nom!
Each 1-cup serving of this comfort food has 328 calories and a good amount of healthy fats. The entire recipe takes just an hour from prep to dinner time and the entire recipe serves four. When I made it, I doubled the recipe for leftovers (loved it for lunches!) and used a 9-inch by 13-inch pan. Works wonderfully.