Make your Own Placemats as Seen on CTV
Dear Marc:
I saw the holiday tablescape you made on CTV last Friday. It was gorgeous! I especially liked the pewter coloured beaded placemats you placed over the silk mats. That was a really nice finishing touch. How can I paint my old round wicker placemats to look like the pewter ones that you had on the show?
Janice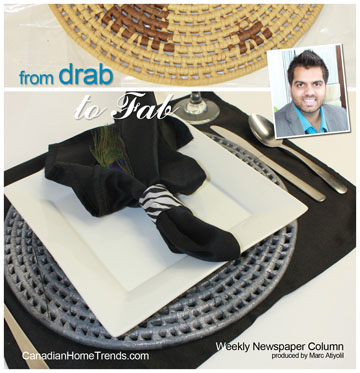 Dear Janice:
This is the perfect project for those who love to collect old things or can't seem to part with expensive belongings that have become dated.
In order to refinish an old item, one must ensure that it has "good bones". The "bones" of an item is popular lingo used by designers when referring to the severity of the wear and tear of a piece. Something with "good bones" simply means that, although the item's aesthetics may be dated, its core structure is still in good shape, thus making the item a good candidate to refinish.
Refinishing dated placemats are always a fun DIY project. With a little elbow grease and a creative mind set, old placemats can be turned into designer dreams!
The following supplies are needed for this placemat refinishing project.
– 4-6 Round Shaped Wicker Mats
– White Semi Gloss Paint
– Black Semi Gloss Paint
– Glitter Aerosol Paint
– Silver Aerosol Paint
– Paint Brush
– Plastic Gloves
– Plastic Surface Protector or Newspaper
Step 1:
Prepare your work surface by laying a sheet of plastic on the counter or table. Great tip: If you don't have plastic, old newspaper also makes a wonderful surface protector.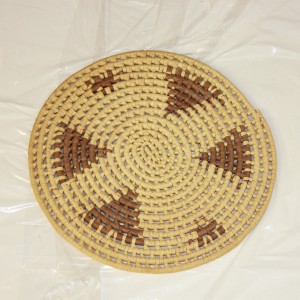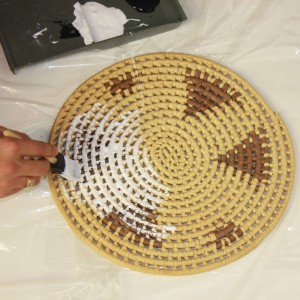 Step 2:
Dispense white paint into a container and use a paint brush to apply the paint onto the placemats. Follow the shape of the mats with each paint stroke, as these are a circular shaped mat, the paint strokes should be made in a circular fashion. With each of the following steps, be sure to apply the next coat of paint while the previous coat is still damp.
Step 3:
Pour black paint into a container and dip the same brush into the paint. Apply black paint over the damp white paint. The key is to blend both colours together while leaving pops of solid black and white colour.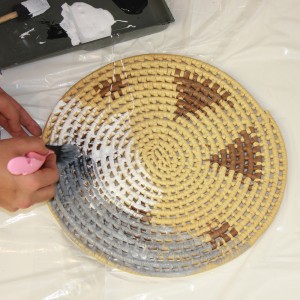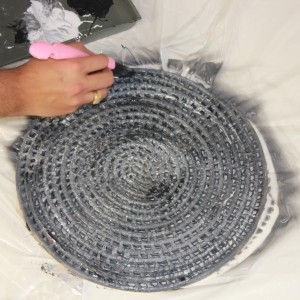 Step 4:
Spray silver paint over the black and white painted mats. Be sure to apply adequate silver paint to create a lustrous look.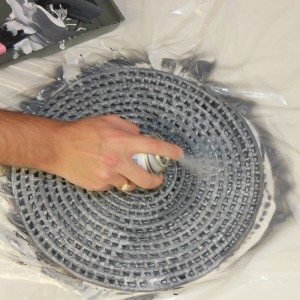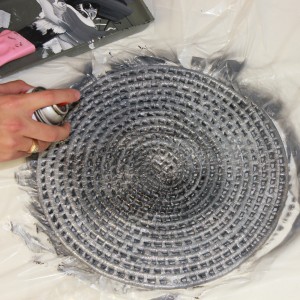 Step 5:
Put the final touches on the "pewter" hue by adding glitz and glam. With the use of glitter spray paint, apply lots of sparkles to the mats. Some areas of the mats should have more glitter than others.
Step 6:
Let the paint dry. Flip the mats upside down and repeat steps two to five.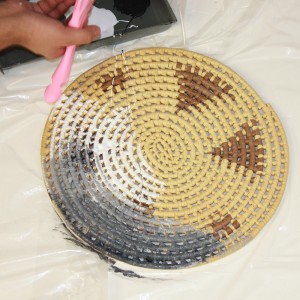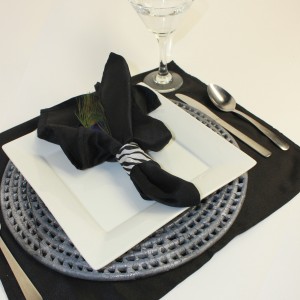 Step 7:
Add the refinished placemats to your tablescape and enjoy.
Marc Atiyolil, celebrity designer and home trend expert is the Editor-in-Chief of Home Trends Magazine, and the host of the Marc Atiyolil Show – www.MarcAtiyolil.com. Season 2 airs weekly starting in January 2012.
To submit a question for Marc Atiyolil, visit www.MarcAtiyolil.com
COPYRIGHT 2011 – CHT Media