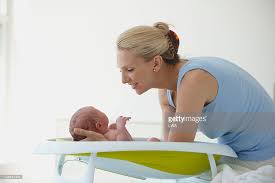 Survival Tips for Baby's First Bath
Those first baths with a new little one can be intimidating and new moms often have a lot of questions and concerns. Here are a few tips to make your baby's first at-home bath a success!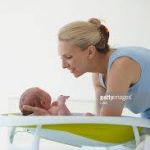 1) For the first week or two, it's best to sponge bath your little one. Use a soft wash cloth and make sure to wash all the nooks and crannies including the diaper area.
2) After the umbilical cord stump dries up and the area heals up, you can start to give your newborn a tub bath every few days. It's easiest to use the kitchen sink or a small plastic baby tub filled with warm water instead of a standard tub.
3) Although some parents are adamant about giving their babies baths every day, until a baby is moving around and getting into things, a bath isn't really needed more than three times a week. Bathing your baby too often may dry out and irritate the skin.
4) Baths don't need to take up a lot of time: Five minutes is long enough to get your baby clean before the water cools down too much. Some babies may find the warm water soothing. If this is the case, it's fine to let them linger in the tub. Others cry through the whole bath —that's when you'll want to get them in and out.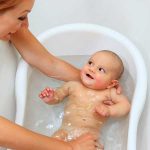 5) Never leave your baby unsupervised, even for a minute. If the doorbell or phone rings and you feel you must answer it, scoop him up in a towel and take him with you.
6) Never put your baby into a tub when the water is still running. (The water can quickly get too deep or hot.)
7) Set your water heater to 120 degrees Fahrenheit. A child can get third-degree burns in less than a minute at 140 degrees.