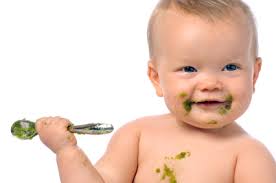 Many parents are starting to make their own baby food and it's not just a budget thing anymore. Homemade baby food allows you to know exactly what you are feeding your baby and that puts many parent's minds at ease.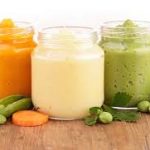 Is there really a difference between homemade or store bought baby food?
Homemade and store baby foods are both great options for your baby. They both have vitamins and minerals. Making homemade baby food means you, as the parents, can:
– Use fresh, seasonal fruit and vegetables
– Use foods from your culture
– Control the amount of sugar and salt you use
– Save money
– Adjust the texture of foods to suit your baby
When making your own baby food there are a few steps to follow:
Preparing
– Wash your hands with warm soap and water
– Use clean utensils
– Wash the counters and containers in hot water and soap
– Opt for fresh vegetables and fruit without bruises or blemishes. Thoroughly wash, peel, and   remove the pits and seeds. Then chop vegetables and fruit into chunks.
Cooking:
– Place vegetables or fruit in a small amount of boiling water. Cook until tender. You can also cook by steaming or microwaving.
– To steam, place food in a steam basket or colander above a pot of boiling water.
– To microwave, place in a microwaveable container with a little bit of water.
– After boiling, steaming or microwaving, drain the water and keep it in a separate bowl.
After cooking:
Mash, mince, grind or puree soft cooked vegetables and fruits. Add a little bit of the cooking liquid to help get the right texture. You can add spices if you wish. Do not add salt or sugar. Tip: Some soft fruits like bananas and peaches can be mashed and made into baby food without cooking them.
How to Make Baby Food From Meat and Meat Alternatives: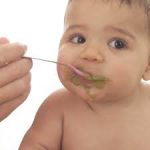 Preparing:
Opt for unsalted plain ground beef, chicken, pork and fish like salmon, halibut, sole, haddock, tilapia and bass. Choose meat alternatives like beans, peas, lentils or tofu. You can add spices if you wish. Do not add salt or sugar.
Cooking:
Bake, poach or roast meat, chicken or fish until it is a soft cooked texture. Make sure it is thoroughly cooked. Flake fish with fingers to remove any bones.
Cook beans, peas and lentils from scratch. You can also use canned versions by rinsing and heating them up. Stir fry, saute, steam or fry tofu.
After cooking:
Puree, mince or grind the meat, chicken or fish. Add some liquid if you wish to get the right texture.
Mash, dice or puree cooked beans, peas, lentils or tofu.