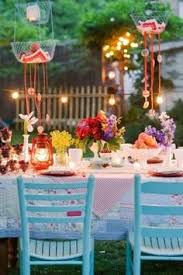 10 Tips for Easy Outdoor Entertaining
Entertaining outdoors is a great way to enjoy the summer but it brings with it a new set of considerations. Here are 10 things to consider when planning to entertain outdoors this summer.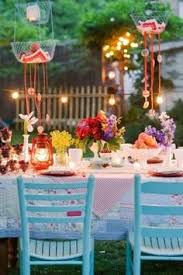 1. Meal Time: You don't want to keep firing up the grill for latecomers, so specifically state on your invitation "The BBQ master will be grilling from 6-7pm. Come and get it!" Set out some pre-dinner snacks and drinks for guests who arrive early.
2. Attire: An outdoor dinner party can range from a formal sit down to a casual evening by the bonfire. Make sure the expected dress code is outlined on your invitation so guests come prepared.
3. Rain Plan: Unless you are heading up a 300 person church picnic, you won't really need to worry about the rain. Smaller dinner parties can easily be moved indoors if need be. Let you guest know the event will happen rain or shine – and be prepared to move indoors at the last minute if need be.
4. Seating: Most of us don't have patio seating for more than 4-6 people. What happens if you have 5 patio chairs and 20 guests? An easy solution: use indoor furniture. Bring your indoor chairs and stools outside for extra seating. You can give the setting a picnic feel by placing pretty blankets over the chairs/stools. Alternatively, ask guests to bring their own chairs.
5. Renting: Sometimes rental companies can be the way to go. Folding chairs can start as low as a dollar a chair. For larger events, vendors will even set up and take down.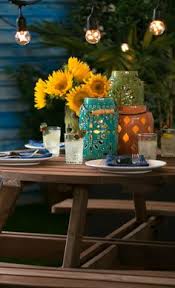 6. Light it Up: Lighting is important for creating an atmosphere and for the safety of your guests. It doesn't take much to light up your outdoor space. You can hang some lights off the deck, fence or even your trees. You can get some pretty lanterns from the dollar store or if you feel creative, make some yourself.
7. Extension Cords: If you need to run cords through your yard, snip old wire hangers with a set of wire cutters and bend them into skinny U-shaped pieces about an inch or two wide. Place them over your cords and make sure to hammer them into the ground so your guests do not trip on them.
8. Decorating on a Budget: If you're looking to decorate for less, go to your local dollar store. Surprisingly, or not so surprisingly, they have some cheap but cute decorations that are easy to pick up and put up. Don't be afraid to bring decor items from indoors outside for the event as well!
9. Menu: When it comes to food, make your menu easy and stick to recipes you know and love. Don't be afraid to accept help: if someone asks if they can bring something, tell them yes. They may be able to add something delicious to the menu that you aren't comfortable preparing yourself and it lightens your work load.
10. Pre-Prepare: When it comes to preparing for your party; do as much as you can the night before, like setting the tables and cutting up the cheese. This pre-prep will help you get everything ready to go and give you more time to enjoy the party. Go you!
Save