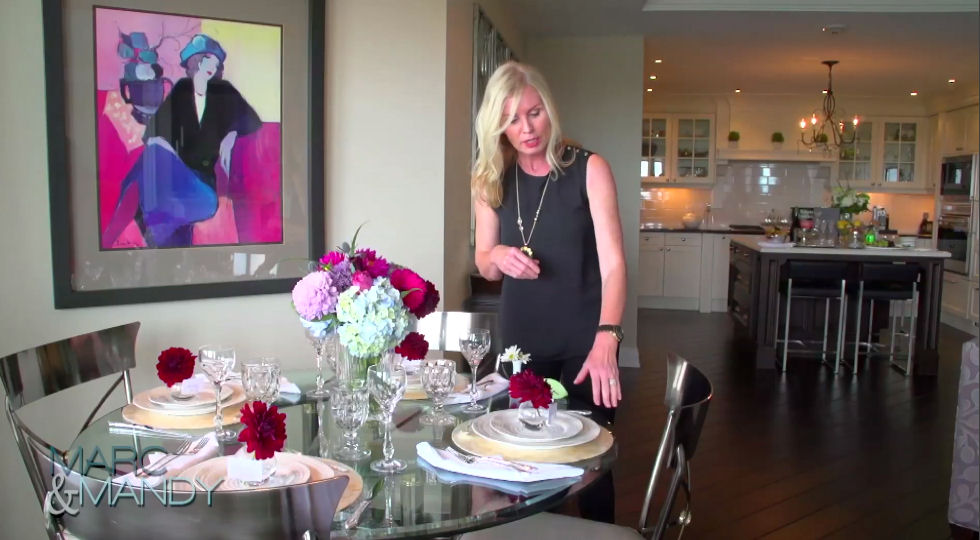 11 Tips for Creating the Perfect Dinner Party
Jackie Glass shares her tips for setting up a memorable dinner party.
Choose a strong piece of artwork that you can use as inspiration for the rest of the room.
Don't worry about making it overly formal. A placemat is a perfectly acceptable substitute for a tablecloth.
White dishes provide a great starting point that works with any color scheme you choose.
Using cloth napkins and arranging them in a pretty pattern makes the table more interesting, even if it's just a classic white napkin.
Really pull out all the stops, even if it's a small dinner party for four. Bring out your fine crystals and don't be afraid to mix them up. Pair vintage wine glasses with more modern ones to add a nice eclectic touch.
Visit a grocery or a florist to purchase a prearranged or custom made bouquet to match the artwork. These flowers will then become the centerpiece for your tabletop.
Choose separate flowers based on the strongest color in the artwork; Place a single bloom in a small vase along with a matching place card at each table setting.
Keep a bouquet of fake flowers on hand; Fake flowers are a good substitute for fresh ones when you don't have time to shop.
Put out some decorative tray tables, as they are perfect for setting down pre-dinner drinks.
Use lighting, candles and music to set the mood for your dinner party.
An island is the perfect place to set out all your drinks and snacks for guests to enjoy as they arrive.