5 Steps for a Positive Back-to-School Transition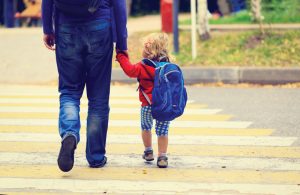 We are approaching the time of year when families jump out of holidays and start their back to school routine. Here are a few tips to help make the back to school transition easier:
A great day starts with a good night's sleep. Staying up late in the summer is a habit that a lot of kids and parents get into. A few weeks before school starts up, make sure that a regular nighttime routine is followed. Put the kids to bed earlier and wake them up at the time they would have to get up for school. This will help them ease into the earlier mornings once classes begin.
Get yourself up and ready first. Parents also need to get into the swing of things when kids go back to school. Get up slightly earlier than normal to make sure you have time for yourself and your kids. Making breakfast and lunch, packing book bags and getting outfits ready takes some extra time, and you don't want to throw off your own morning routine.
Continue exercising. Just because it's the fall doesn't mean keeping fit should slow down. Studies show that kids who exercise every day perform better in school. Encourage your kids to stay active by walking them to the bus stop or letting them ride their bikes or walk to school. If those sneakers are showing wear from all that summer fun, pick up a new pair for travelling to school and for gym class. A wide variety of styles and sizes are available across the country at Sport Chek.
Schedule appointments. Plan ahead and book any necessary appointments and checkups before school starts, including teeth cleaning, vaccinations and haircuts. Getting these out of the way now means your child won't have to miss school later.
Re-establish routines that may have been forgotten. Get back into building a routine with your kids, including early dinners, book bag packing and a bedtime story. Ensure your child's backpack can hold all their supplies and fits them properly, particularly if they have grown over the summer. Sport Chek carries backpacks in a variety of shapes and styles.
www.newscanada.com