Hotel Room Hacks to Stay Fit While Traveling
The allure of takeout, room service and calorie-packed meals are temptations you can't always avoid while traveling. Plus, demanding travel schedules, on top of hard-to-find fitness amenities, can make it difficult to exercise, but don't fret. The travel experts at Quality Inn hotels want to help you maintain your healthy lifestyle and are sharing some simple exercises that you can do from the comfort of your hotel room.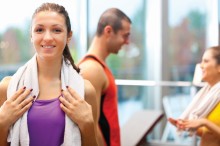 • Weight resistance: Use your body weight instead of barbells. Regular, knee, or wall push-ups, squats, lunges and abdominal exercises will let you get in your strength training.
• Cardio: Marching or jogging in one spot with high knees and dancing are great ways to get your heart rate up. If you want more of a challenge, walk the hallways of each floor and jog the stairs. If your hotel has a fitness center, go check it out.
• Yoga: Your mental health is also important when on the road. Consider taking a bit of time to find inner peace and relax. All you need is a space on the floor and your computer to follow along with your favorite yoga program online.
• Mix it up: If you get bored easily, incorporate a mixture of all three by incorporating furniture in your room:
– Off-the-bed push-ups will allow you to work your upper body while adding the challenge of a surface.
– Chair squats will help you work your lower body and core.
– Bicycle crunches on the bed will help work your core and offer a softer surface for your back while adding a balance challenge element.
Just a few minutes a day can help lower stress, boost endorphins and encourage a better night's sleep, leaving you relaxed and ready to start the day.