Intrigue with Natural Health Solutions Has No Bounds
Kale, coconut water, brussel sprouts, fresh-pressed juices – these are just a few of the health trends keeping people fit. Trends are constantly changing of course and so are we. As the New Year approaches with resolutions in mind, the Canadian Health Food Association (CHFA) gives insights into a few of these nutritional sensations.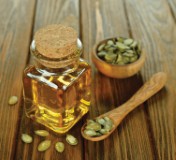 "Oils were all the rage this past year, whether they were being applied topically or drizzled on our favorite salads," explains CHFA president, Helen Long. "We saw new oils on the market such as avocado oil, which is rich in monounsaturated fats and vitamin E. Avocado oil is also excellent for cooking or sauteing due to its high smoke point. More beauty products on the market also included all-natural oils in their ingredients, such as coconut oil and argan oil.
We also saw all things fermented: from vegetables to beverages, the fermented foods trend swept Canada. Fermented tea, otherwise known as kombucha, started appearing on grocery-store shelves and in yoga studios. Flavored with healthy ingredients such as ginger and antioxidant-rich fruits, this effervescent beverage became quite the fan favorite. We also saw fermented foods from different cultures like kimchi, sauerkraut and fermented garlic. The fermentation process liberates nutrients in our foods, helping us absorb phytonutrients, some amino acids, B vitamins and minerals like zinc and magnesium.
"We were aware of fermented tea, but a trend we didn't expect to see was tea in our face creams," Long points out. "When polyphenol-rich tea is applied topically to the skin, these natural compounds have been shown to reduce oxidative stress and inflammation caused by UV exposure. It is this oxidative stress and inflammation that can lead to premature wrinkles, as collagen in the skin breaks down and the elasticity of the skin degrades. Green tea was an especially popular ingredient in natural beauty products this year."
And, she says, Canadians are still going nuts for coconuts. "We saw all kinds of coconut products, such as coconut chips, coconut ice cream, and coconut-oil-based hair and skin products. This trend doesn't seem to be dying down any time soon, but we'll have to wait and see what the New Year brings."
If you want to stay up-to-date on the latest health trends visit chfa.ca.