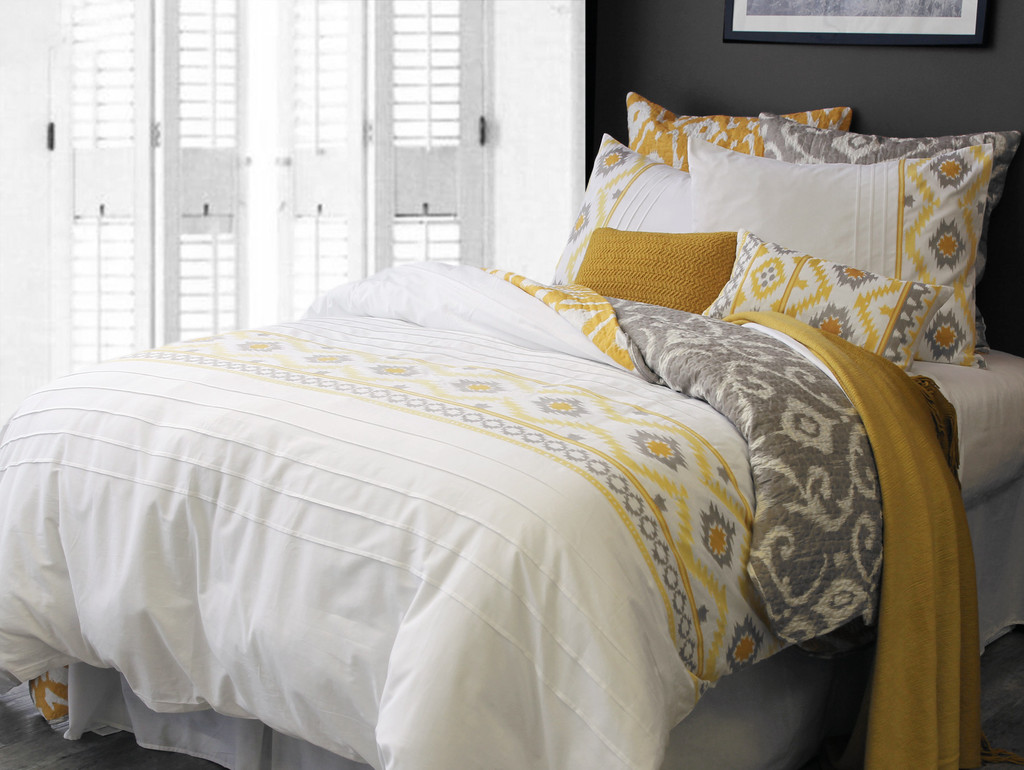 Re-love Your Bedroom: Kiss Your Ugly Bedroom Goodbye
Do you have an ugly bedroom? Now is time to re-invent your night-time nest!
Doctors and wellness experts are saying that having a good night's rest is very important to our health. Since we spend 1/3 of our lives sleeping I think we need to pay attention to their advice. Over the years I have styled 100's of bedrooms and I have seen the emotionally positive effects of designing a relaxing retreat for my clients.

Here are my tricks of the trade from my new design business at Furniture Plus called 180 Design.
START WITH A FLOOR PLAN
Purchase the largest pieces first and work down from there. Choose a beautiful bed that will inspire you to go to bed early. Then pick your night stands. If you are a 'matchy' person choose 2 nightstands that work with the bed frame you have. The nightstands don't have to be a part of the headboard set, they can be another style that works with the bed. If you like the eclectic look, choose unmatched nightstands. Often I choose 1 larger piece for one night stand and a mid-sized living room end table for the other night stand. I personally love unmatched sets, but there is no right or wrong here. This is your personal space and you can do what you want. Just because it's not a "set", doesn't mean it won't work for a bedroom. Start thinking outside the box! Do you want a fireplace in your bedroom? How about an extra chair? What about a beautiful floor mirror? Maybe you have room for a dresser or armoire that you can re-purpose from another room. The options are endless. A floor plan will keep you on track to choose what fits and works in your room.
EDIT YOUR ROOM
Your bedroom is your sanctuary… don't bring work into your bedroom! Remove all work related things from the bedroom. Remove clutter and pick up your clothes. Keep your bedroom simple and uncluttered to evoke serenity. I remember when I took all my work papers and design books out of my room. It instantly transformed my bedroom into a restful non-work area. It was amazing how I felt more at peace in my room after that one small change.
PROTECT YOUR INVESTMENT AND YOUR HEALTH

Most importantly, you need a bed that supports your back and body. A good mattress with good support is the foundation for a great night's sleep. When buying a mattress, you have to actually lay down on it to see if it feels right for your back and body. Purchasing a mattress that is too hard can give sore shoulders. Purchasing a mattress that is too soft can give you lower back pain.
Did you know that by not using a mattress protector you can void the warranty on your bed? Due to bio hazards, mattress companies do not repair or replace defective beds if a mattress protector has not been used. By purchasing a mattress cover, you can protect your investment. You can easily wash a mattress cover along with your sheet set/pillow protectors and keep your bed clean and fresh.
Pick a sleeping pillow that supports your neck. Often neck pain is caused by a bad pillow and poor sleeping posture. Cover your pillow with a pillow protector as well. Pillow protectors can have antimicrobial effect in that it prevents growth of odour causing bacteria, stains on your pillow and helps prevent allergies. Toss and wash your pillow protectors regularly to keep your pillow clean and healthy.
Before you replace your sheets on the bed be sure to flip your mattress every 4-6 months. This will extend the life of your mattress and keep body impressions away. If your mattress is not the flippable kind, just rotate your mattress a ¼ turn so the mattress is used more evenly.
CHOOSE LIGHTING
Lighting should be layered in a bedroom. Lighting and functionality are important. Being able to control the amount of light when needed is important for a bedroom. Bright light is needed to see if your socks and clothes match while dressing whereas soft light is needed to relax and read in. Pot lights are used a lot now and this creates a clean lined, modern look. It is better to use a soft white led bulb that is more like the old incandescent bulbs and is easier on the eye. I'm still a fan of a chandelier in the bedroom. The chandelier is jewellery in your room. It adds drama and beauty. Place pot lights and chandeliers on a dimmer switch for functionality and to create a relaxing atmosphere. In choosing table lamps for a bedroom, here's a general rule: If your night table stands 24" – 30" tall, you should have table lamps that are 28" – 32" tall. Of course, lamp height has to balance with the bed and the ceiling height of the room. Use your eye as a guide to the height and scale of the lamp needed.
CHOOSE YOUR BLANKET & SHEET SET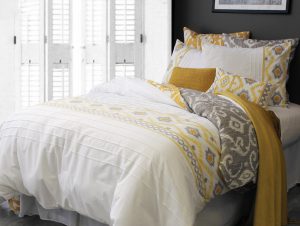 Ask yourself these questions:
What look am I after? Floral? Patterned? Solid Colours? Stripes? Romantic? Masculine? Hotel Look?
Do I prefer a duvet and cover or a quilted comforter?
Do I like lots of pillows piled high or a minimal style with very few pillows?
What is the height of the mattress?
Measure the height of the mattress before you go shopping to avoid buying the wrong size linens. Many beds have a deep pillow top that needs extra deep sheets AT LEAST 16- 22" to fit over them. Also, comforters can be too short in width to cover a plush pillow top mattress. Check the width and length of the comforter or duvet to ensure that it will cover the bed correctly.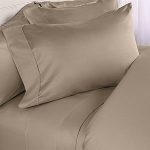 Once you measure the mattress and decide what kind of blanket you like, you can start shopping. The duvet is the star of the show for your new bedroom. From this jumping off point, you can pick a new wall paint colour, decorative pillows, art, sheets, and accessories.
Look for breathable quality sheet sets such as Egyptian cotton in 300 – 400 thread count.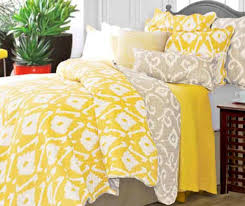 This easy care Banjaran washable cotton reversible quilt combines conventional ikat prints with modern graphics to create a fresh new look – just by turning over the blanket. As another bonus, in warm summer weather this quilt can be used instead of a heavy winter blanket and in winter the quilt can add extra warmth to those chilly winter nights.
When you shop, choose pillows in different patterns and colours that complement the style you are after. I encourage playing with your pillows. Different colours, patterns and shapes makes your bed look a lot more interesting.
Try a Solid Coloured Pillow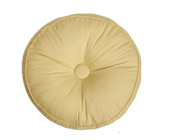 Textured tone on tone pillow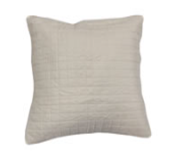 Floral pillow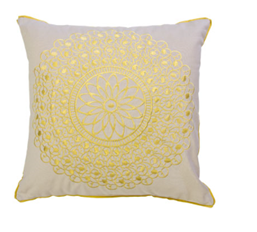 Geometric and/ or striped pillow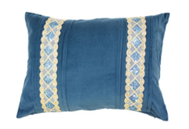 Here, all the pillows are grouped together and are different in size, shape and colour and yet they co-ordinate well with the bed.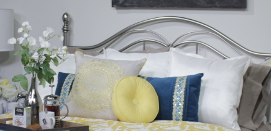 PICK WALL PAINT COLOUR LAST
One easy way to choose a paint colour is to use your duvet as inspiration. It is easier to pick paint colour once you have your duvet with you. You can co-ordinate paint samples to a colour you like in the fabric. The rule is to use a shade lighter than the duvet accent colour or a shade a bit darker than the inspiration fabric. This way the duvet blanket will have a bit of contrast with the wall. Always pick your paint colour in the room with the duvet and lighting it will be paired with.
Once you have all your pieces ready, click here to learn how to style your bed like a designer!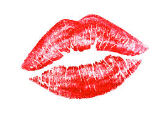 Goodbye Forever… UGLY OLD BEDROOM!
Gotta go and get my chamomile tea ready. I'm ready to sleep in my new beautiful bed.
GOOD NIGHT GORGEOUS………………… BEDROOM!
Text by Lisa Loeppky. All products are available at Furniture Plus.