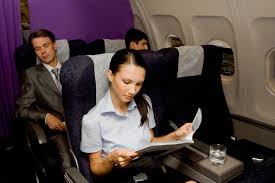 Tips for Surviving a Long Flight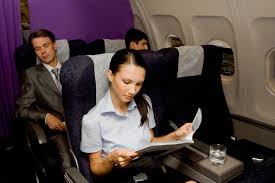 Nobody likes a long airplane flight. The stale air, the cramped seating, the questionable ground beef in the in-flight lasagna – we fly only because we have to, and when we have to, we tend to dread it. That said, flying is a precursor to many wonderful things, like vacations to tropical destinations, reunions with family, work opportunities, making it a necessary evil.
Here are some helpful tricks that'll make this necessary evil a little less dread-inducing:
Eat and drink …
Your best bet, at the prospect of a long flight, is to overestimate how hungry you will be. Pack a combination of protein-rich – which will keep you full longer – and carb-rich snacks – which are said to ease jetlag. In the same vein, avoid overeating out of boredom, because it's harder to digest while you're in the air or sequestered to a seat. When it comes to water consumption, the more the better. Health experts recommend drinking more water than you would on land and avoiding caffeine and over consumption of alcohol, which will inevitably dehydrate you. If you must consume caffeine, opt for green tea, which is said to help with jetlag.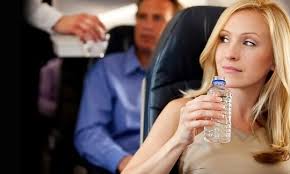 … and dress wisely
Airplanes are notorious for being chilly, so dress accordingly. This means sweatshirts, socks and lots of layers. Another key item to keep on hand is a scarf, which can be used as a blanket, a pillow or back support if needed.
Choose your seat strategically
When choosing your seat, you want to think tactically. Selecting a seat near the plane's wing may mean that you'll feel less turbulence, since you'll be closer to the centre of gravity. If you're a light sleeper, you probably want to opt for a window seat, so that you won't be disturbed by rattling drink carts and passengers in the aisles; (plus, a window seat means you'll have somewhere, other than the shoulder of your neighbor, to rest your head when you nod off).
Body support
Your best bet on a long flight is to kill some of that time by sleeping. This way, you lose track of time and will arrive at your destination having some rest. What you want to avoid is waking up with a sore neck, an aching back or swollen ankles and feet. Be prepared with a neck pillow, compression socks as well as something (a pillow, blanket, sweatshirt or scarf) that you can use to supplement the shape of your chair. Airplane chairs have a C shape, whereas the human spine takes more of an S shape, so placing something behind your lower back will ease back and neck soreness.
Do plane exercises
Like these.
Or try airplane yoga to keep you limber and Zen throughout your long flight.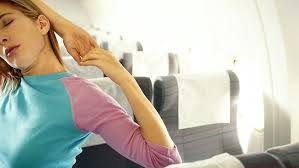 Keep busy
If you find yourself irritated with the redundant roar of the plane's engine, (which may be subconsciously keeping you awake and causing stress), invest in a pair of noise cancelling headphones or listen to a sleep or meditation CD
Some other ideas to keep you occupied:
Download an entire season (or several seasons) of a show you haven't watched yet. This may require some planning ahead. Chose something you are looking forward to watch and are guaranteed to enjoy.
Watched everything good already? How about a podcast? The New York Times' Modern Love podcast has a
Purchase an adult colouring book and engage in some in-flight art therapy.
Read a book or do work. The plane is the perfect place to study, write or devour the entire Game of Thrones series uninterrupted.
Download one of these five apps to your tablet or iPad.