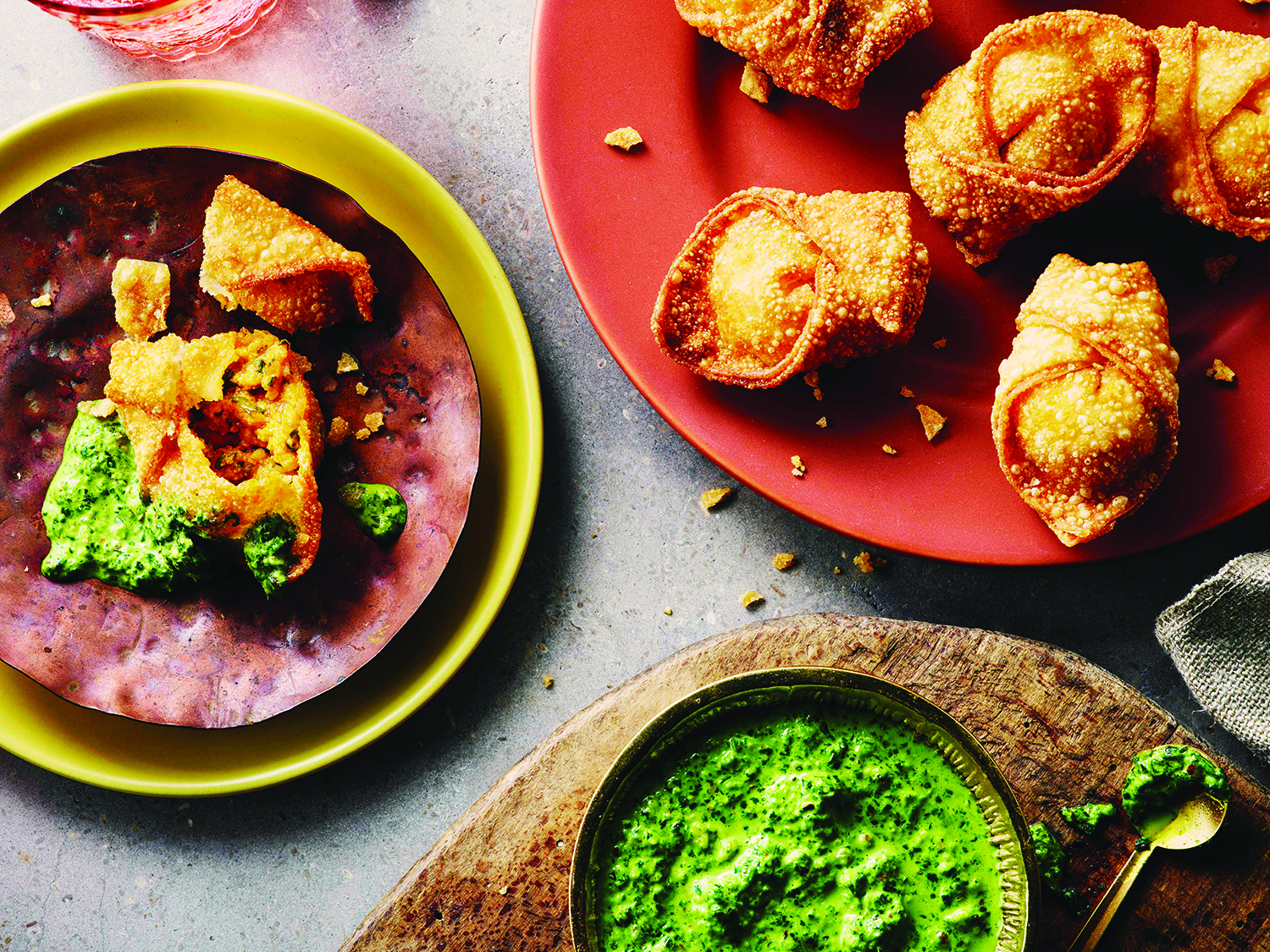 Spice Up Your Meal With This Unique Hot Sauce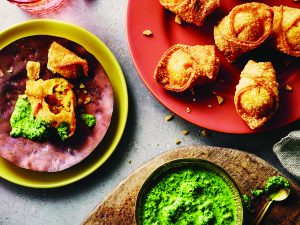 Schug is a Middle Eastern hot sauce that originated in Yemen. It can be either red or green, depending on the colour of hot chili peppers used. Adding toasted almonds to jalapeño-based schug makes for a flavourful pesto. Serve with crispy Asian-style dumplings for a delicious meal that's sure to impress.
"The great thing about this dish is that it can be made ahead of time," says Tom Filippou, executive chef for President's Choice. "The sauce can be made two days in advance as long as it's kept covered and in the fridge. Complete the prep work on the weekend for a quick weekday meal."
Crispy Carrot Harissa Dumplings with Green Schug Pesto
Schug pesto ingredients:
1/4 cup (50 mL) toasted PC unsalted raw California almonds, coarsely chopped
3 garlic cloves
2 cups (500 mL) fresh parsley, lightly packed
2 cups (500 mL) fresh cilantro, lightly packed
2 jalapeno peppers, seeded and chopped
1/2 cup (125 mL) extra virgin olive oil
1/4 cup (50 mL) fresh lemon juice
1/2 tsp (2 mL) ground cardamom
1/2 tsp (2 mL) ground cumin
1/2 tsp each salt and freshly ground black pepper
Dumpling ingredients:
1 tub PC Carrot Harissa Dip Blended with Flax Seeds
1/2 cup (125 mL) ricotta cheese
1/4 cup (50 mL) green onion, finely chopped
1/4 cup (50 mL) cilantro, finely chopped
Cornstarch for dusting
42 square wonton wrappers (3 1/4 inch/8 cm)
1 large egg, beaten with 1 tbsp (15 mL) water
3 2/3 cups (900 mL) vegetable oil for frying
1/4 tsp (1 mL) each salt and freshly ground black pepper
Directions:
Schug Pesto: Pulse almonds and garlic in food processor until finely chopped. Add parsley, cilantro, jalapeño peppers, oil, lemon juice, cardamom, cumin, salt, and pepper. Process until herbs are finely chopped and mixture is smooth. Transfer to serving bowl; set aside.
Dumplings: Mix dip, ricotta, green onion, cilantro, salt, and pepper. Dust rimmed baking sheet lightly with cornstarch; set aside.
Place one wonton wrapper on work surface. Lightly brush two neighbouring sides of the wrapper with egg wash. Place 1 1/2 tsp (7 mL) ricotta mixture in centre of wrapper. Fold wrapper diagonally, bringing egg wash sides over to dry sides to form a triangle. Gently press out air between wrapper around mound of filling. Holding wonton triangle with centre point towards you, brush top of left point with egg wash. Firmly press bottom of right point on top of left point. Place dumpling on prepared baking sheet; cover with kitchen towel to prevent drying.
Repeat with remaining filling and wrappers, forming dumplings six at a time to speed assembly. Meanwhile, pour vegetable oil into large saucepan to a depth of 1 inch (2.5 cm). Heat over medium-high heat to 350°F (180°C) on deep-fry thermometer. Fry dumplings seven at a time, turning frequently, 1 to 2 minutes per batch or until golden. Transfer with a slotted spoon to paper towel-lined rimmed baking sheet to drain.
Transfer to serving platter and serve with schug.
www.newscanada.com