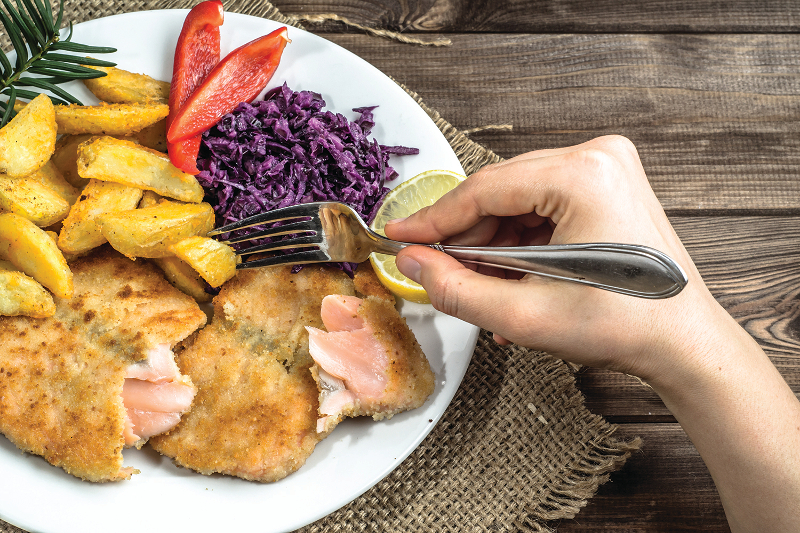 Try this Sustainable West Coast Take on a Seafood Classic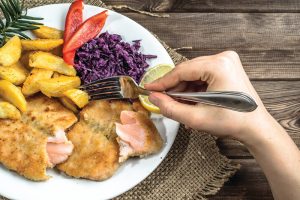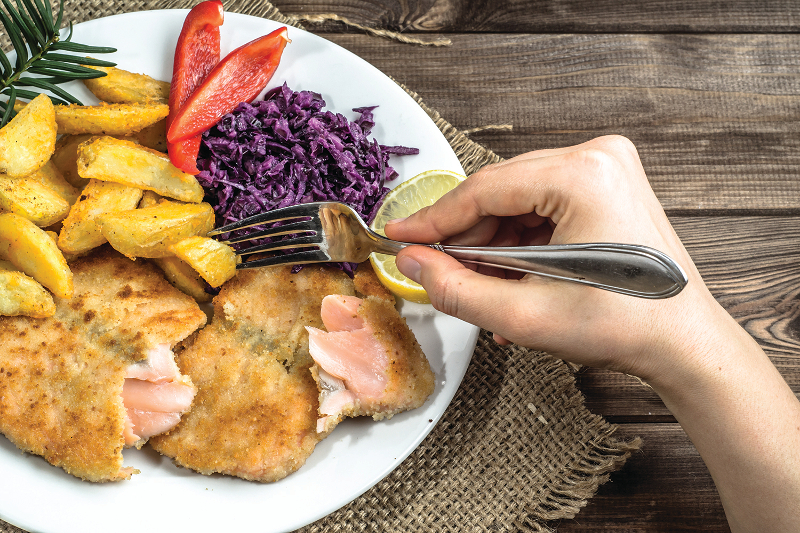 Who doesn't love fish and chips? But what about upgrading your pub favourite with nutritious salmon, high in protein, omega 3 fatty acids and vitamin D? You can also trade in sweet potato fries which are rich in complex carbohydrates, dietary fibre, beta carotene and vitamin C. For another healthy option, you can bake the fish and the chips.
Feel even better about this healthier meal by looking for salmon certified by the Marine Stewardship Council or with the SeaChoice logo.
West Coast Style Fish and Chips
Serves 4
Ingredients:
4 lbs (2 kg) salmon fillet, skin removed
4 medium-sized sweet potatoes
2 cups (500 mL) flour
1 tbsp (15 mL) ground black pepper
1 tsp (5 mL) paprika
1 tsp (5 mL) chili powder
3 eggs, lightly beaten
Sea salt
Garlic powder
Olive oil
Lemon wedges
Optional: vegetable oil
Optional: tartar sauce or honey malt vinegar
Instructions:
Combine flour, pepper, paprika and chili powder in a large bowl. Carefully fold the beaten eggs into the dry mixture to create a smooth, thick batter.
Slice salmon into thin strips. Dip strips into the batter one at a time making sure to get a thick layer on each; use your hands if necessary.
If frying, heat a thick layer of vegetable oil in a deep frying pan. Place battered salmon strips into hot oil, being careful not to overcrowd. Turn occasionally, cooking until golden-brown, about 8 minutes.
If baking, heat oven to 425°F. Brush olive oil on a baking sheet, then place battered salmon strips on sheet. Bake until salmon is cooked through, about 8-10 minutes.
To make the chips, preheat oven to 350°F. Cut the sweet potatoes into strips — thin strips for crispier fries and thicker wedges for softer ones. Place on aluminum foil-lined baking sheet and toss with olive oil, sea salt and garlic powder. Bake for 10 minutes. Remove sheet, turn fries and place in oven for another 10 minutes, until fries have light brown edges.
Serve with a lemon wedge and tartar sauce or honey malt vinegar. Add a fresh green salad for extra veggies.
Learn more about how you can support sustainable Canadian fishing at www.oceana.ca.
www.newscanada.com