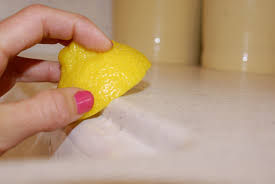 12 Bathroom Cleaning Tips and Hacks
Cleaning your bathroom is probably not your favorite thing to do but it needs to be done. You can go organic, homemade or store-bought. No matter what your preference is, here are 12 tips that will make cleaning your bathroom easier.
1. Save time by scrubbing with Magic Erasers: Take half of a Magic Eraser, put it in your toilet overnight and it will do the scrubbing for you. They are also great on grout.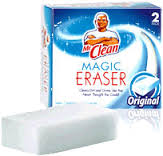 2. Use white vinegar: Take a rubber band and a plastic bag, put some vinegar in the bag and secure the bag around your shower head with the rubber band. Leave it overnight and the vinegar will do the scrubbing for you. Do this twice a month and you will never scrub your shower head again.
3. Let the power of lemon work for you: If you are a frugal person, you will love this. Apply lemon directly on areas that need it and it will clean it. You can use them on hard water deposits, grout and tile.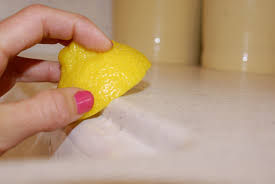 4. Use your dish wand for more than dishes: If you have a dish wand, give it a second life after cleaning dishes. You can fill it up with bathroom cleaner or dish soap and use it in your bathroom or even your car in those hard to reach places. Make sure to mark the dish wand so that you don't accidentally use it on the dishes later on!
5. Baking soda magic: Mix a bit with water and make a paste. It's non-abrasive, non-toxic and its super cheap to use. You can also pour it down the sink with vinegar to unclog your drains.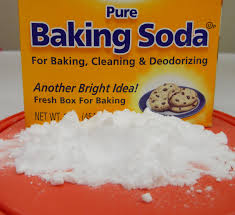 6. Nail polish deters rust: If you have things in your bathroom shower like rusty shaving cans; apply clean nail polish to the rust parts and it won't leave a rust ring in your shower.
7. Toilet brush holder: Pour some all purpose cleaner in your toilet brush holder to keep your toilet brush clean!
8. Post- cleaning tip: When you are done cleaning the toilet put the toilet brush under the seat lid to drip dry before storing.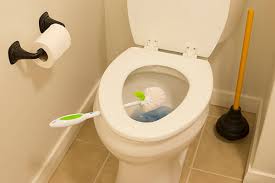 9. Clean your baseboards in the bathroom: An easy way to clean your baseboards in your bathroom is to run a dryer sheet over them. It really works and you get a nice fresh scent when you are done.
10. Use toothpaste to remove grout or soap scum: That icky grout and soap scum doesn't look very pleasant! Use white toothpaste and rub it on the grout and soap scum. Just rub it into the grout, brush it with an old toothbrush and then rinse it off with water and dry the area. It can also be used to make your cars headlights shine.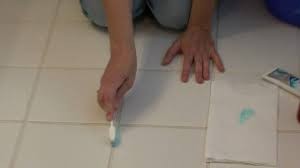 11. Make your tub sparkle DIY: Cleaning the bathtub is not always fun. Here's a home recipe to make it super clean. 1/2 tsp dish soap, 1/2 cup baking soda, water and scrubber. Mix these ingredients together and apply to the bathtub. You won't have to scrub hard!
12. Cleaning the ceiling: While you are so busy cleaning the tub, toilet and fixtures, there is one spot that is constantly neglected; the ceiling. It can take a beating with mildew, spots and grime. An easy way to clean it is use water and white vinegar. Just make sure to use protective goggles.